Shares of NetEase.com Inc. (NASDAQ:NTES) traded sharply higher yesterday after the company announced earnings. While companies in the S&P 500 reported average profit declines of 35% this quarter, many growth companies are actually seeing sharp increases. It just goes to show that investors can still make strong returns despite the market volatility.
For the first quarter, earnings came in at $0.47 per share - a 57% increase over the first quarter last year. While NetEase has two primary business lines (online gaming and online advertising), the majority of revenues came from the gaming business. Management noted that the longevity of their offerings allows the company to continue to profit from games that were developed in previous quarters. This helps reduce the content costs and accounts for the fact that the online gaming business has profit margins regularly exceeding 90%.
Continued growth is expected as promotional campaigns are scheduled for this summer to drive new users to the company's flagship games. These games include Fantasy Westward Journey and Westward Journey II (FWJ and WWJ2). Increasingly the newer Tianxia II game is attracting users and the company also diversifies its products by licensing games from other companies and making them available in the broader China market.
Advertising revenue was a dark spot in the company's announcement with revenue coming in at only 6 million and gross margins actually slipping into negative territory. The first quarter is typically weak, but this year the pressure was even more pronounced due to economic difficulty. But management said they are beginning to see government stimulus dollars filtering their way through the economy and expect advertisement revenue to tick higher. At the same time, NetEase is on schedule to complete new products and upgrades to existing channels by the end of the second half. This is expected to create more premium ad space and allow for better revenue from advertisers.
Looking at the financial picture, the company is sitting on $882.6 million in cash and continues to generate health cash from earnings each quarter. As an investor, I actually become a bit concerned with this high level of cash because it could likely be put to better use investing in new products, or returned to shareholders. While it is nice to have an investment who is not in need of debt relief, there comes a point where too much cash on the balance sheet can become a non-performing asset.
In September of 2008 the board of directors authorized the company to spend $100 million to repurchase shares. Through the end of the first quarter the company has spent only $13.1 million to repurchase those shares. I imagine that the strength of the stock has played into the decision to not spend all of that capital as NTES is now basically double the price it was trading at shortly after the repurchase program was announced.
But at the same time, this stock is trading at just 15 times expected 2009 earnings and less than 13 times 2010 expectations. While a teen multiple is healthy for many profitable, stable companies; it hardly does justice to the future earnings growth which NetEase should enjoy. As investors wake up to the fact that this company is continuing to build profits, and as advertising revenue grows, I expect this stock to realize a 20+ multiple driving the price well above $50.
There are many ways of playing this idea including owning the stock, buying other names in the industry (including long-time ZachStocks recommended Shanda Interactive) or buying options. The ZachStocks Growth Model currently has a position in both Shanda as well as NetEase and names like these are driving investment profits for subscribers not seen by typical buy and hold investors.
While the market is certainly raising concerns as we work through short-term over-bought conditions and continuing economic issues, NetEase appears to be a solid investment with a strong future ahead.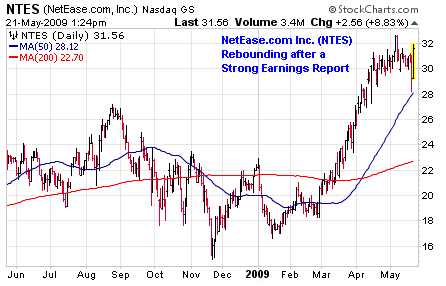 Disclosure: Author has a long position in the ZachStocks Growth Model.