We are in an up year for US equities that may well end as a solid up year. Analysts are beginning to raise their year-end targets because the S&P 500 is above, at or near targets set in December last year. Even so, investors should prepare themselves for the probability of a correction to 1476, or less, sometime during the year.
That price level represents a 7% correction which has been experienced 23 of 26 up years (88% of the years) beginning with 1980. Including down years a 7% correction occurred 91% of the time, but we are expecting an up year, so we are focusing on the probabilities in up years.
The S&P 500 ended 2012 at 1426, so 1476 might feel catastrophic to many investors. That's why we are talking about it here. The less something is a surprise, the more rationally investors are likely to deal with it.
When something has happened in about 90% of prior years, whether up or down, it seems a reasonable bet that it will happen this year too.
Figure 1: Maximum Intra-Year Declines in S&P 500 Up Years
(click to enlarge)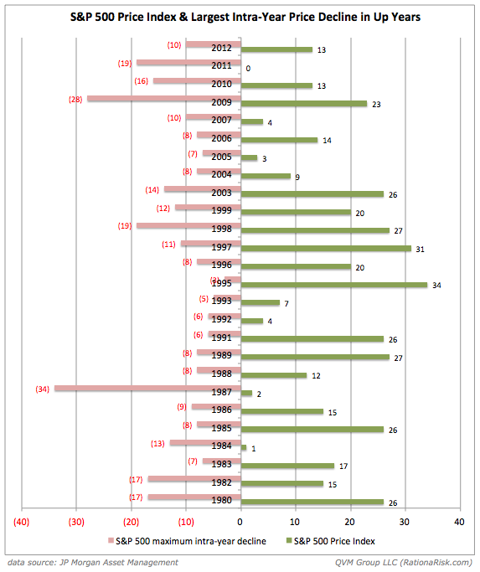 Click to enlarge
If you look at the options market, those traders have a more optimistic view. The volatility math (according to OptionsExpress) rates the probability of the S&P 500 (via its proxy SPY) touching 1480 during the year at 47%, and closing below 1480 at 23%.
JPMorgan Asset Management recently published data for the maximum intra-year decline from 1980 through 2012 for the S&P 500 (comparing the maximum decline to the price return of the index). See Figure 1 above.
Russell Investments recently published data for the maximum intra-year decline from 1980 through 2012 for the Russell 1000 (comparing the maximum decline to the total return of the index). See Figure 2 below.
Figure 2: Maximum Intra-Year Declines In R1000 Up Years
(click to enlarge)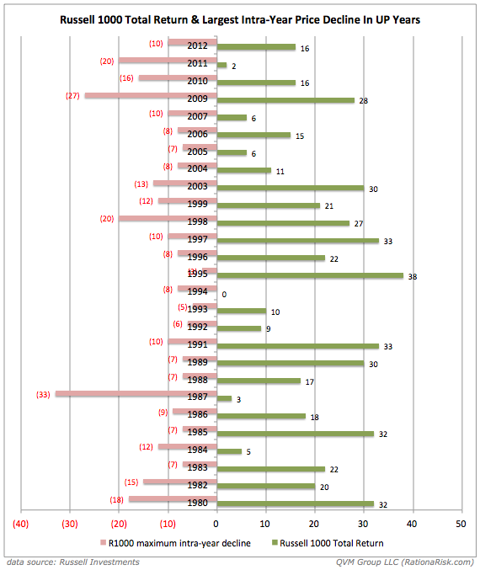 Click to enlarge
We tabulated that data to find the historical experience of maximum intra-year declines for each of those indexes at decline levels of 7%, 10% and 15% in up years for each of those indexes, as shown in Figure 2:
Figure 3: Frequency of Maximum Declines of Various Sizes


A 7% correction is very likely, and a 10% correction is a 50/50 proposition.
A 10% correction would put the index at about 1428, virtually where the year started. It could happen, particularly with some external event becoming a headline risk.
A 15% decline is not likely based on statistics, but still quite possible. It happened in 2010 and 2011 over European debt crisis news. We only saw a 10% decline on bad Europe news is 2012, as markets may have developed fear-fatigue over Europe. Don't count Europe out, however.
Any number of things could cause a near-bear 15% correction, but attempting to divine those is not our purpose here. Our purpose is to keep reality about market behavior well in mind, so corrections when they occur are put into historical perspective.
This is not a call to exit equities, but it is a call to avoid complacency, and to not be terribly surprised by a drop in the price at the magnitude in these tables and to decide now how you would want to react when and if it happens. That would reduce the emotional factor which is deleterious to investment results.
It is fairly well documented that investors have stronger emotional reactions to losing money than to making money - so take whatever level of pleasure you feel now with this rising market, and multiply it by some factor like maybe 1.5 or 2 to imagine the pain you would feel if the S&P 500 backed down to its beginning of year level in a correction.
Prepare for such a feeling and think through now with a cool head what you should do considering your own personal needs and circumstances, as well as the history of markets after corrections and bears.
Directly Relevant ETFs:
SPY, IVV, VOO for S&P 500; and IWB and VONE for the Russell 1000
Disclosure: QVM has positions in SPY as of the creation date of this article (May 1, 2013). We certify that except as cited herein, this is our work product. We received no compensation or other inducement from any party to produce this article, but are compensated retroactively by Seeking Alpha based on readership of this specific article.
General Disclaimer: This article provides opinions and information, but does not contain recommendations or personal investment advice to any specific person for any particular purpose. Do your own research or obtain suitable personal advice. You are responsible for your own investment decisions. This article is presented subject to our full disclaimer found on the QVM site available here.