Power producer TransAlta Corp. (NYSE:TAC) announced another planned maintenance outage on Wednesday, and Canaccord Adams analyst Bob Hastings is not pleased to see it.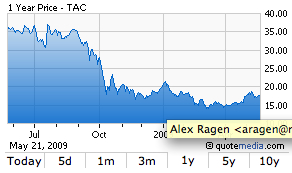 "It is not so much the earnings impact, as that TransAlta's maintenance issues just do not seem to go away," he wrote in a note.
He cut the stock to "hold" from "buy," and lowered his earnings per share target to C$1.30 a share (from C$1.50). That reflects the outage at the company's Sundance 3 facility, which was moved from 2010 ahead to 2009, and continuing low power prices.
Mr. Hastings' bigger concern is that TransAlta has more surprise outages than rivals Canadian Utilities Ltd. (CDUTF.PK) and Epcor Power L.P., and its utilization rates are below those companies. He expects that maintenance issues will continue act as an overhang on the stock.
He did maintain his target of C$22.00 a share, which is based on a long-term valuation approach rather than the current low pricing environment. But it represents a very small return on the current share price.
He wrote:
The fact is, the assets appear inexpensive, but it may take some time before maintenance issues fade away and tighter power markets make investors want to pay up for the value.
On the positive side, he noted that TransAlta's dividend of C$1.16 a share looks "very safe" and provides good income as investors wait for power markets to improve.