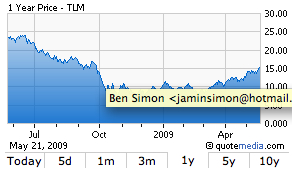 Unconventional natural gas deposits were the dominant theme at Talisman Energy Inc.'s (NYSE:TLM) investor day, and UBS Securities analyst Andrew Potter wrote that the company's next big move could be an acquisition in that area, and ultimately a split into two companies to capture a higher valuation for the unconventional assets.
Mr. Potter wrote in a note:
The strategy introduced last year of focusing on unconventional gas as a major growth driver has panned out far greater than we expected, both in terms of amount of resource but also the economic viability of that resource.
He added that it will take some time for the unconventional gas to deliver aggregate growth to the company, since growth in unconventionals will be mitigated by declines in conventionals. But he expects the unconventionals to become self-financing in 2010 in a $7/mcf pricing environment.
At that stage, he thinks Talisman will consider separating its North American business (which is heavily focused on unconventional gas) from its international business, if the market has not rewarded the company with a "reasonable" valuation.
Mr. Potter wrote:
We believe [Talisman's] North American gas assets would ultimately attract a competitive valuation with other large-cap gas plays given its top-tier resource size and economics.
He reiterated a "buy" rating on the stock, and increased his target 15% to $23 a share. He noted that Talisman still trades at a discount to its large-cap peers, and a re-rating is likely as the market gains confidence in Talisman as "a credible unconventional gas story."