Genworth Financial (NYSE:GNW) reported earnings after the market close on April 30, 2013, including a surprise $21 million operating profit in Q1 in its U.S. mortgage insurance business. Shares were up 5.8% in after hours trade, valuing Genworth at about $4.9 billion.
I have written before about Genworth Financial, pounding the table that it was undervalued on a sum-of-the-parts basis and that the market's valuation of Genworth over the past couple of years appeared to ascribe no value to the U.S. mortgage insurance business.
It's understandable, considering Genworth's business model is levered to the housing market (although it has other business segments, most importantly, life insurance), and Genworth was on the hook to pay lenders when homeowners covered by Genworth's private mortgage insurance defaulted on their loans. The U.S. mortgage insurance racked up prodigious losses during the housing crisis, with the Q1 U.S. mortgage insurance operating profit being the first profitable quarter since 2007.
As management explained in last quarter's conference call, it expected the U.S. mortgage insurance business to return to profitability at some point in 2013 as its older, riskier policies burned off. Tighter underwriting standards over the last six years are finally becoming evident. Investors have been skeptical of management in the past, but now with a new CEO and a profitable quarter for the mortgage insurance business under its belt, the proof is in the pudding as management delivered on its guidance.
Like I pointed out before, U.S. mortgage insurance was running at about a $200 million/year operating profit leading into the crisis. If, or when, the business returns to 'normal,' I expect investors to revalue the U.S. mortgage insurance segment.
Other matters
The wealth management deal which netted Genworth Financial $412.5 million is expected to close in the second half of 2013.
The U.S. life insurance business recorded net operating income of $85 million, up from $76 million sequentially, and $64 million in the prior year. With management's planned increase in the price for its long-term care product portfolio, that should help boost earnings going forward.
In the Australian mortgage insurance business, which management intends to IPO a minority 40% stake at some point over the next year, net operating income was $46 million, down from $62 million sequentially and up from an adjusted operating profit of $33 million in the year-ago quarter (after adding back a one-time $53 million charge for reserve strengthening).
The results of for the quarter are as follows: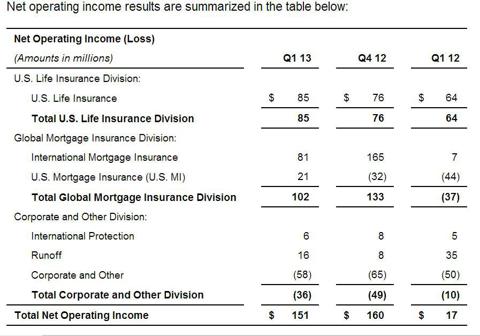 Conclusion
I sold shares of Genworth in early April when the jobs number came in well below consensus estimates and when the Washington Post reported that the Obama Administration was pushing for home loans to people with weaker credit scores. I also wanted to lock in gains, since the share price had nearly doubled from my cost basis.
Another reason for selling was that I experienced the roller coaster in share price from late 2011 through the first half of 2012 when management reported it had halted the Australian mortgage business IPO, causing a drastic decline in the share price.
I sold too early, but I remain convinced that Genworth's intrinsic value is $8 - $9 billion, or about $18 - $19 per share. I'll be looking to reinstate a long position on any price weakness.
Disclosure: I have no positions in any stocks mentioned, but may initiate a long position in GNW over the next 72 hours. I wrote this article myself, and it expresses my own opinions. I am not receiving compensation for it (other than from Seeking Alpha). I have no business relationship with any company whose stock is mentioned in this article.