Hedge fund managers noted that 47 stocks in the S&P 500 currently pay a dividend yield greater than 4 percentage points. Slightly over half have market capitalizations greater than $10 billion. Most hedge fund managers invest in dividend stocks because they believe these stocks will produce high capital gains on top of their high dividend yields.
Discussed briefly below are three S&P 500 stocks that have more than 3% yields with insider ownership of more than 10%.
Kinder Morgan (NYSE:KMI) according to its website, is the largest midstream and the third-largest energy company (based on combined enterprise value) in North America. Highlights of the company include:
High Insider Ownership - KMI has insider ownership of 26.42%.
Stability - KMI is a blue-chip, large-cap company with solid growth visibility and stable cash flows. The company's stability is supported primarily by fee-based cash flows from diversified energy infrastructure assets.
Growth - Growth will be driven via its largely fee-based pipeline and terminal operations, "drop-downs," and deleveraging, as KMI moves back to becoming a pure-play general partner. Growth prospects are braced by an estimated $13 billion of identified infrastructure projects for crude, condensate, natural gas, liquids storage, and carbon dioxide. Key projects include Trans Mountain crude pipe expansion, TGP expansions, Elba Island LNG export and Cochin reversal. On drop downs, management expects the transactions to be complete by the end of first half of 2014. In addition, KMI is strengthening general partner and limited partner interests in Kinder Morgan Energy Partners (NYSE:KMP) and El Paso Pipeline Partners (NYSE:EPB).
Peer Comparison - KMI is in the top third of its peer group when looking at the TTM return.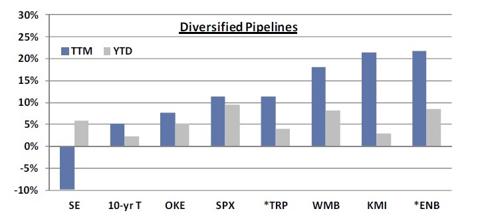 Source: Goldman Sachs
Outlook - KMI can continue to grow free cash flow and dividends in the 7% to 9% range sustainably, assuming 3% to 5% earnings growth.
Paychex (NASDAQ:PAYX) is a leading provider of payroll, human resource, and benefits outsourcing solutions for small- to medium-sized businesses.
High Insider Ownership - The company has insider ownership of 10.37%.
Growth - The key metric of checks per payroll improved to 2.3% year-on-year compared with the forecast of 1.2% by second quarter of this year. The growth pace indicates some improvement in small business hiring. Total service growth, however, is unlikely to outperform the 5% to 6% guidance range.
Valuation - With a 3.9% dividend yield, the current share price seems to be supported. Investors see this as an attractive capital allocation, thus limiting downside share price risk.
Accelerated Dividends - The company announced plans to pull forward quarterly dividends to guarantee the current favorable tax treatment of dividend payments. As a result, PAYX paid an accelerated dividend of $0.66 last year, replacing the dividends that would have been paid in the quarters ending February and May of 2013. With a large net cash position of $871 million, equal to 7.2% of its market capitalization, and a predictable and steady business, the company can clearly afford to make this move, which is beneficial for tax-conscious investors.
Risks - Key upside risks for Paychex stock price include rapid payroll growth, new sales and higher operating margin expansion. Downside risks include lighter-than-expected sales, higher unemployment and competition.
Wynn Resorts (NASDAQ:WYNN) owns and operates Wynn Las Vegas, Encore, and Wynn Macau.
High Insider Ownership - The company has insider ownership of 10.27%.
Dividend Growth - Wynn Resorts will double the quarterly dividend to $1 per share, payable to investors of record. The company also paid a special dividend of $7.50 a share last November ahead of an increase in U.S. tax rates.
Large Inflow of Cash - In 2012, Wynn Resorts Las Vegas ended its Amended and Restated Credit Agreement, releasing the company's mortgage note liens and subsidiary guarantees. Following the release of the securing liens, Wynn Las Vegas distributed the golf course land, water rights and $700 million to its parent company, Wynn Resorts Holdings. The transfer of equity interests bodes well, given the large transfer of cash to the parent company, giving Wynn Resorts an additional $700 million cash to either put to business use or return to shareholders as a dividend.
Special Dividends Wynn Resorts has $712 million in free cash flow (after dividends) in 2012. This would give the company the ability to pay at least $400 to $500 million in special dividends. However, this gives it even more flexibility to issue a larger special with the additional $700 million transferred to the parent company. Historically, WYNN has paid a $4 to $8 special dividend.
Disclosure: I have no positions in any stocks mentioned, and no plans to initiate any positions within the next 72 hours.
Business relationship disclosure: Black Coral Research, Inc. is a team of writers who provide unique perspective to help inspire investors. This article was written Hans Centena, one of our Senior Analysts. We did not receive compensation for this article (other than from Seeking Alpha), and we have no business relationship with any company whose stock is mentioned in this article.
Disclaimer: Black Coral Research, Inc. is not a registered investment advisor or broker/dealer. Readers are advised that the material contained herein should be used solely for informational purposes. Investing involves risk, including the loss of principal. Readers are solely responsible for their own investment decisions.