By David Urani
Jamba (NASDAQ:JMBA) was sold off to Services Acquisition Corp in 2006 and went into a tailspin thereafter. However, recent performance in the company suggests turnaround efforts have been gaining traction. To this day it remains the top name in the smoothie space, and one of the most recognized brand names in the health food arena.
History
Founder Kirk Perron was always an entrepreneur -- in high school, instead of playing sports, he raised $12,000 from various people he knew to invest in real estate. He worked his way up to manager at Safeway, and often got smoothies after exercising as he was a health advocate. Perron got together a team of people he knew in the food service industry, and opened the first store in 1990 called "Juice Club." It had a profit by the second year and they decided to grow through franchises, and had 16 by 1994.
Perron decided franchises were not the way to go because they lowered quality, which was a big part of customer loyalty. He set out to build more company-owned stores and was able to find big-time investors including Howard Schultz of Starbucks. They went on to rebrand to Jamba and roll out new stores. In 1997 they partnered with Whole Foods to open juice bars in the stores. By 1999 they had 125 stores and acquired Zuka, which had 100.
2006 was when the company was acquired by Services Acquisition Corp. for $265 million, and Perron left the board. The company went into decline in 2008 and they moved to expand to wraps, sandwiches, and salads, and to go international. It took awhile for the new ownership's efforts to turn the ship around, but the company appears to be on the right track.
Strategic Overview
Still the No. 1 smoothie brand
774 stores, mostly in the West, in 30 states
Wants to grow from smoothie shop to full lifestyle brand, expanding products, refreshing many stores
Started JambaGo, which is a self-serve juice machine inside other stores (including school cafeterias), sold 30 in 2011, and expects 1,400-1,500 in 2013
Started selling products in grocery stores like fruit chips and energy drinks (expects $4-5 million in FY 2013)
Recently went international, with 41 stores in Korea, Philippines and Canada; entered franchise agreement for 80 stores in Mexico over 10 years
Q1 2013 Highlights
Q1 EPS -$0.02, in line with consensus, revenues +3.8% to $55 million, also in line
Q1 added eight U.S. stores, six international
Company-owned comps +3.6%, franchise comps -0.9%; expects 4%-6% company-owned comps in FY 2013 but doesn't mention franchise (479 of 779 stores are franchise)
Operating margin +70 basis points
Running at a mild loss still ($1.2 million), but has $23 million cash and no debt; should go profitable in Q3
Comps declined from 11.8% in Q1 2012 to 0.6% in Q4 2012, but they were back up to 1.3% in Q1 2013. The comps turned from negative to positive in 2010 and then really accelerated in 2011. Through 2012 the comps were against difficult comparisons so they slid, but increased again in Q1 2013, indicating the company remains on track.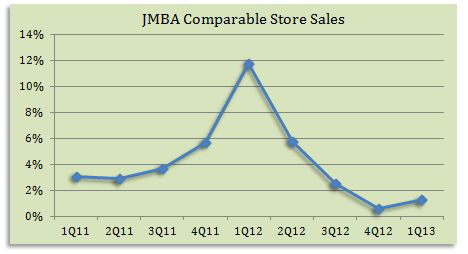 With a brand refresh, new products, entry into new selling channels, and a tapping into the international markets, JMBA seems back on its way to achieving the strong promise it had seven years ago. In fact, 2012 represented its first year of positive net income since going public. That said, much of the company's turnaround does seem to be baked into the stock already. Valuation-wise, JMBA trades at a bit of a growth premium at a 21 forward P/E, but five-year expected EPS growth is 20%, so it's virtually in line with expectations.
Nevertheless, the company still seems to be in the early innings of a wide expansion of products and geographies. If management can stay on track, look for a lot more out of this stock.