Welcome to May! Wednesday S&P futures were drifting lower and continued to slide lower throughout the day. Specifically there was significant selling acceleration after the FOMC minutes were released at 2:00 p.m. ET. This week has seen interesting stock price action as computers again returned to full bull mode again failing to push through the 1600 level. Tomorrow be on the lookout for Spanish and German Construction/Manufacturing PMI numbers as these combined with the U.S. unemployment numbers could cause some movement in the markets.
Volatility has stayed mostly flat of late as mixed earnings season continues to roll on. My last sonar report on April 23 spoke to the large drop in futures due to a hacked AP tweet. Since this time volatility bulls and bears have been battling it out as the market continues to grind higher heading into the beginning of May. Today this was no more evident than in the Volatility ETF (NYSEARCA:VXX). VXX saw almost 700K of call options net bought and 600K of put options bought showing no clear directional sentiment. The largest moves today was a roll of a profit taker of the May weekly 24 strike puts sold 5.7K times and rolled them to the May 31 weekly 19-17 1x3 ratio spread. This trade is looking for a floor of 17 on the VXX between now and the end of May, but still looks for the market to have volatility continue lower. I still am firmly in the camp of if the computers driving this market higher do not see a break through 1600 the seasonal selling in May could get very nasty.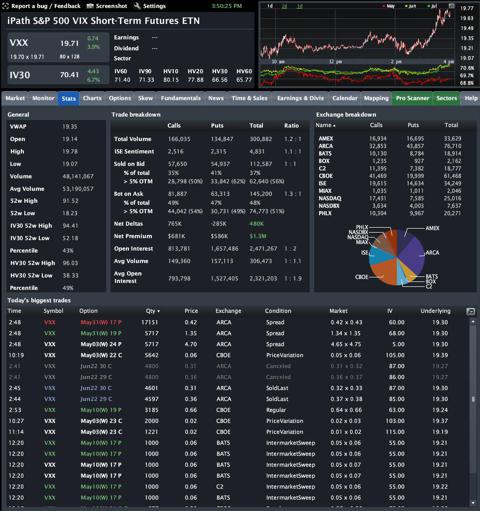 Statistics and Screenshot Provided by LiveVol.
VIX futures are listed below:
Yesterday
May VIX futures 14.45
June VIX futures 15.50
July VIX Futures 16.20
Today
May VIX futures 15.20
June VIX futures 15.93
July VIX Futures 16.63
Options Paper
Again, for those who follow me and my trades on Twitter today I pointed out Walter Energy (NYSE:WLT) seeing some crazy put action ahead of earnings tonight. WLT is no stranger to the sonar report as this name has been cut in half and left longs crying. Today a single block of 5K January 5 strike puts were bought 5K times for .15 each. Although this is not a huge bet in a dollar amount this is a play that would require WLT to do nothing short of go bankrupt to play out. This is a straight bearish bet or hedge believing WLT would need to go below 4.84 prior to January expiration.
This name continues to see bearish paper continue to pile into this name, and today was no different heading into earnings. More specifically, large call sellers emerged today selling on the bid 45% of the time with June calls sold in larger blocks. WLT typically only trades 13K options a day and today ahead of earnings traded 21.7K and had a slightly bearish tone overall. Calls and puts were dead even on the day with options telling me we will probably see lower prices.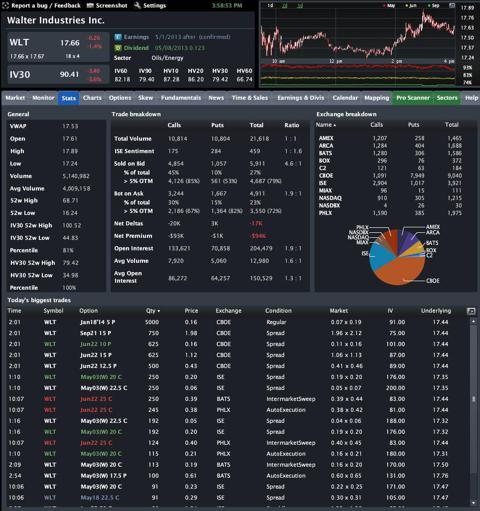 Statistics and Screenshot Provided by LiveVol.
Facebook (NASDAQ:FB) is another name that reports after the bell today and options are predicting a fairly violent swing looking for a 2.30+ move by the end of Friday. Options today saw FB all over the place with large bets on both the bullish and bearish side with bears winning out just slightly with an additional 300K in put premium purchased. The bearish bets were smaller in size overall as the premium was bought with 49% of the puts bought on the ask vs. 43% of the calls. Overall call premium was almost 1.8M today and put premium also was net bought to the tune of 2.1M again, suggesting a slightly bearish tone. I shorted Facebook common into the close and after hours looking for a retracement of the recent run-up post-earnings.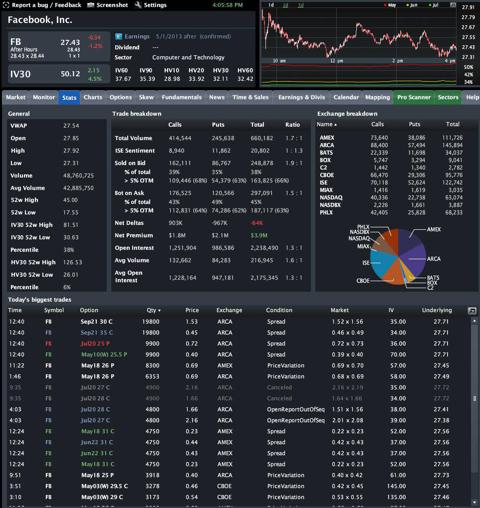 Statistics and Screenshot Provided by LiveVol.
One last option activity I would like to point out happened on Emerging Markets ETF (NYSEARCA:EEM). Today a monster bear bought more than 250K of the May 42.5 strike puts for .43 laying out more than 10M. This trade went off just after 10:00 a.m. ET and is reflected in the stock price action as it sent the price down more than 1% on the day. This follows some other monster bearish / hedge money, which has flowed into this name over the last two weeks. Today EEM traded more than 2x average daily volume with puts outnumbering calls 5.7 to 1 on the day. Keep an eye on this as the underperformance in small caps ETF (NYSEARCA:IWM) and EEM could be a signal of market weakness.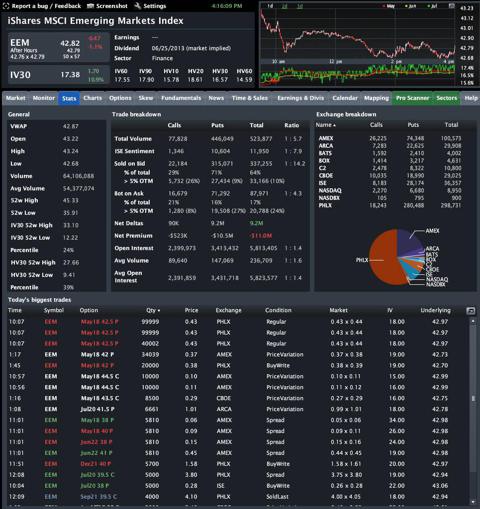 Statistics and Screenshot Provided by LiveVol.
Popular ETFs and equity names with bullish/bearish paper:
Bullish Option Flows -- ISE and % OTM calls bought on offer:
PHH Corp. (NYSE:PHH) 96% -- Very bullish 2.8K OTM calls bought on a down day
Allegheny (NYSE:ATI) 88% -- 5.8K OTM calls bought
Micron (NASDAQ:MU) 67% -- 37K OTM calls bought looking for more upside
Bearish Option Flows -- ISE and % OTM puts bought on offer:
Neonode (NASDAQ:NEON) 95% -- 2.1K OTM puts bought
Hertz Global (NYSE:HTZ) 86% -- 2.5K OTM puts bought
Lorillard (NYSE:LO) 77% -- 10K OTM puts bought
Disclosure: I am long AGNC, BA, BAX, CBB, CIM, CONE, DNDN, DRYS, HEK, IOC, LNG, NFLX, NQ, TLM, and I am short ARO, ASH, EA, FB, HPQ, LULU, PH, SPY, ZION. I wrote this article myself, and it expresses my own opinions. I am not receiving compensation for it (other than from Seeking Alpha). I have no business relationship with any company whose stock is mentioned in this article.
Trades Today: ARO short, FB short, added to SPY short (SDS calls).
Portfolio Exposure:
Long: 23.5%
Short: 21.5%
Cash: 55.0%
Disclaimer: The opinions in this document are for informational and educational purposes only and should not be construed as a recommendation to buy or sell the stocks mentioned or to solicit transactions or clients. Past performance of the companies discussed may not continue and the companies may not achieve the earnings growth as predicted. The information in this document is believed to be accurate, but under no circumstances should a person act upon the information contained within. I do not recommend that anyone act upon any investment information without first consulting an investment professional as to the suitability of such investments for his or her specific situation.