By Mike Yamamoto
Kinross Gold (NYSE:KGC) has risen with the price of the precious metal this week, and options traders apparently think that the mining company has more upside potential.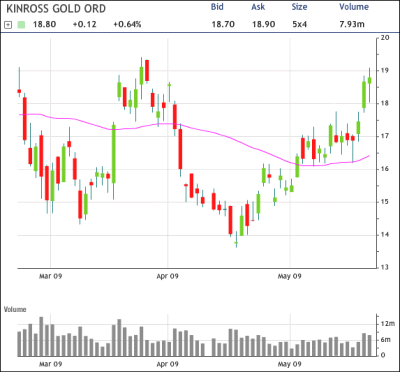 Traders were focused on the June 19 strike, where 3,823 calls changed hands versus open interest of 2,560 contracts and average daily volume of just 160 calls at that strike. The trades included two blocks totaling 2,900 calls that went for $1.05, according to optionMONSTER's Heat seeker tracking system.

Almost all the calls traded at the asking price, indicating a strong buying inclination. These investors are banking on the shares reaching at least $20.05 by the time the contracts expire in mid-June.

Buying was also notable at the June 20 strike, which saw 1,543 calls trade against open interest of 748 contracts, most of them bought at the asking price. The strike has averaged just 50 calls a day in the last month.
Shares of KGC, which closed yesterday up 0.64 percent to $18.80, have risen some 15 percent this week.


(Chart courtesy of tradeMONSTER)