By David Russell
Health Net (NYSE:HNT) has fallen for six straight sessions, and now at least one trader is using options to bet on a rebound.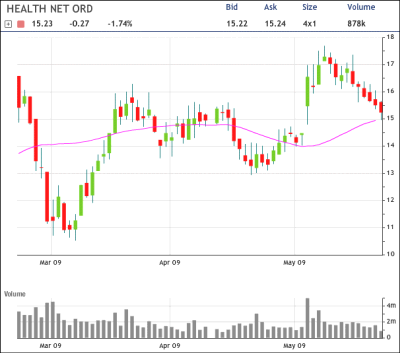 Volume in the June 15 calls surged to 4,200 against open interest of 2,714 contracts, according to optionMONSTER's Heat Seeker monitoring system. All of the transactions today were executed at the asking price of $1.20 or $1.25, which suggests a buying pattern.
HNT is down 1.74 percent to $15.23 this morning. The health insurer is down from a recent high of $17.29 and has returned to a level were it gapped higher on better-than-than-expected first-quarter results on May 5.
The stock is also near an old technical resistance level from April, which buyers may be viewing as support. HNT needs to appreciate about 7 percent by June expiration for the options purchased today to earn a profit.
Overall call volume in the name outnumbered puts 120 to 1, reflecting a generally bullish sentiment.
(Chart courtesy of tradeMONSTER)