Johnson & Johnson (NYSE:JNJ) needs no introduction. The heavyweight recently announced its 51st consecutive dividend increase, a remarkable feat. However, is now the best time to buy this giant ? Let's evaluate that, keeping this article as a reference to how things looked for JNJ a year ago.
First, let us go through some basic details about the new dividend below.
New Dividend and Yield: The new annual dividend of $2.64 per share gives the stock a yield of slightly above 3%. The new dividend will be paid on June 11, 2013 to shareholders on record as on May 28, 2013.
Dividend Growth: The 5 year dividend growth average has dropped a bit to 7.5% from 8% at the time of the article linked above.
Payout Ratio: With the new dividend, the current payout ratio has edged up to 71%, which is well above the 66% it was at the time of the previous article.
With those basics out of the way, the exercise below highlights why it is very important to pay attention to valuation even with a proven stock like JNJ by having two hypothetical characters buy JNJ at a fair/low valuation and a rich valuation.
Table 1: Let's call this person "blue chip chaser". This is someone who buys a blue chip stock no matter where the stock is trading in terms of yield or valuation.
The table below uses an annual dividend increase of 8% over the next 10 years for someone who buys the stock right now at $84 with a yield of 3% and a PE of close to 23. Sure, the yield on cost doubles and looks great. But how does this compare to the expected returns at the time of the previous article?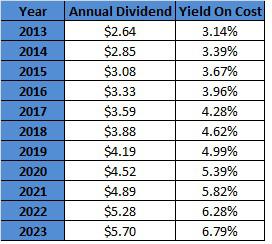 Table 2: Let's say another income seeking investor named "value hunter" buys JNJ or any similar stock only when it is trading at or below the market average. JNJ was trading with a PE of 17 and a yield of 3.6% in 2012. The yield on cost after a decade grows to 7.8% in this case versus the 6.8% in the first table.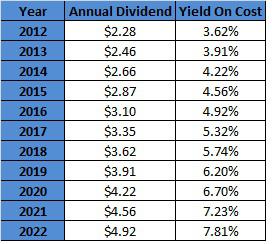 Difference: Not a big difference, right? Maybe it is. The table below shows how much more the "value hunter" gets each year in dividend income compared to the "blue chip chaser" for every $10,000 invested just because of the entry point. Who would not like an extra 8%? Let's not forget the difference in buying price for those who decide to reinvest the dividends in both cases.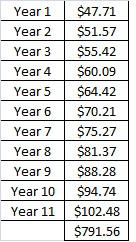 Since we can already envision some objections from the readers, we present two that come to our mind immediately.
But this is hindsight, how would someone know when to buy: Sure, it is hindsight. But even with a great stock like JNJ, it is not impossible to know whether the stock is overvalued at any point. As the chart below shows, the current valuation is at its highest level in the past 5 years. A lot of stocks are in the same category right now.
With an expected 5 year earnings growth of 6%, it is hard to justify a PE of 23.

Click to enlarge
(Source: YCharts.com)
But what about capital appreciation: With all due respect, you are holding the stock for the wrong reason. This stock has been an income seeking investor's dream and the capital appreciation could be gone as quickly as it came in. The low beta makes it an impossible stock to trade on for gains.
Conclusion: JNJ is a great company and a wonderful stock. But with the backing of the numbers shown above, we strongly believe the stock has gotten ahead of itself. This definitely is not a recommendation to sell the stock entirely. However, if you are sitting on those nice gains from $63 to $84: a) You may want to lighten up a bit b) Think twice about reinvesting the dividends and c) Think thrice about putting any new money into the stock now. The stock market is like an ocean with too many fish to say there are no better bargains out there.
Disclosure: I have no positions in any stocks mentioned, and no plans to initiate any positions within the next 72 hours. I wrote this article myself, and it expresses my own opinions. I am not receiving compensation for it (other than from Seeking Alpha). I have no business relationship with any company whose stock is mentioned in this article.
Additional disclosure: As always, please do your own research before any buy or sell decisions.