As someone who covers a lot of short ideas on this site, one of the most important items I follow is short interest data. One must always be aware of the short interest in a stock. A large short base could spark a short squeeze on good news, while low short interest could spark a huge drop on bad news. Every couple of weeks, we get an update from Nasdaq on short interest data, and I report on what I am seeing. Today, I'm here to discuss the middle of April numbers. Here are five names that short sellers have definitely been running away from recently.
Deckers Outdoor (NASDAQ:DECK):
Deckers has seen a significant amount of short covering since December, with almost one-third of shares short covered. Even after all of that, which you can see in the chart below, about one third of the outstanding shares are still short. Short covering is part of the reason why shares had more than doubled from their 52-week low, prior to the company's Q1 earnings report.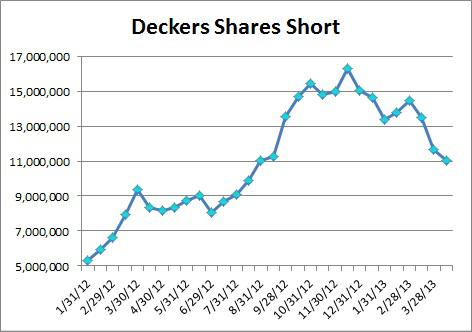 But the post-earnings pullback could present an opportunity. Deckers did have a solid Q1, but issued its 6th straight quarter of guidance that was below analysts' expectations. Part of the reason why shares have rallied is that Deckers hasn't been terrible. Results are not tremendous right now, but the company is starting to get over some of the issues that caused the stock to go from $120 to $30. Gross margins are expected to improve with sheepskin prices coming down for the fall 2013 lineup, and Deckers expects a big second half in terms of sales. The company has been aggressively buying back stock, and the reduced shared count is one reason why shorts have been scrambling. Should Deckers' results continue to improve or just not be bad, you could still see a longer term short squeeze, one of the reasons why I stated the pullback could be an opportunity.
Green Mountain Coffee Roasters (NASDAQ:GMCR):
The two million shares plus covered since the last round of short interest data doesn't seem like much. However, this is the last update we'll get on Green Mountain short interest before the company's earnings report next Wednesday. You can surely bet that the fiscal Q2 report will have a tremendous impact on short interest going forward.
As you can see from the chart below, short interest is well off its yearly high. Green Mountain announced a stock buyback in August, and that has sent shorts scrambling as the stock has gone from $15 to $57. When Green Mountain reported last time around, results were good and guidance was weak, so the stock pulled back after a huge rally. If we see another pullback after a decent earnings report here, look for short interest to drop some more. Short sellers will want to cover at lower prices, because the company's buyback still has a lot of firepower behind it.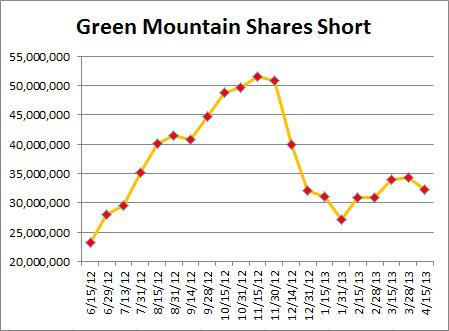 Google (NASDAQ:GOOG):
Google certainly makes this list as nearly 28% of short sellers disappeared in a month. For a large cap name like Google, a move in short interest like this is almost unheard of. Short interest in Google is at its lowest point in three months, and with some more covering, it could be at its lowest point in a year.
Google was recently back over $825, but it is a rally like this that may encourage short sellers to come back to the table. Google's growth is not what it may seem. Q2 will be the first quarter where we get Motorola to Motorola comparable results, and you will definitely see a revenue growth slowdown. Also, when looking at the growth, it is important to not confuse the GAAP and non-GAAP numbers. Certain websites may show Google's quarterly growth rates at 50% or higher, when they really are closer to 20% or 30%, and that includes the Motorola boost. As investors start to realize Google's growth is not that spectacular, it will be interesting to see if Google's stock is punished like Apple's (NASDAQ:AAPL) stock was.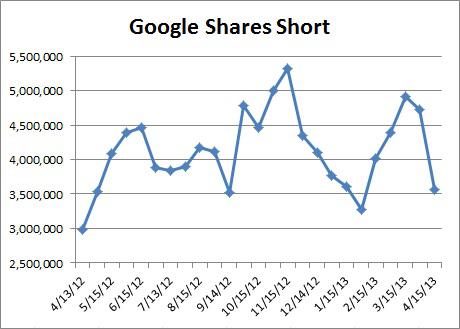 Hewlett Packard (NYSE:HPQ):
Hewlett Packard has seen nearly half of its shares short covered since the end of November, as you can see in the chart below. The PC company, which many were counting out, is currently $9 above its 52-week low of $11.35. In percentage terms, that's a rise of 80% off the low, and you can assume short covering was part of it.
Hewlett Packard will be one of the last names to report this earnings season when they report on May 21st. The company is expected to post an 8.3% decline in revenues and nearly twice that decline in earnings. One must wonder if short sellers will start to pile back into the name before earnings. There will be two more short interest updates before the earnings report, but due to the delay those reports are on, we'll only see one before the report.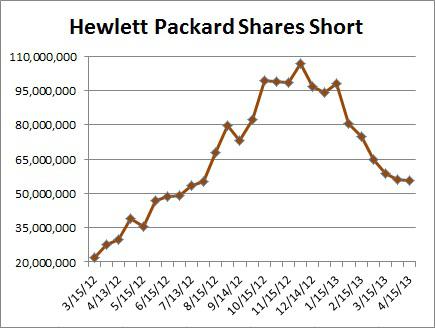 Sirius XM (NASDAQ:SIRI):
After a staggering rise to new highs, Sirius' short interest has come down in three straight updates. Almost 35.5 million shares short have been covered, more than 8.5% of the recent high. As you can see from the chart below, this is the lowest that short interest has been in this stock during 2013.
Not surprisingly, as short interest has come down, the stock has gone up. Like many names in the market, Sirius is near its 52-week high, which it hit on Wednesday. The company recently released its quarterly earnings report. The company bought back over 200 million shares in the quarter, and that is one reason why shorts may be covering. It will be really interesting to see how short interest fares over the next two updates as investors digest the report. For the moment, this rally may be sustainable.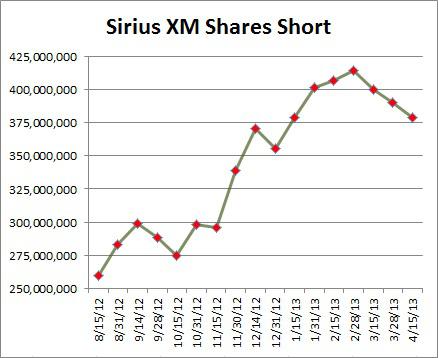 Final Thoughts:
All five of these names have seen either recent or long term short covering. For some of these names, short covering has helped to push these stocks higher, to either multi-month or yearly highs. For some of these names, the short interest percentage is still fairly high, meaning additional short squeezes could occur. We'll see how short interest fares at the next update, and how many of these names make the list again then. I'll return in a few weeks when we get the next update.
Disclosure: I have no positions in any stocks mentioned, but may initiate a long position in DECK, GMCR over the next 72 hours. I wrote this article myself, and it expresses my own opinions. I am not receiving compensation for it (other than from Seeking Alpha). I have no business relationship with any company whose stock is mentioned in this article.
Additional disclosure: Investors are always reminded that before making any investment, you should do your own proper due diligence on any name directly or indirectly mentioned in this article. Investors should also consider seeking advice from a broker or financial adviser before making any investment decisions. Any material in this article should be considered general information, and not relied on as a formal investment recommendation.