MetLife, Inc. (NYSE:MET) is a leading provider of life insurance, annuities, supplemental life insurance and other financial services. While this sector was hit hard during the financial crisis, the insurance sector has bounced back and there are many indicators pointing to additional gains. Low interest rates are a challenge for this company as it needs to generate returns on its investment portfolio. However, insurance companies have benefited from a major rally in the stock market over the past several months and this helps to offsets low rates. Let's take a look at the chart and a few reasons why MetLife shares appear to be heading higher: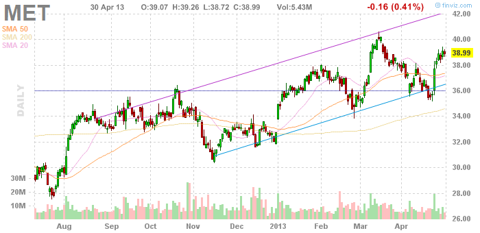 As the chart above shows, MetLife shares were trading for just over
$30 in November, and have been in a solid uptrend ever since. More
recently this stock has traded in a range of around $36 to $40 per
share. However, the stock could be poised to break out of this
trading range and even set a new 52-week high, which is currently $40.64 per share.
Some very smart investors have been investing in MetLife shares. Billionaire and hedge fund manager David Tepper was recently reported to be buying shares of MetLife. Mr. Tepper is the founder of Appaloosa Management which has produced gains that have made Mr. Tepper a billionaire and many fortunes for his investors. It's easy to see why Mr. Tepper has been a buyer of MetLife shares because the stock appears undervalued.
MetLife shares are trading significantly below book value, which is about $59.04 per share. It is also trading for just around 7 times earnings. This is nearly half of the average for the S&P 500 Index (NYSEARCA:SPY), which is currently trading for about 15 times earnings. Furthermore, this stock could start attracting a whole new group of income investors thanks to a recent increase in the dividend. Just days ago, MetLife raised its quarterly dividend by almost 50%, to 27.5 cents per share. This puts the yield at nearly 3% which is a level that outpaces many other investments including some bonds. With a rising dividend, a below market PE ratio, and with the shares below book value, there still appears to be plenty of upside left for MetLife.
Here are some key points for MET:
Current share price: $39.16
The 52 week range is $27.60 to $40.64
Earnings estimates for 2013: $5.29 per share
Earnings estimates for 2014: $5.68 per share
Annual dividend: $1.10 per share which yields 2.9%
Data is sourced from Yahoo Finance. No guarantees or representations are made. Hawkinvest is not a registered investment advisor and does not provide specific investment advice. The information is for informational purposes only. You should always consult a financial advisor.
Disclosure: I am long MET. I wrote this article myself, and it expresses my own opinions. I am not receiving compensation for it (other than from Seeking Alpha). I have no business relationship with any company whose stock is mentioned in this article.