As someone who covers a lot of short ideas on this site, one of the most important items I follow is short interest data. One must always be aware of the short interest in a stock. A large short base could spark a short squeeze on good news, while low short interest could spark a huge drop on bad news. Every couple of weeks, we get an update from Nasdaq on short interest data, and I report on what I am seeing. Today, I'm here to discuss the middle of April numbers. Today, I'll discuss five names that short sellers are aggressively going after, whether just recently or over the longer term.
Molycorp (MCP):
The struggling rare earth mineral company saw its short interest hit another new high in mid April, but one must wonder if this is finally the turning point. While a new high was hit for short interest, the rise in short interest was very small. The stock has started to turn, and is now up about $1 off its 52-week low. $1 may not seem like much for a stock that was above $70 a share just two years ago, but this name has rallied more than 20% from its recent low.
I'm not arguing that short sellers will be abandoning this name anytime soon, as the company has continued to miss revenue and earnings expectations. Many executives have left the company, and the stock's latest fall began after they delayed the release of their Q4 earnings. I'm sure that the short sellers will start to go after this name if it keeps rising, but in the past few weeks, it looks like the shorts may have started to cover. We'll see if that lasts.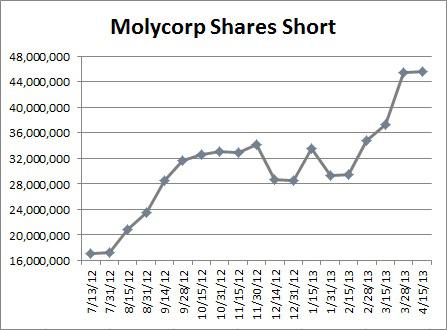 lululemon (NASDAQ:LULU):
The Canadian apparel maker took a hit after it warned of a pants shortage on quality issues. The stock fell but I argued that the name could certainly recover. Since my article was published, the stock has rallied by more than $12, nearly a 20% gain. In fact, the stock is less than $6 from its 52-week high, despite the quarterly warning because of the pants problem.
Between the pants problem and the stock continuing higher, it really isn't a surprise that short interest in this name has increased. This is a name that trades at a really high price to earnings multiple, and there have always been non-believers. That is especially evident with short interest being up 80% since the end of 2012. At this point, more than 18% of the outstanding shares are short. However, the more interesting point is that the 26.56 million shares short are nearly 10 times the 2.82 million 3-month average trading volume. That means that a nice short squeeze could occur if the company's results turn out to be better than expected. After the pants problem, many counted this company out. At this point, that was the wrong decision.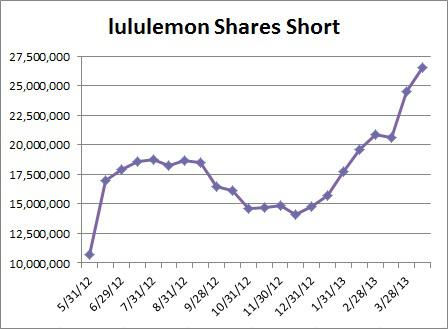 VMware (NYSE:VMW):
The tech name barely missed hitting a new 52-week low on Wednesday. Shares have fallen again after weak Q2 guidance, and after last quarter's disappointment, investors are starting to get fed up. After rallying from $70 to the recent high of $86 in mid-March, shares are right back down at $70 again. We could easily see a new 52-week low in Thursday's trading.
I brought up VMware because short interest is going higher again. After a fall from 12.56 million to 6.54 million, short interest jumped by more than 1.5 million shares in the past month. We're now back over 8 million shares short, a rise of 23.5% in a month. After VMware's disappointment last time around, shorts used the fall in shares to cover their positions. Given another round of bad guidance, it will be interesting to see if they take their gains again, or try to knock this name down even more.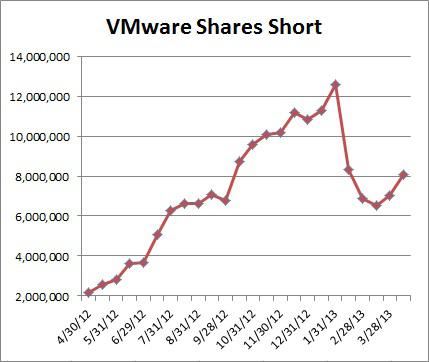 BlackBerry (NASDAQ:BBRY):
If you didn't think short interest in BlackBerry could go any higher, you were wrong. It's amazing to see short interest continue to rise at every single update. Other than a brief dip in January, short interest in the phone maker has climbed continuously since September. Short interest has basically doubled since that September low point, now putting roughly 32% of the outstanding share count short.
A potential massive short squeeze was one reason why I said BlackBerry could be this year's winner. Results are definitely starting to improve as the BB10 phones are out, the balance sheet is in great shape, and the valuation is very low. BlackBerry shares were at their highest point in nearly three months on Tuesday, and one must wonder how the shorts will react if we make a run at $20.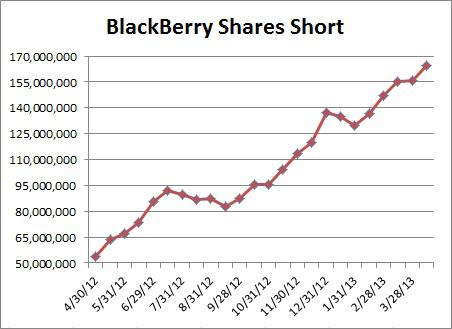 Dendreon (NASDAQ:DNDN):
The biotech name behind Provenge was recently at a 2013 low, so it's no surprise that short interest was recently at a high. Dendreon short interest is up more than 63% over the past year, and now more than a third of the outstanding share count is short. Short interest is up almost 21% so far in 2013.
Why has Dendreon not done well lately? Well, as I described last month, the company's growth prospects have failed to impress, coming up significantly short of expectations. In June 2012, analysts were expecting more than $507 million in revenues from Dendreon during 2013. This revenue number is critical because Dendreon continues to state that they will be cash flow positive from US operations when revenues hit $100 million on a quarterly basis. Until then, the balance sheet will continue to worsen, making the chance they need to raise funds even more likely.
Currently, revenue estimates for 2013 stand at just $352.78 million. It used to look like a $100 million quarter this year was a certainty, but analysts are getting increasingly skeptical. Dendreon will report earnings in a week, and there will be many eyes watching. Dendreon is undergoing a massive restructuring that will help boost gross margins and reduce losses, but until they can find some revenue growth, this name could continue to struggle.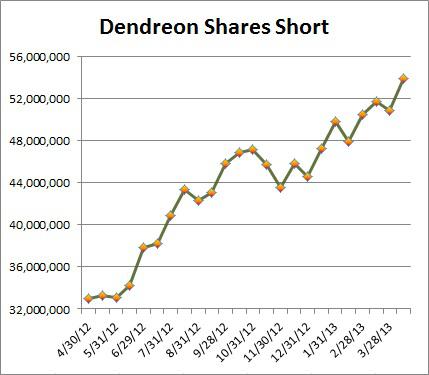 Final Thoughts:
All five of these names have seen recent or longer term sharp increases in their short interest. Investors should always watch short interest, as it is a way to determine sentiment in a name. For some of these names, the number of shares short represents a high percentage of the outstanding share count. Should these names deliver good news, massive short squeezes could push these names much higher in a short time period.
Disclosure: I have no positions in any stocks mentioned, and no plans to initiate any positions within the next 72 hours. I wrote this article myself, and it expresses my own opinions. I am not receiving compensation for it (other than from Seeking Alpha). I have no business relationship with any company whose stock is mentioned in this article.
Additional disclosure: Investors are always reminded that before making any investment, you should do your own proper due diligence on any name directly or indirectly mentioned in this article. Investors should also consider seeking advice from a broker or financial adviser before making any investment decisions. Any material in this article should be considered general information, and not relied on as a formal investment recommendation.