A couple of weeks ago, cigarette giant Philip Morris (NYSE:PM) pulled back after its first quarter earnings report. The more than $5 pullback was a great entry point for long-term investors. I've always showed the best buy points for Philip Morris, as well as the times to step back and wait for the pullback. Philip Morris shares have rebounded from the recent pullback, and the stock is back in wait and see territory. Today, I'll update where things stand, and show why investors should wait for the next pullback that comes.
Current expectations:
When comparing Philip Morris to others in the space, I look at three other names: Lorillard (NYSE:LO), Altria (NYSE:MO), and Reynolds American (NYSE:RAI). The following table is one I've used in several articles for this industry. It shows the currently expected growth in terms of both earnings per share and revenues. These are the analyst estimates for 2013 and 2014, as well as a two-year total. I've also provided each company's dividend yield as another way to compare these names. The yellow highlight indicates the leader in that specific category. I'm going to do things a bit differently this time around. I'll show two versions of the table, one from my last update, and the one from now.
(Expectations as of 4/18)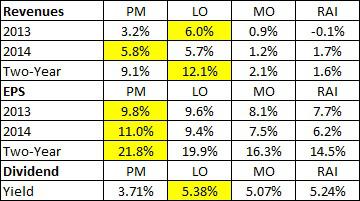 (Expectations as of 5/1)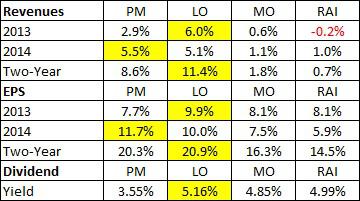 As you can see from the two tables, Philip Morris's expectations have come down quite a bit since their Q1 report. The company lowered its full-year earnings forecast due to currency issues, and that has caused analysts to take down their numbers. 2013 estimates have been slashed, but so far, analysts expect some of that to be made up in 2014. I wouldn't put too much into the 2014 estimates just yet, but it will be important to see how those numbers change over time.
The key takeaway here is that Philip Morris remains in a distant second place to Lorillard when it comes to revenue growth. Additionally, Philip Morris went from the clear earnings leader to now in second place over the two years. Philip Morris is the only name to see its two year earnings forecast reduced since my last update.
Current Valuations:
I always say that growth is important, but the more important part is how much are you paying for that growth. Well, the following table shows valuation metrics for each, as of my last update and now.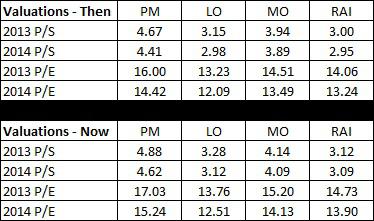 You'll notice that all of the valuations have come up since the last update. That is a combination of prices rising, as well as some forecasts being cut as well. As anyone who has read my past articles knows, Philip Morris has always traded at a premium to these other names that I look at. That premium can be found in the table below, since my last update.

Here's the key point. The price-to-sales premium is basically flat. Yes, it's come down a bit more for 2014, but remember the 2014 forecast is the less predictable one at this point. My main concern is the price-to-earnings premium. Because Philip Morris's forecast has been cut, the price-to-earnings premium has jumped. It may not seem like a premium going from roughly 15% to 17% is much, but the rate of the change is 14.07%. You were already paying a premium at my last update, and now you are paying 1/7 more on top of that, for 2013, and about 1/9 more for 2014.
On Wednesday, Philip Morris shares hit a new high of $96.73 before losing a little over a dollar as the markets pulled back. I warned investors when we were in the $94 to $95 range to wait for the pullback, and shares dropped to $91. Now we are back near $96, and we were close to $97 on Wednesday. It could be possible that we see another dollar or two of upside from here, but you don't want to chase that dollar. Wait for a pullback and you'll be rewarded. That pattern has worked extremely well over the past 18 months.
The analyst take:
Don't just take my word for it when it comes to Philip Morris. It's always good to see what the analysts say. The following table shows the average rating, where a 1.0 is a strong buy and a 3.0 is a hold. The table also shows the average, or mean, price target currently, and the upside to that target from Wednesday's close.

Philip Morris maintains the best rating, but just the second highest upside to the average analyst target, and that upside is less than three percent. Generally speaking, the best time to buy Philip Morris is when that upside reaches 8% to 12% (or more), while 3% to 5% (or less) is the time to stop accumulating. At Wednesday's high of $96.73, upside to the average target was just 1.81%. That has been a sign to wait, and it's better to buy at $92 than $97.
Technical Factors:
I showed a chart in my last update showing Philip Morris shares with a Bollinger band range. When Philip Morris hits the upper Bollinger band, the stock pulls back. When shares hit the lower Bollinger band, shares usually rebound, as that is a level of support. We were extremely close to the upper band on Wednesday. Like I said, there is the potential for another dollar or two of upside here, but it's not worth chasing.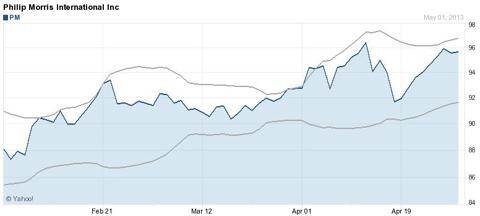 (Source: Yahoo! Finance)
Final Thoughts:
Philip Morris shares hit a new high on Wednesday before pulling back. The stock has rallied nicely since dropping after its latest quarterly earnings report, which I cited as a potential time to enter the name or accumulate more. With shares back up, investors may want to stop accumulating or wait before entering the name. The company's growth forecast has been reduced, and the stock looks ready to pull back. Philip Morris is a great name to be in for the long term, but it's not worth overpaying for. Wait for the next decline, and when it comes, pull the trigger.
Disclosure: I have no positions in any stocks mentioned, and no plans to initiate any positions within the next 72 hours. I wrote this article myself, and it expresses my own opinions. I am not receiving compensation for it (other than from Seeking Alpha). I have no business relationship with any company whose stock is mentioned in this article.
Additional disclosure: Investors are always reminded that before making any investment, you should do your own proper due diligence on any name directly or indirectly mentioned in this article. Investors should also consider seeking advice from a broker or financial adviser before making any investment decisions. Any material in this article should be considered general information, and not relied on as a formal investment recommendation.