I had written earlier how growth in mobile semiconductors would help Intel (NASDAQ:INTC) offset the decline of the PC industry. Intel had introduced processors for smartphones and tablets in 2012 as the company is starting focusing its efforts towards the rapidly growing mobile device industry. Intel's processors are mostly focused towards processing power and are not as energy efficient as ARM (NASDAQ:ARMH) processors. This has made it difficult for Intel to make a rapid impact in the mobile devices industry. However, even in its initial efforts, Intel is managing to get a lot of success. According to a new report on the tablet market, Intel has shown tremendous growth in the tablet market in the first quarter of 2013. Though the growth is from a very small base, readers should remember that Intel's mobile chips will see a radical improvement in late 2013 and 2014. Intel will start manufacturing mobile processors on an industry leading 22 nm process node and will also integrate LTE functionality in its SoC. These changes will make Intel equal, if not beat, the competition in terms of performance and give it a huge share of the rapidly growing mobile semiconductor market.
Tablet Market - Intel expands rapidly in Q113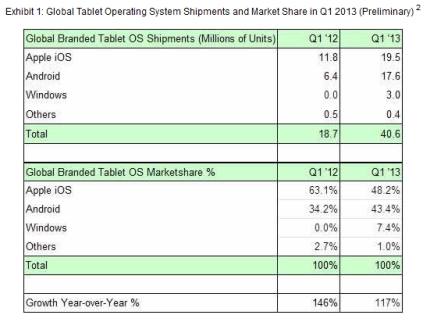 Source - Strategy Analytics
According to Strategy Analytics, Microsoft (NASDAQ:MSFT) managed to expand its tablet market share from 0% to 7.4% in Q113. Most of these tablets were Surface tablets with Intel processors which would imply that Intel captured ~5% of the global tablet market in Q113. This market share is going to further increase in Q213 as new tablets based on Intel's "Clovertrail" processors are being released on the Android platform. Many of these Intel powered tablets were showcased during CES and have started making a commercial appearance in April 2013. Asustek has come out with an excellent new tablet Fonepad which uses Intel's Atom processor. These tablets are priced below the iPad mini and have excellent features like a front/back camera, high resolution, voice calling etc.
The tablets running on Android 4.1 Jelly Bean and packs with 7-inch touch screen with a resolution of 1280 × 800 pixels. Meanwhile, Asus FonePad was fully supported by the reliability of the Intel Atom Z2420 1.2GHz processor plus 1GB of RAM and PowerVR SGX540 GPU. While there is a 16GB of internal memory and support for MicroSD expansion slot. Asus FonePad body is made from cast metal with color choices of gray and gold. This tablet offers with 219 EUR or around for $279 USD in Europe, while the price in the U.S. is $249 USD per unit.
Intel is not depending solely on Microsoft
The Wintel duopoly had allowed Intel and Microsoft to dominate the computing industry for the last two decades. However, Google (NASDAQ:GOOG) has become a formidable competitor and its free Android operating system has captured a dominant share of the smartphone OS industry. Intel has realized that it cannot rely solely on MSFT and needs to diversify its software partners. The company has been collaborating with Google on Android since 2011. This has allowed Intel to sell processors to Android tablet makers like Asustek.
The two companies will work together to optimize future versions of Google's Android mobile software for Intel's "Atom" processors, hoping to speed the development and time-to-market of future Intel-powered smartphones. Until now, it has been up to phone manufacturers to make their Android phones compatible with Intel chips, whereas future versions of the Android software will work with Intel chips right out of the gate, and will be optimized to take advantage of Intel's technology.
Apple has no presence in the below $300 tablet segment
Apple (NASDAQ:AAPL) is losing market share in the tablet market despite its shipments increasing by more than 65% during Q113. Most of its market share loss is coming due to a lack of products in the below $300 tablet range. While the iPad mini has captured a large part of the middle segment of the tablet market, the lower end of the market has been completely captured by the Android makers. The lower end of the tablet market is seeing a massive growth surge in emerging markets where price is the main consideration. Just as Apple is losing out a massive segment of the mobile phone market, similarly it is losing out on a massive segment of the tablet market. The company's market share reduced by a whopping 15 percentage points during the first quarter as Windows and Android captured ~7.5% each from iOS.
"Bay Trail" will make further inroads in late 2013
Intel is set to introduce "Bay Trail" processors in late 2013 which would give it an edge over competition as it would be the first mobile processor to be made on the 22 nm process node. This will lead to performance and power consumption advantages over its rivals. Even the current generation of Clovertrail Atom processors is receiving good reviews. Bay Trail will further improve Intel's mobile processor offerings. With Android tablets adopting Intel processors, it might be possible for Intel to capture 30-40% of the tablet market in 2014.
According to Fudzilla's "industry sources," tablets featuring Intel's upcoming quad-core Atom "Bay Trail" SoC will arrive in Q4 2013, specifically in time for the 2013 holiday season and the important consumer holidays of Thanksgiving, Black Friday and Boxing Day.
ARM would be a big loser
ARM's stock has been trading at very high valuations due to its near complete monopoly over the tablet and smartphone markets. However, I think ARM investors will be in for a rude surprise as Intel rapidly captures a large market share of the tablet and smartphone semiconductor industry. Intel is also set to integrate 4G LTE functionality into its processors.
Stock Performance and Valuation
Intel's stock has started to trend up after giving a decent set of Q113 quarterly results during which the management reiterated full year gross margin guidance of 60%. Analysts had feared the worst and the stock went up when the fears were found to be false. The company is trading at ~$23.95 which gives it a forward P/E of ~12x. The biggest attraction of Intel's stock is the ~3.75% dividend yield which is the highest for a big technology stock. The company also buys back a massive amount of stock each year using its monstrous operating cash flows.
Summary
Intel is entering a period of powerful new product launches in the coming year which should increase its growth trajectory. The company is all set to launch its most energy efficient processors for the PC market in June. It will introduce one of the most efficient and powerful chips for the tablet market in late 2013 and will have a new generation of processors with integrated 4G LTE functionality in early 2014. The stock has already started to show signs of life as the market has started recognizing its potential. The stock is still quite cheap and gives the highest dividend yield among large cap technology companies. The company has impressive competitive barriers and is increasing its technological lead over competitors in semiconductor technology. Intel remains one of my favorite buys in the technology industry.
Disclosure: I have no positions in any stocks mentioned, and no plans to initiate any positions within the next 72 hours. I wrote this article myself, and it expresses my own opinions. I am not receiving compensation for it (other than from Seeking Alpha). I have no business relationship with any company whose stock is mentioned in this article.