If the P/E ratio is a reliable measurement of results and expectations, Google (NASDAQ:GOOG) is yards ahead of Microsoft (NASDAQ:MSFT). What the P/E tells us about these two is that investors are willing to pay about $25 for every dollar in current earnings for Google at a trailing P/E of 24.63X as opposed to $17 for Microsoft at 16.86X. This is about an $8 gap which if multiplied by Google's current earnings comes out to a substantial premium that investors are paying for Google's shares. This assumption would be unquestionable if not for the fact that the trailing P/E is an accounting metric that does not factor in some intangibles that most often affect the dynamics of demand and supply that ultimately determine the price investors pay for a stock.
From a product and services standpoint, Google and Microsoft are very similar companies and overlap in many areas even though their core competencies are distinct. From a behavioral standpoint they are just as antagonistic, protective, and willing to take each other to the regulators if they deem that the other is creating bottlenecks to hamper market share gains from the other.
The fundamental difference between the two lies in their approach to business. Google funnels its products and services into search where it is dominant. Microsoft uses the licensing and fee based route which it has maintained as it has diversified into new areas. Each company has its own challenges but beyond objective items the areas that drive the premium mentioned above are subjective - growth outlook and risk profiles for both companies. Is the gap between the growth prospects and risk profiles for these two companies worth the $8 premium?
Comparing the Two:
Comparing Google and Microsoft is a futile exercise. You could create a grid comparing their search engines, business units, enterprise resources, mobile strategy, entry into hardware, antitrust issues, ecosystems around core offerings, rivalry with Apple (NASDAQ:AAPL), dependence on other hardware manufacturers as point of entry, and desire to control the lives of users from their bedrooms to the office and back to their living rooms. You could easily write a book about their products/services, another book about how both companies are adept at copying others, and even how they would poach employees from each other. For the sake of brevity and the ability to get to a conclusion I will limit comparison to a few relevant items.
In the last 5 years they have both done a good job of growing revenue even though Google has grown revenue at a YOY average rate of about 24% as opposed to 5% for Microsoft.

The average growth rate should not be confused with total revenue (see chart) which still favors Microsoft.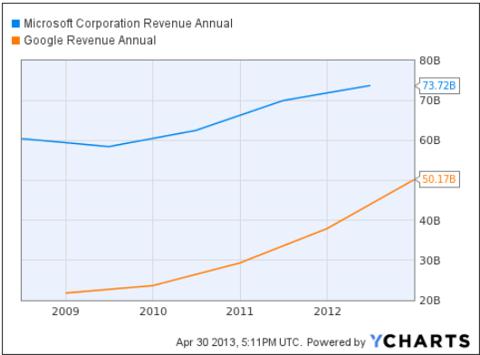 The picture does not get any clearer when you handpick a few profitability or management effectiveness metrics in the chart below. Google clearly blows Microsoft away in EPS which should matter to investors but not in ROE or Gross Profit.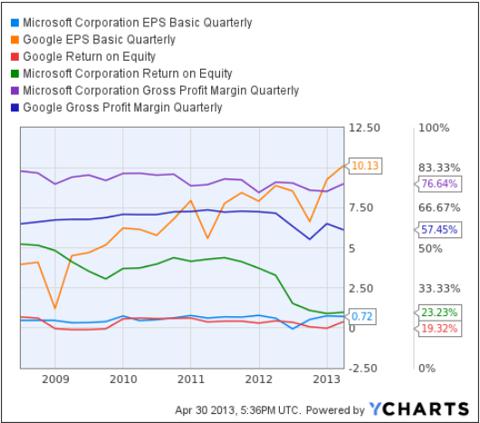 After looking at the metrics above it is still not easy to clearly lean one way or another. It gets even more complicated when you factor in the third musketeer, Apple , to try to determine relationships in movements between them. You would think that because the three of them are so intertwined they would have some form of a discernible relationship. But, they seem to move more on their own merit and independently than in a pattern.
The Decline of the PC
Inextricably Microsoft's reputation as a company takes a hit every time the IDC releases new and mostly downwardly revised projections for PC shipments. Microsoft's growth was built on a simple vision of "A personal computer in every home". As PC sales went so did Microsoft go and now that PC sales are starting to decline it seems the vultures hovering over the company. If this were an accurate assertion PC shipments would mirror Microsoft overall health as a company. The charts below do not support that. The left chart is about the PC meltdown while the right side shows steady revenue increase. Obviously, the charts are also not saying that the decline in PCs has been great for Microsoft but at least they invite further inquiry. At a very high level it clearly demonstrates that Microsoft is bigger than its Windows and Windows Live division which is directly tied to PC sales. It is also indicative of the fact that even though overall outlook for Microsoft is not as rosy as some of the darlings of the mobile age it is at least holding on as it aggressively tries to re-imagine itself.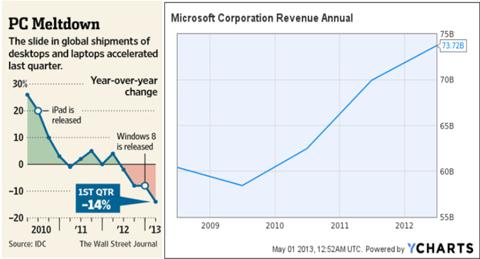 Mobile:
Microsoft cannot say that they missed the transition to mobile because in fairness they did not. They messed it up with a convoluted approach that forced them to restart from scratch many times. Their strategy was misdirected by a PC-first mentality which did not always translate well to mobile devices. It alienated consumers as well as manufacturers and unfortunately for them Android and iOS came in with more refined, consistent and mobile-ready alternatives. From a standstill Android has moved into a commanding 43.7% market leading position, with iOS coming second and Windows OS a distant third. The silver lining for Windows in the mobile space is that it has actually succeeded in gaining market share and in Nokia (NYSE:NOK) it has a partner that is as competent as any with hardware.
Circling back to the Google argument and asking if Android is a part of the $8 aforementioned premium, my answer is yes. Microsoft may make more direct royalty money from hardware manufacturers that produce Android devices but it is myopic to think Android is not beneficial to Google. Each Android phone sold is like a drop of water in a funnel that feeds back to the Google ecosystem, specifically to its search and Ads cash cow. The more Android phones that are sold the more people Google captures in the ecosystem. The longer customers stay in the ecosystem the more likely it is that sooner or later they will actually buy something from Google (Play Store) or eventually get charged for something.
Conclusion:
Google is in the business of democratizing information even if their definition of democracy earns them billions of dollars. Microsoft started out with the goal of getting a PC in every home and are moving on to a new vision that can be summarized as "connectivity". They are both fairly mature in some sense except that Microsoft has a lot of new initiatives that are still in the "promise" phase. Google is safe, it will be around for a long time, it is locking in consumers into its ecosystem one Android phone at a time, it is not susceptible to the type of capitulation that Apple went through and might just get in position to start paying dividends soon.
My choice, however, is Microsoft primarily for its lower valuation, higher risk and higher potential at new revenue. I fully appreciate the risks inherent with the decline in PCs but I also think that there is too much value locked up underneath the Microsoft name in Xbox, Azure, Office 365, Server and Tools, Surface etc. I pick Microsoft because the setbacks in Windows have not slowed down the other divisions and because it still has a fighting chance in Mobile. If Windows Blue finally corrects Windows 8 and the new Xbox is well received the number of right things might finally allow Microsoft to attain the pace needed to put pressure and take a leadership position once more in key market segments.
Disclosure: I am long MSFT. I wrote this article myself, and it expresses my own opinions. I am not receiving compensation for it (other than from Seeking Alpha). I have no business relationship with any company whose stock is mentioned in this article.