Coal-producing companies have struggled to gain investors' favor this year. While the S&P 500 has rallied 13% to all-time high levels, coal ETFs such Market Vectors Coal ETF (NYSEARCA:KOL) has declined 14% YTD. Most of the large holdings in KOL have drastically underperformed both the S&P 500 and the coal ETF (see Figure 1). Alpha Natural Resources (ANR) declined 23%, Consol energy (NYSE:CNX) increased 4%, Joy Global (NYSE:JOY) decreased 11%, Peabody Energy Corp. (BTU) declined 24%, and Yanzhou Coal Mining Corp. declined 38% on a year-to-date basis.
Despite the underperformance of coal companies, several analysts suggest that coal demand will increase in the near term bringing capital appreciation to these companies' PPS. However, I believe that the future of coal looks unfavorable because 1: Natural gas prices have more than doubled while demand for coal remains unchanged. 2: China reported a slowing economic growth, 3: Coal power plants are the most-pollutant method of electricity production. 4: Steel output is outpacing the demand for steel.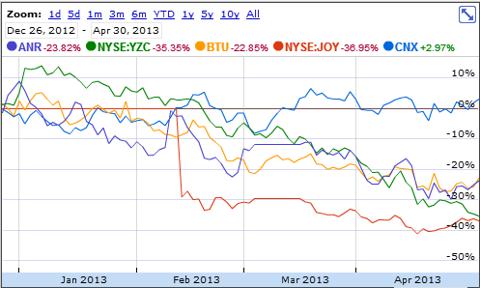 Figure 1. YTD performance of Alpha Natural Resources (purple), Consol energy (blue), Joy Global (red), Peabody Energy Corp. (yellow), Yanzhou Coal Mining Corp. (green).
Natural gas prices and coal demand.
Natural Gas prices have jumped from $2.00 in May 2012 to $4.35 at present. Analysts and investors may argue that since natural gas prices have increased, companies that produce electricity by natural-gas power plants will experience a decline in their revenues, an example would be Atlantic Power (NYSE:AT) which produces 53% of its electricity from natural gas power plants. Therefore, coal power plants will once again surge as favorite candidates for electricity production because of their low costs of operation. While I agree that natural gas power plants will experience a decline in their revenues, I believe that coal power plants will not be favored because they are regarded as high-emissions facilities.
The following graph (Figure 2) represents the performance from May 2012 to April 2013 of the Market Vectors Coal ETF and United States Natural Gas Fund LP (NYSEARCA:UNG). While natural gas prices have increased since mid-2012, coal companies have observed substantial decreases in their price-per-share. Coal demand did not increase, and it is likely to continue at current or lower levels in the near future.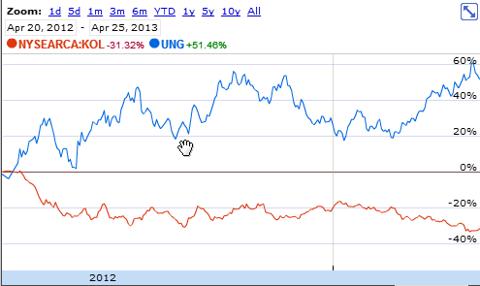 Figure 2. Performance of Market Vectors Coal ETF (red), United States Natural Gas Fund LP (blue) since May 2012.
Environmental concerns about coal power plants
Coal power plants are unlikely to gain supporters due to environmental concerns. Coal is the most pollutant fuel being used to generate electricity. The combustion of coal releases carbon monoxide, carbon dioxide and other green-house molecules which affect our health.
Apart from the release of green-house gases, these power plants emit sulfur dioxide. The gas is dangerous because it is responsible for acid rain. The combination of sulfur dioxide and water molecules in the atmosphere transforms the gas to sulfuric acid, which precipitates in the form of rain. Plants, animals, humans and even man-made structures are damaged by acid rain. According to Environmental News Service, "PSI Energy's R. Gallagher power plant in Indiana, a power station operated by Duke Power (NYSE:DUK), ranks highest for the rate of sulfur dioxide emissions".
For these reasons, the U.S. government is imposing tighter emissions controls in an effort to reduce the release of these molecules to the atmosphere. In my opinion, a migration towards cleaner electricity production methods should appreciate in the near future. According to a report from the Congressional Research Service, coal generated 42% of the total electricity output in 2011, but it only generated 32% of the total output in 2012, a huge difference.
The economic growth in China is slowing
Coal prices have also declined because several countries are showing signs of economic contraction. China's Purchasing Managers Index fell to 50.5 for April from 51.6 in March according to HSBC Holdings Plc. However, the revised reading from the National Bureau of Statistics was 50.9 for March. China's PMI is of critical importance because the country is the main coal importer according to worldcoal.org (Figure 3). The latest PMI index reading implies that coal demand is likely to remain down in the interim.
Figure 3. Top coal importers in 2011. Material extracted from worldcoat.org. This material may be accessed here.
Coal and Steel
China's economic contraction has been observed in other areas. Steel producers have seen decreasing demand levels for the metal, which has pushed prices lower. As a result, most steel companies are currently trading at 52-week low levels. US steel (NYSE:X) declined 25%, POSCO (NYSE:PKX) declined 12%, Arcelor Mittal (NYSE:MT) declined 28%, and Companhia Siderurgica Nacional (NYSE:SID) declined 27% on a year-to-date basis, Figure 4.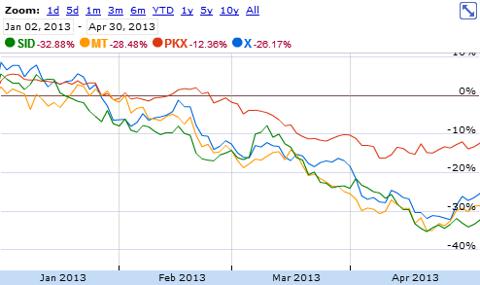 Figure 4. YTD performance of Arcelor Mittal (yellow), Companhia Siderurgica Nacional (green), US Steel (blue), POSCO (red).
According to Ernst & Young, from 2009 to present, the production of steel has outpaced its demand in China (Figure 5). United States steel manufacturers are likely to see their revenues decrease further, since most of their production is exported to China. As of 2012, China possesses 39 million tonnes of steel surplus. If you are asking yourself why steel is important for coal, the answer is simple. Mineral coal is used to fabricate a fuel named Coke, which is a high-carbon content fuel used in the steel manufacturing process. The steel surplus may trigger cuts in future steel production, which would lower the demand for coal even more.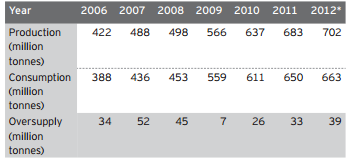 Figure 5. Correlation between steel production and consumption in China, Ernst & Young. Material can be accessed here.
Conclusion
I believe that coal demand should remain low in the interim. Despite the fact that natural gas prices have gained appreciation in the last 12 months, coal demand remains low. Further, recent economic reports suggest slowness in global economic growth. Low demand for coal also indicates slowness in other areas such as steel manufacturing. For these reasons, I maintain a bearish outlook in coal-related companies.
Disclosure: I am short BTU. I wrote this article myself, and it expresses my own opinions. I am not receiving compensation for it (other than from Seeking Alpha). I have no business relationship with any company whose stock is mentioned in this article.