With the S&P at an all-time high, it's not easy finding undervalued companies. Luckily depressed gold prices are making its producers look attractively priced. Even financially stable miners like Newmont Mining Corporation (NYSE:NEM) are trading at such low multiples, they would be prettier in the eyes of investors if they were digging up sand. That's not an exaggeration.
After Newmont Mining Corp posted a revenue loss of 18.9% and a net income loss of 35.7%, it was bludgeoned with a pickaxe. Newmont's earnings for Q1 2013 were $0.63 per share, if it repeats this dismal performance in the following 3 quarters, its recent price of $32.32 is only 12.8 times 2013 earnings. Hi-Crush Partners (NYSE:HCLP) produces sand used for hydro-fracking. If you annualize its latest six months of earnings, it's trading at a P/E ratio of 13.7.
What I want to do is examine Newmont's performance during the five-year period between 2006-2010. During that time, gold was at or far below current prices. With the exception of two quarters, Newmont maintained profitability throughout that entire period. After reading this analysis of gold mining costs, I have hope for Newmont's future. Although the company's operations have expanded, and production costs change, this is the same company that was profitable when gold was priced far lower than the present.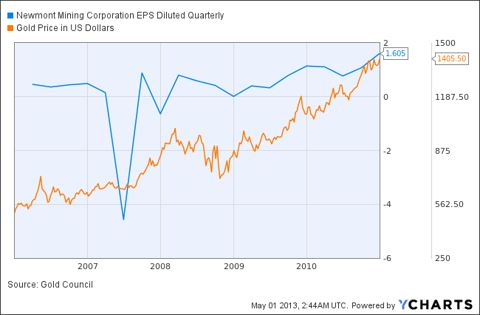 The Scenario
During the 2006-2010 period, Newmont's net income rose at an annual compounding rate of 21%, from $791 million to $2.277 billion. Because it diluted shares by 10.6%, per share earnings rose by a slower annual compounding rate of 21% from $1.75 to $4.55. That's outstanding.
As mentioned earlier, Newmont's Q1 2013 EPS was just $0.63. If the company posts identical results for the next three quarters, 2013 earnings will be $2.52. Let's also assume that between now and 2022 Newmont grows earnings at the same rate it did during the 2006-2010 period. Let's also assume that over the next decade, the company's dividend remains stagnant at $0.25 per quarter and is neither taxed or reinvested.
Based on the above assumptions, in 2022, Newmont will earn $14.07 per share. Multiply earnings by the market average P/E ratio of 12, then add accumulated dividend distributions of $10 and you have a price of $178.86 per share. At the recent price of $32.32 per share, your investment would grow at an annual compounding rate of 18.78%.
The biggest problem with this scenario is that by using the most recent years that gold prices were lower than current levels, I've picked annual earnings values that give a much better return than most other 5-year periods. Using earnings from 2003-2012 with the same stagnant $0.25 dividend results in a value of $147.50 per share. At the recent price of $32.32 per share, that's an annual compounding rate of 16.39%, which is still nothing to sneeze at.
Recently, I did a similar analysis of Freeport-McMoRan Copper & Gold's (NYSE:FCX) earnings here. The results were also very encouraging.
The most important thing to keep in mind is that the cost of your initial investment determines your rate of return. It seems obvious, but I noticed commenters on a previous mining company article don't understand the concept. It's staggering how many people think Newmont is a lousy company to invest in because its share price is the same or lower than it was several years ago.
The truth is, I'm impressed with Newmont's management of capital. Over the past decade, its assets have nearly tripled, all while maintaining a healthy balance sheet. Its dividend is pegged to the price of gold. This unusual policy should keep it from relying on debt to maintain distributions. In the long term, recently plummeting gold prices may work in Newmont's favor. It is well positioned to survive weak gold prices for several years, then acquire assets from desperate miners on the verge of bankruptcy.
Back in mid-March, I thought Newmont was cheap at 39.50, then quickly lost my nerve as it plummeted and got right out. I'll probably regret it but at least I can sleep at night. After getting burned once, I'm going to be patient and wait for an insanely low P/E multiple - like 5 - before starting another long position on Newmont. It's hard to believe that a multiple that low is possible, but consider Barrick Gold Corporation (NYSE:ABX). Its Q1 2013 earnings annualized would be $3.40. On April 17, it closed at $17.65, which is a P/E ratio of 5.19. It's getting beaten up for what looks like significant reasons. Barrick's low P/E is hard to ignore, and that's why I'll be taking a closer look at its history and management next.
Disclosure: I have no positions in any stocks mentioned, but may initiate a long position in NEM over the next 72 hours. I wrote this article myself, and it expresses my own opinions. I am not receiving compensation for it (other than from Seeking Alpha). I have no business relationship with any company whose stock is mentioned in this article.