Facebook (NASDAQ:FB) has released its Q1 2013 earnings results and an initial look suggests that things are looking good for the social networking giant. As I had said in my earnings preview, a slight miss or beat on the top or bottom line won't matter since Facebook's target for this year is not to maximize profits; it's the underlying growth metrics that would matter. Specifically, investors and analysts were most interested in mobile growth. Moreover, investors were also hoping for Facebook to clarify reports that it was losing users in developed markets and its engagement levels were going down. Here is my initial take on the earnings release.
Highlights
Here are some of the important highlights from the earnings release:
Facebook reported an EPS of $0.12 per share vs. $0.13 consensus on revenues of $1.46 billion vs. $1.44 consensus
Revenue from advertising was $1.25 billion which represents a 43% increase year-on-year
Mobile advertising revenue was $375 million, which represented approximately 30% of Facebook's advertising revenue for the quarter. In Q4 2012, mobile advertising revenue accounted for 23% of the total advertising revenue
Monthly Active Users (MAUs) were 1.11 billion, a 23% increase year-on-year
Mobile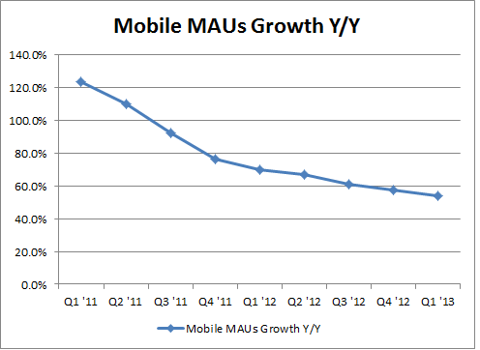 Click to enlarge
Facebook continued to show strong growth in mobile; its mobile MAUs grew 54% year-on-year to 751 million. More importantly, Facebook showed that it has the ability to turn increased mobile usage into increasing advertising revenues as its mobile advertising revenue increased 23% sequentially to $375 million. This means that Facebook now earns almost one third of its advertising revenue from mobile which is quite impressive. This shows that Facebook has maintained its mobile advertising momentum and is on the right track on its mobile strategy.
Engagement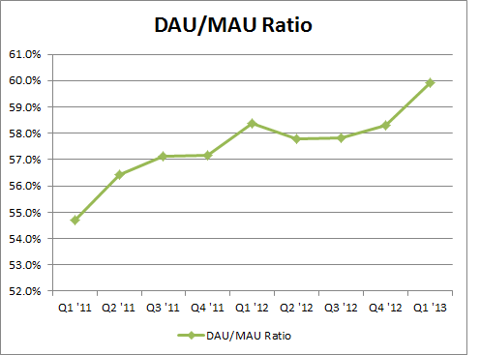 Click to enlarge
I have read a lot of reports in the past quarter about how users are getting tired and spending lesser time on Facebook. However, the earnings results should quash all such reports; as you can see from the chart above, the DAU/MAU ratio, which is a measure of user engagement, is at a record-high level. This means that Facebook's monthly users are logging in for a larger number of days during the month; therefore user engagement increased further during the quarter as opposed to reports of people tiring from Facebook.
User Growth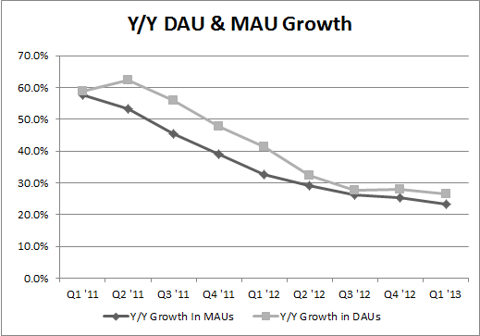 Click to enlarge
Another concern about Facebook during the past quarter has been that Facebook's user growth has started to stall, especially in developed markets like US, Canada and Europe. However, the earnings results tell us that such reports are also wide of the mark; Facebook's global MAUs increased 23% year-on-year. Contrary to a recent report in the Guardian, Facebook's MAUs in the US & Canada region grew 1% sequentially and almost 5% year-on-year to 195 million. Similarly in Europe, MAUs increased 3% sequentially and almost 13% year-on-year which is also pretty impressive
After-Hours Reaction
The after-hours reaction in the stock so far has been quite muted; at the time of writing the stock was trading at $27.58, up almost 50 basis points from its close price as investors digest the results and listen to the earnings call.
Conclusion
Facebook's Q1 2013 earnings results are nothing spectacular. Nevertheless, they show that Facebook is on the right track as it continues to grow its mobile advertising revenues whilst at the same time focusing on innovation and product development that would drive long term value. Thus far, Facebook has been able to silence doubters who have argued that Facebook user growth has stalled and Facebook fatigue is setting in, and I believe that these results should drive the stock higher in the coming months as investors who have sold the stock short based on false reports start to cover.
Disclosure: I have no positions in any stocks mentioned, and no plans to initiate any positions within the next 72 hours.
Business relationship disclosure: This article was written by Dividend Pros' analyst covering technology.
Additional disclosure: Charts' data from company reports and SEC filings.