Next week on May 6th (May 7th in Australia), the Reserve Bank of Australia (RBA) will make its next monetary policy decision. The Australian dollar has shown marked weakness going into this decision. This behavior has forced me to shift into neutral on the Australian dollar (NYSEARCA:FXA) just one month after finally becoming bullish again.
I have been particularly disappointed in the performance of the Australian dollar given the context of a rapidly devaluing yen (NYSEARCA:FXY). One part of my fundamental assumption was that the on-going stubborn strength of the Australian dollar would make the currency very attractive to carry traders and others selling/borrowing yen to purchase higher-yielding assets abroad.
For four days, this thesis seemed solid as AUD/USD and AUD/JPY continued to rally. In another four days, the Australian dollar had completely reversed those early gains. Against the yen, the Australian dollar has been able to bounce away from close proximity to the 100 level. However, the overall subtle trend from the recent peak is pointing downward. On May 1st the Australian dollar finally broke the 50-day moving average (DMA) against the yen. Against the U.S. dollar, the Australian dollar managed a meager bounce of support from levels that equate to the 2010 and 2011 closes. At the time of writing, this level is getting tested yet again.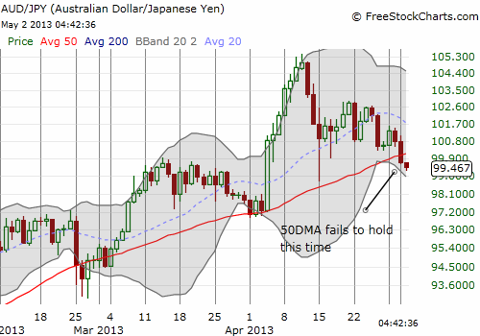 Click to enlarge
The Australian dollar is breaking down against the Japanese yen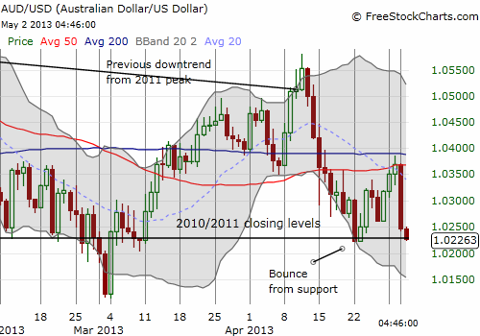 Click to enlarge
Australian dollar is again falling fast against the U.S. dollar
Source: FreeStockCharts.com
Overall, the Australian dollar has simply not performed as expected; I was anticipating a relatively consistent upward trajectory to accompany an ever-weakening yen. Instead, I have been buying/accumulating dips and selling the subsequent, short-lived rally. After a month of this action, it is time to shift officially into neutral and wait for either the next big sell-off in the currency (a bargain) or some type of breakout that confirms a new rally is underway.
Two things are likely weighing on the Australian dollar now: 1) a growing expectation for a rate cut, and 2) relatively weak iron ore prices (iron ore is Australia's biggest export by far).
In today's Sydney Morning Herald a story ran titled "Case grows for interest rate cut" that describes the sentiment favoring a rate cut:
The case for an interest rate cut next Tuesday was boosted by continued weakness in private sector credit growth, according to figures released by the Reserve Bank.

Financial markets are pricing in a 41 per cent chance of a rate cut, the highest expectation since the RBA's decision in February to keep rates at 3 per cent.

The markets are also pricing in at least 50 basis points of cuts by the end of the year…

…A separate survey by credit data research group Veda released on Wednesday found that business credit demand slowed for the second consecutive quarter, the first time since 2010.
Meanwhile, iron ore prices are near a 5-week low amid a growing chorus of bullish and bearish opinion on the direction of prices. Prices hit a 16-month high just in February. Here is commentary over the last two weeks or so on iron ore prices:
In other words, expect continued volatility. An all-out crash similar to the one in August of last year does not seem likely, but the current weakness likely has traders a bit more nervous than usual.
Be careful out there!
Disclosure: I am long VALE. I wrote this article myself, and it expresses my own opinions. I am not receiving compensation for it (other than from Seeking Alpha). I have no business relationship with any company whose stock is mentioned in this article.
Additional disclosure: In forex, small position long Australian dollar that will likely get closed out soon.