Price-to-Book ratio is a significant parameter used to evaluate the market value of any company compared with its book value. A lower P/B ratio indicates that a company could be undervalued relative to the value of its total assets.
Low P/B and strong earnings growth is a combination many investors look for since it indicates the company is growing and Wall St. hasn't necessarily priced in shares yet.
Discussed below are three companies with P/B ratios less than 1 and 5-Yr. Avg. Earnings growth in excess of 25%.

*as of 4/30/2013
Source: Yahoo! Finance and Finviz.com
Emerson Radio (NYSEMKT:MSN), founded in 1948, is one of the nation's largest volume consumer electronics distributors with a recognized trademark in continuous use since 1912. The company engages in the design and marketing of audio and video products including televisions, DVD players, VCR players, audio accessories, microwave ovens and many more.
The Electronic Equipment industry is estimated at $93.01 billion. MSN adds an estimated $132.28 million in revenue, claiming only tiny portion of equities in the industry.
MSN's balance sheet has $45 million in cash ($1.93 per share), a book value of $0.61 per share and less than $1 million in debt.
Insider ownership is at 69.6% of 27.13 million total shares outstanding.4
Institutions own 17.4% of public shares.
The company's price-to-book is just 0.61, indicating that shares value every dollar of assets at just $0.61.
American Independence Corp. (NASDAQ:AMIC) is an insurance holding company specializing in health and specialty plans for individuals, families and employers, and employer medical stop-loss and managed care. According to their website, AMIC became affiliated with Independence Holding Company (NYSE:IHC) in 2002.
Net income increased to $9.6 million ($1.16 per share), ending 2012, compared to $2.5 million ($.29 per share), ending 2011. Earnings increased due to an increase in premiums.
The company further reduced its deferred tax asset valuation allowance by $5.9 million in 2012, primarily due to the expected increase in future income and the utilization of deferred taxes in the past years.
Book value of stockholders' equity increased to $12.59 per share at December 31, 2012 compared to $11.36 per share at December 31, 2011. Price-to-book is currently at 0.58X.
AMIC's insider ownership stands at 78.3% of outstanding shares of 8 million.
Medicare beneficiaries will grow 36% by the end of this decade, led by a vast baby boomer population. Consolidation in this market leaves scrambling for market share ratios.
Health insurance premiums have increased consistently over the past 10 years, outpacing the growth of wages and cost of living. Premium surges (owing to complex connections among health insurance companies, health care providers, pharmaceutical manufacturers and the medical technology industry) have driven growth for both employer-sponsored insurance as well as individual insurance.
Over the next few years, Zacks Equity Research sees growth for AMIC being driven by: national health spending, which is expected to outpace the broader economy; medical-cost inflation cause by baby boomer retirement; and, slow economic growth and high unemployment.
The chart below shows that the influence of U.S. economy appears to peak with a lag of four years.
Correlation of Time Series Economic Data vs. Medical Cost Trend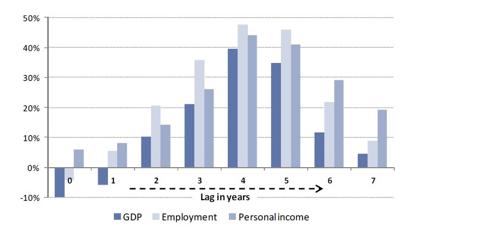 Source: U.S. Census Bureau
Digital Power Corp. (NYSEMKT:DPW) designs and manufacturers power products and systems solutions for a variety of industries including the telecom, military/defense, medical, and industrial applications.
Digital Power Corp. has grown earnings per share at an average rate of more than 45% a year over the past five years. Shares of Digital Power currently trades at price-to-earnings (P/E) ratio of approximately 14X. Price-to-book is pegged at 0.77X.
Many analysts consider a stock as "fairly valued" when the P/E ratio and earnings growth rate are equal, which would make DPW extremely undervalued.
DPW's insider ownership is about 55.4% of the 7 million outstanding shares.
DPW does not rely on any single customer; of its approximately 200 customers, none account for more than 10% of revenues. This should provide it with more stable revenues.
The Company outsources all of its manufacturing to contract manufacturers, allowing it to focus on high value design work while maintaining flexibility in its cost structure, which should help it to maintain profitability during weak sales cycles.
DPW is subject to monetary fluctuations between the U.S. dollar and the U.K. pound. DPW recorded a foreign currency translation loss of $41,000 in its 2012 total shareholders' equity. The company incurred a foreign currency translation loss of $18,000 in 2011.
Disclosure: I have no positions in any stocks mentioned, and no plans to initiate any positions within the next 72 hours.
Business relationship disclosure: Black Coral Research, Inc. is a team of writers who provide unique perspective to help inspire investors. This article was written Hans Centena, one of our Senior Analysts. We did not receive compensation for this article (other than from Seeking Alpha), and we have no business relationship with any company whose stock is mentioned in this article.
Additional disclosure: Black Coral Research, Inc. is not a registered investment advisor or broker/dealer. Readers are advised that the material contained herein should be used solely for informational purposes. Investing involves risk, including the loss of principal. Readers are solely responsible for their own investment decisions.