On Wednesday, May 1st, Annaly Capital Management (NYSE:NLY) reported the results of what seems to be a very strong first quarter, as the company's Q1 EPS of $0.47/share beat analyst estimates by a margin of $0.13/share (expectations had called for Annaly to earn $0.34/share). In the wake of the company's impressive first quarter, I wanted to examine several catalysts behind my decision to consider a long-term position in this high-yielding mortgage REIT.
Quarterly Highlights: Included in the company's quarterly results were a number of key comparisons. The company's Q1 income of $0.47/share demonstrates a slight improvement over its Q4 income of $0.46/share, but still trails the performance of last year's Q1 by a margin of $0.07/share (during Q1 2012, Annaly had earned income of $0.54/share). The company's net interest spread of 91 bps was slightly lower when compared to last quarter's net interest spread of 95. Lastly, the company's book value per share of $15.19 was $0.66 lower when compared to December's book value per share of $15.85 and nearly $1.00 lower when compared to last year's book value per share of $16.18.
According to Annaly's Chairman and CEO, Wellington J. Denahan, "Even as we continue to operate in extraordinary times, our management team remains focused on prudent risk management and finding relative value in the markets. In addition, the CreXus transaction is a meaningful step in the evolution of the Annaly's capital allocation strategy, one that will enable us to take advantage of a broader spectrum of relative value investment opportunities on behalf of our shareholders".
Over the course of the next 12-24 months Annaly is going to have to truly buckle down and continue to explore various types of acquisitions, in an effort to broaden its investment-based horizons and there are two key reasons for such a move. First is the fact that none of us really know when the Fed plans to ease up on both its interest rate policy, and its $85 billion per month spending spree that includes mortgage backed securities and longer-term US Treasuries. Second, is the notion of yet another homeowner program similar in scope to HAMP or HARP, as my fellow SA colleague Regarded Solutions points out, "If all of the Fed policies stay in effect, and the Government decides to put another homeowner program in place, like HAMP or HARP or even MHA, then there could be yet another spate of refinancing (pre-payments) that could impact the earnings and the dividends of the stocks in this sector". The problem with situations like this is the trickle-down, or domino effect they have on mortgage REITs, and if earnings falter as a result of the implementation of these types of programs, dividends will subsequently suffer.
Recent Performance: On Wednesday, shares of NLY, which currently possess a market cap of $15.00 billion, a P/E ratio of 9.31, and a forward P/E ratio of 10.84, a PEG ratio of 2.66 and a yield of 11.37% ($1.80), settled at $15.83/share. Based on its closing price, shares of NLY are trading 0.39% above their 20-day simple moving average, 3.00% above their 50-day simple moving average, and 5.56% above their 200-day simple moving average. These numbers indicate a short-term, mid-term, and long-term uptrend for the stock, which generally translates into a buying mode for traders.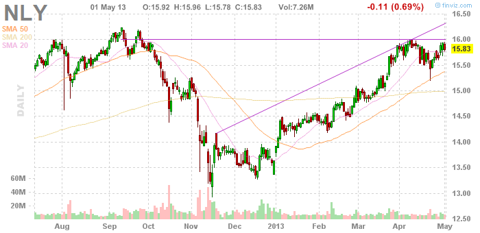 Dividend Behavior: Since June 28th 2011 when the company's quarterly dividend distribution was $0.65/share, NLY has decreased its quarterly payout five times by an average of $0.04 each time, bringing its latest dividend to $0.45/share. In most cases of this type of dividend behavior, I would begin to avoid the stock, however, the company has managed to maintain its double-digit yield throughout some of its darkest days and as a result an increase has the potential to occur once the Federal Reserve eases up on a number of its policies.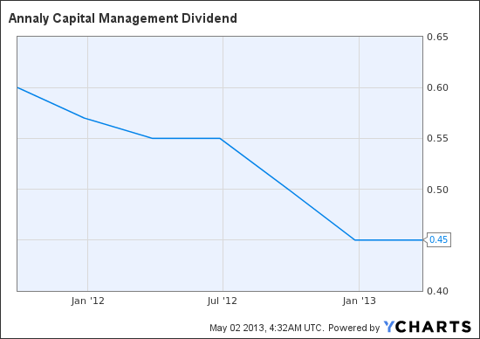 NLY Dividend data by YCharts
Conclusion: When it comes to those who may be looking to establish a position in Annaly Capital, I'd continue to remain cautious as the Federal Reserve's third round of quantitative easing has clearly hindered the company's growth (although a strong quarter in terms of EPS growth, it could have been better if the Fed wasn't spending $85 billion per month on treasuries and mortgage backed securities). Secondly, I'd continue to keep an eye out for any possible acquisitions that were outside of Annaly's proverbial comfort zone, similar to the Crexus deal in which Annaly acquired, among other things, a portfolio of commercial-based mortgage backed securities.
Disclosure: I have no positions in any stocks mentioned, and no plans to initiate any positions within the next 72 hours. I wrote this article myself, and it expresses my own opinions. I am not receiving compensation for it (other than from Seeking Alpha). I have no business relationship with any company whose stock is mentioned in this article.