The BlackBerry Q10 has come to North America, and the first stop is in Toronto. BlackBerry (NASDAQ:BBRY) was launched on May 1st only in Toronto to ensure that supply is available for the expected high demand. The rest of Canada is expected to start selling the new physical keyboard smartphone over the next couple of days.
With many carriers and retail locations selling the BlackBerry Q10, the only way to gauge sales was to pick up the phone and hit the streets, talking directly to front line sales staff.
Rogers Wireless selling thousands
I contacted many stores in the downtown Toronto core, and the trend was that most stores were sold out in the first couple of hours before lunch. All the stores I contacted were sold out of the Black model and some stores had the odd white Q10 phone available.
I decided to get away from the business section in the downtown Toronto core, and go to a non-trendy mall in Toronto's west end to properly gauge acceptance. I was told by the Rogers sales staff,
"We had a lineup before the store opened. We sold out even turning away someone who wanted to buy 20 BlackBerry Q10's for his company"
Many Rogers stores only received a quantity of 10 smartphones, and would be receiving continuous restocking shipments. With over 200 stores in Toronto alone, it is estimated that more than 2,000 BlackBerry Q10's were sold in a short period of time through one carrier alone.
Bell Canada reported strong sales
In the west end Toronto mall, Bell mobility staff alluded that they received close to 100 units and sold nearly half by mid-afternoon. While the staff member wouldn't give me exact numbers he reassured me that it was a significant amount, and not just a few units.
While Rogers has made it clear the Q10 would be available May 1st, Bell was not as clear. I asked Bell which stores had units around Toronto and was told it would be over the next two days. If this was a common theme then sales through Bell will be even stronger by the weekend. Below is the text of my conversation with the Bell agent:
Tara: Hello, thanks for visiting bell.ca. How can I help you today?

You: hi I was looking to pick up the Q10 in Toronto, are you carrying it yet?

Tara: It will be released within 2 days

You: Oh, where in 2 days would I be able to buy it.

Tara: You can purchase it online

You: Can I just get it at the store as I don't want to wait to get it shipped?

Tara: Sure you can

You: cool, I heard that Toronto was getting it today and the rest of Canada is in two days, or is Bell waiting for 2 days

Tara: Yes it was about to launch today.

Tara: However, there is no information about it right now. So it may take 2 days to get launched

You: okay thanks I will wait for two days

Tara: You are most welcome

Tara: Thanks for choosing Bell and using bell.ca for self-serve solutions.
Meanwhile, at the west end Bell store sales were strong with prominent displays. The Q10 and Z10 BlackBerry phones were displayed next to the iPhone 5 and the Samsung Galaxy lineup, as a major competitor.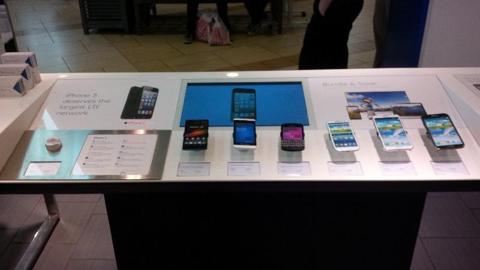 The BlackBerry Q10 is being sold for $699 without a contract, and $199 with a three-year contract. Pricing appears to be similar across all major carriers. The Z10 is being sold for $649 without a contract, and $99 with a three year contract.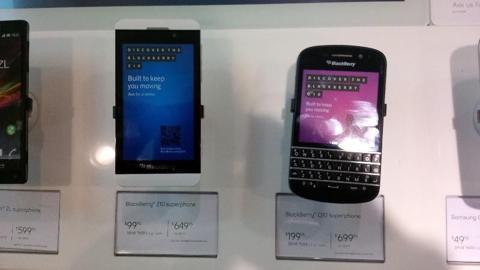 WirelessWave
The Wireless Wave is a reseller for the major carriers and instructed staff not to sell any Q10 smartphones until May 2nd. They did confirm they received stock on May 1st, but were waiting for their launch date.
In February, Wireless Wave was the reseller that reported very strong Z10 sales:
"We are delighted with strong customer acceptance and customer experience within our stores of the new BlackBerry Z10 smartphone," stated David Hartman, Executive Vice President and Chief Operating Officer of WIRELESSWAVE Group, GLENTEL Inc.

"We are thrilled with the launch success of the BlackBerry Z10 smartphone in Canada," stated Andrew MacLeod, Managing Director of Canada at BlackBerry. "In fact, it was more than 50% better than any other launch day in our history in Canada. GLENTEL has been a strong partner of BlackBerry and the success of the BlackBerry Z10 in their Canadian retail locations is exceptional."
Other Carriers in Canada
The "Big 3" in Canada are Rogers, Bell and TELUS; which comprise a large segment of the market. The other carriers contribute significantly and appear to be carrying the full line of BlackBerry products.
TELUS Mobility
Virgin
Fido
Chatr
MTS
SakTel
VideoTron
Mobilicity
Public Mobile
With many retail locations in different time zones across Canada, rolling out the Q10 is no small feat. Over the next two days and the upcoming weekend, the Q10 should be available in most Canadian cities. This will also include the Greater Toronto area, as the May 1st launch only included the City of Toronto itself.
The first day was a significant success with sales in the thousands overall. This trend should continue as it has with the UK launch, with strong financial quarter results.
Disclosure: I am long BBRY. I wrote this article myself, and it expresses my own opinions. I am not receiving compensation for it (other than from Seeking Alpha). I have no business relationship with any company whose stock is mentioned in this article.