In a recent article published in the CFA Institute Conference Proceedings Quarterly, Mohamed A El-Erian, CEO of PIMCO, states that traditional risk management is too heavily dependent on historical correlations and value-at-risk assessments. Today, a better approach is to focus on "tail insurance", the left tail of the return distribution. In the meantime, investing has to be very focused on the few opportunities that have enormous reversion-to-the-mean elements.
This Friday, the price of oil held above $61 a barrel, helped by a weakening dollar. With the price off around 60% from its all time high, which was set last July at $147, could oil and gas be one such opportunity? I doubt about it. A deteriorating world economy, conservation and competition from other fuels would cut deeply into oil demand.
According to minutes of a Fed meeting released this past week, the Federal Reserve sees "significant downside risks" for the U.S. economy, with the global financial system still "vulnerable to further shocks".
In an April 2009 report, the International Energy Agency (IEA) predicted global demand for crude oil in 2009 would decline nearly 3 percent from the 2008 level of consumption. Such a contraction in demand would be the most severe since the early 1980s.
Without an economic recovery on the horizon, most likely, the price of oil would stay at the current $60s level. As of May 22, NYMEX crude oil future is $64.3 for Dec. 2009, which further confirms this price range.
In the early 1900s, cheap oil price – 3 cents a barrel – made it economical for railroad and steamship companies to convert from coal to oil. In 1941, America was the acknowledged king of oil-producing countries, pumping 63% of the world supply, according to The Big Rich, The Rise and Fall of the Greatest Texas Oil Fortunes, by Bryan Burrough.
Skyrocketing oil prices in the 1970s had forced the world to scramble for cheaper sources of energy, leading to a wholesale recovery of the coal industry and especially the nuclear power industry, both of which by 1980 emerged as prime competitors to oil. Oil's share of worldwide energy use fell from 53% in 1978 to 42% in 1985. When the economy fully recovers this time, combined with "peak oil theory", it might temperately push the oil price higher again. However, gradually matured alternative energy sources such as nuclear, wind and solar could decrease oil demand, just like they did in the 1980s. Among these alternatives, First Solar (NASDAQ:FSLR) looks pretty interesting to me.
Even though oil might not go much higher, it is still worth to have it as part of your portfolio. In the August 2008 issue of Journal of Financial Economics, an article titled "Striking Oil: Another Puzzle" demonstrates that a rise in oil prices significantly lowers future stock returns, particularly for developed economies. In addition, with a potential plunge for the US dollar on the way this week and beyond, real asset class such as oil might be a "tail insurance", in case the US government loses its AAA rating.
United States Oil (NYSEARCA:USO) and Energy Select Sector SPDR (NYSEARCA:XLE) are the most popular oil ETFs. USO invests in futures contracts for crude oil, heating oil, gasoline, natural gas and other petroleum based-fuels. However, as you can see from the chart below, USO is more volatile than companies such as EnCana Corp. (NYSE:ECA), Suncor Energy Inc. (NYSE:SU) or Canadian Natural Resources (NYSE:CNQ).
click to enlarge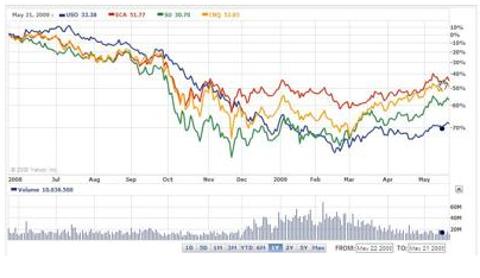 Click to enlarge
In 2008 the oil and gas industry experienced an increase in certain costs that exceeded the general trend of inflation, which affected the industry's operating expenses and capital programs. In 2009 this pressure has released quite a bit. That's another reason I prefer oil companies to USO.
Canadian Natural Resources engages in the exploration, development, and production of crude oil and natural gas. 56% of revenue is from crude oil, and 44% is from natural gas. Cash flow remained strong in Q1/09, with $1.5 billion from operation. It also has available unused bank lines of $1.7billion as of March 31, 2009. The cash flow generated from operations, the flexibility of its capital expenditure programs, its existing credit facilities and its ability to raise new debt on commercially acceptable terms would provide sufficient liquidity.
The single biggest factor that affects the results of operations is movement in the price of crude oil. It could be potentially hedged away. However, one of threads to CNQ's cash flow could also come from its commodity hedge. With a 2009-projected P/E of 14 and no significant upside potential due to hedging, I am wondering whether to replace it with Chevron Corp. (NYSE:CVX), which has one of the strongest balance sheets among major oil/gas companies. CVX has $9.3 billion cash in hand and its debt is $12.2 billion.
Disclosure: I have a long position on CNQ