As a contributor to Seeking Alpha, I feel a certain obligation to discuss one of my largest positions - Loews (NYSE:L). Barron's hightlights this company every six months or so - if you get a chance, I would recommend reading.
As a fan of Warren Buffett's, there are several characteristics I look for in a company, including:
1) Good and honest management
2) Management with some skin in the game (they own a decent amount of shares)
3) A good business (or combination of businesses)
4) Management that knows how to allocate capital, with a focus on value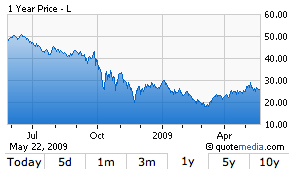 Loews is one of the few companies (in my opinion) that meets all the above criteria. Management (Tisch family) has succeeded the prior generation. The Tischs are well known and respected, and own between 5% - 10% of the company. Loews owns a series of businesses, including: CNA insurance, Diamond Offshore, Loews Hotels, Highmount Energy, and Boardwalk Pipeline. If you read the history of Diamond Offshore (available on that company's website), you get a sense of Loews' value focus.
The best part about Loews is that there is a huge margin of safety with the stock. Let me explain.
Currently, the share price of Loews is around $26 per share, giving the company a market capitalization of approximately $11B. Here is what you get as a shareholder for $11B.
90% of CNA insurance. This company struggled in 2008, and the share price (CNA trades separately) got slammed. In spite of all its troubles, the company still has a book value of $7B. I think over the next 2 - 3 years, the market cap of CNA alone can approach $10 B. Since Loews owns 90%, you get a book value in CNA of about $6B
70% of Boardwalk Pipeline - (NYSE:BWP). This is a natural gas pipeline company based in the southwest. Boardwalk has a market cap of approximately $3.5 B so Loews' stake is worth over $2 billion.
50% of Diamond Offshore - (NYSE:DO). A big-time offshore driller. This company has a great balance sheet and generates tons of cash. Luckily, DO pays a huge dividend. The company has a FMV of over $10 billion, so Loews' cut is worth over $5B.
100% of Highmount Energy. This is an oil and natural gas company. Loews paid $1.5 B in cash and took a 2.5B loan to purchase this company. Since natural gas is way down, let's assume the company is worth $1B.
100% of Loews Hotels. Loews owns over 20 properties. I would assume that these properties are worth at least $1 Billion, net of debt.
The company has approximately $2 billion in cash (net of debt) at the parent company level.
Let's add the parts: $6B of book value in CNA, $2B of BWP, $5B of DO, 1B of Highmount, 1B of hotels, and $2 billion of cash. That gets me to $17 billion of value for the $11 billion market capitalization. One could argue that the FMV of CNA is only $3B, dropping the $17B figure to $14B. Still not bad when paying $11B.
I think the upside in the share price is huge. But the company is heavily exposed to the financial markets and energy markets, both of which have suffered over the last 6 months. The exposure to these two sectors most likely explains the huge discount in the share price. Time will tell what happens - I am holding my shares and buying more on pullbacks.