Shares of Pain Therapeutics Inc (NASDAQ:PTIE) and Durect (NASDAQ:DRRX) rose more than 40% on Tuesday after partner Pfizer (NYSE:PFE) announced it is in talks with U.S. health regulators to find a way forward on the companies' painkiller, Remoxy.
The U.S. Food and Drug Administration twice declined to approve Remoxy, an abuse-resistant painkiller, on concerns about the drug's chemistry and production process.
Pain Therapeutics and Durect shares crashed in November when Pfizer called Remoxy "a challenging asset," raising fears that the pharmaceutical giant would not pursue development of the drug. Pfizer owns marketing rights to the drug, developed by Pain Therapeutics using Durect's technology. On a post-earnings call on Tuesday, Pfizer said it had a "productive meeting" with the regulator in March.
"We've had discussions with the FDA and have a clear understanding of what we need to do to meet FDA requirements," Pfizer Chief Executive Ian Read.
Read declined to specify what the agency wants, or how Pfizer will satisfy the agency's requirements, including whether new studies or new analyses of completed studies have been requested.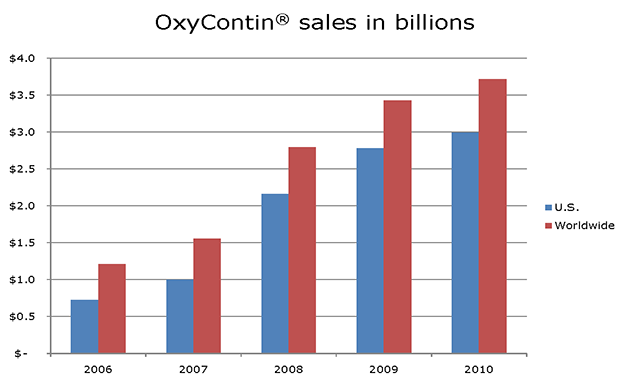 Investors do have to realize the vast potential of PTIE and DRRX. Pfizer will pay Pain Therapeutics a 20% royalty, except for the first $1 billion in cumulative net sales, which royalty is set at 15%. Durect will receive royalties for Remoxy of between 6.0% to 11.5% of net sales depending on the sales volume.
Conclusion
Pain Therapeutics has a current market capitalization of $187 million at the current price per share of $4.14. Durect Corporation has a current market capitalization of $152 million at the current price per share of $1.49. PTIE would potentially generate $800MM in annualized revenue, and DRRX could potentially generate $350MM.
Taking this into consideration, my price per share targets on PTIE and DDRX are $16.00 and $3.00 respectively, based on Remoxy alone. I am confident Pfizer will lead the way forward to glory and get this critical drug approved.
Disclosure: I am long PTIE. I wrote this article myself, and it expresses my own opinions. I am not receiving compensation for it (other than from Seeking Alpha). I have no business relationship with any company whose stock is mentioned in this article.