We have had a rollercoaster within our own personal portfolios lately with some serious volatility. The sad part is that the big moves took place in our retirement accounts and as we are long-term investors there we refrained from taking profits and have seen a fair portion of those gains dissipate over the past few sessions. Most of the losses however are not from the names which have marched higher, but rather the names which lagged during the move up. It is a strange market we are in right now, but so long as the winners continue to outperform the recurring lesson has been to hold on, which still holds true.
Chart of the Day:
Although it matters less this time than in previous recoveries (due to the huge 'shadow inventory' of labor out there), we wanted to point out that we are on the cusp of taking out the 3000k level on Continuing Unemployment Claims. As workers are hired back to industries now looking to expand, think the automobile, manufacturing and housing industries, we shall continue to see a steady decline. Recent economic numbers have not been great, but this is an area which we think shall provide steady results through the end of the year.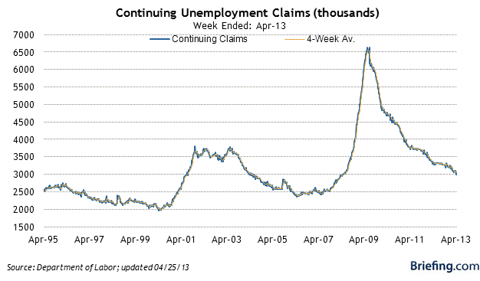 Chart courtesy of Briefing.com
We have economic news due out today, and it is as follows:
Challenger Jobs Cuts (7:30 a.m. ET): N/A
Initial Claims (8:30 a.m. ET): 346k
Continuing Claims (8:30 a.m. ET): 3050k
Productivity - Prelim. (8:30 a.m. ET): 1.2%
Unit Labor Costs (8:30 a.m. ET): 1.6%
Trade Balance (8:30 a.m. ET): -$43.0 Billion
Natural Gas Inventories (10:30 a.m. ET): N/A
Asian markets finished lower today:
All Ordinaries -- down 0.77%
Shanghai Composite -- down 0.17%
Nikkei 225 -- down 0.76%
NZSE 50 -- down 0.62%
Seoul Composite -- down 0.34%
In Europe, most markets are lower this morning:
CAC 40 -- down 0.30%
DAX -- up 0.18%
FTSE 100 -- down 0.18%
OSE -- down 1.03%
Technology
Yesterday we discussed SiriusXM (NASDAQ:SIRI) and their announcement that they were looking to expand the brand into new lines of business. We have always wondered where the company would go once the satellite radio market was mature, saturated and/or no longer a viable business model and this answers all of those questions. When you have satellites in the sky and the ability to use them to add additional services at a fraction of the cost it would cost to start from scratch, you should always look into the idea, which is exactly what has happened here. Shares are breaking out of their recent stagnation and actually finished higher by over 3% yesterday to close at $3.36/share. With the new growth avenue and the potential for others in the future, we feel the need to be bullish here.
It appears that we are breaking out.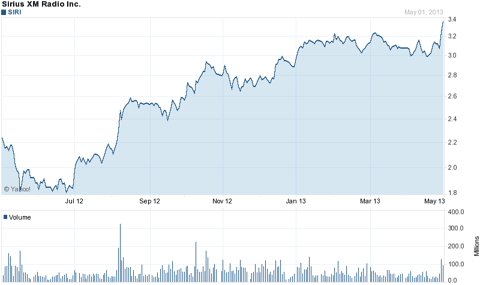 Chart courtesy of Yahoo Finance.
Another tech name which defied the market's downturn yesterday was Advanced Micro Devices (NYSE:AMD), which saw shares spike $0.40 (14.18%) to close at $3.22/share on volume of 87.7 million shares after Barrons ran an article (see link here) discussing the possibility of Intel (NASDAQ:INTC) buying the company and the possibility of AMD seeing growth from the use of its chips in the next XBox gaming console. It would be a dramatic turn of events should that deal happen and highlight just how much the personal computing market has been altered over the past decade. If this deal can pass without antitrust concerns, then what does that really say about Intel and AMD and better yet what does that say about ARM Holdings (NASDAQ:ARMH) and their recent success?
Well to answer our own questions, a lot. We have been bullish of the ARM Holdings story for some time now and recently discussed how they were putting a hurting on Intel and what that meant (see article here). It was not well received by some, but the point is that this is not the invincible Intel anymore and they do not have the best technology anymore, for ARM Holdings has that designation and the stock price tells the story. Still near all-time highs and in fact the company set a new 52-week high yesterday.
Healthcare
When a company's share price breaks down such as Allergan's (NYSE:AGN) has, it is always best to read or listen to the conference call, which we have included here. Although we think there are some good nuggets in the conference call, the far bigger news yesterday was that the company's new eye treatment, Darpin, provided results which were underwhelming and has caused the company to delay, potentially up to two years, the later stage testing required to move it along in the approval process. Investors did not like the news at all, sending shares lower by $12.84 (11.31%) to close at $100.71/share as volume soared to 18.2 million shares. This was one of the names which had been marching higher and continuously popping up on our screens so this has our attention and we want to see how investors treat this moving forward.
Yesterday Allergan shares experienced a breakdown after the news pertaining to their drug was announced, but although it caught some support at $100/share, is that where support ultimately lies?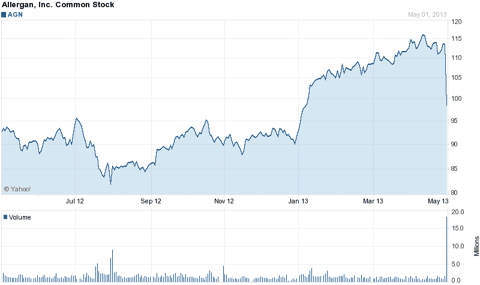 Chart courtesy of Yahoo Finance.
Automotive
It is 'Jobs Thursday' and we wanted to take a moment today to highlight that contrary to popular belief big American multi-national corporations are in fact hiring Americans to make products for, well Americans. Ford (NYSE:F) announced that they would be adding 2,000 workers at a plant in Kansas City (see Reuters story here) in order to meet pick-up truck demand, a segment which is on fire right now. Automobiles are in a bull market right now with the prices on used cars actually rising over the past few years and forcing those who usually purchase lightly used vehicles to buy new. The main reasons we are seeing this is due to the 'Cash for Clunkers' program and the 'Great Recession' which have decreased supply and forced many to adjust the way in which they purchase big ticket items. The automotive sector turned before housing, but we expect what is happening here to be repeated there so expect to see hiring to increase in housing and housing related industries.
Disclosure: I have no positions in any stocks mentioned, and no plans to initiate any positions within the next 72 hours. I wrote this article myself, and it expresses my own opinions. I am not receiving compensation for it (other than from Seeking Alpha). I have no business relationship with any company whose stock is mentioned in this article.