Looking at long-term indicators can reflect patterns not discernable in short-term analysis. The great cyclical bull and bear markets over the last 19 years can be seen in the chart of the S&P500 below. The top panel of the chart illustrates the zero-lag 10-day moving average (green line), while the middle panel (magenta line) shows the 300-day zero-lag velocity [VEL], with the lower panel (red line) reflecting the 500-day Jurik RSX [RSI].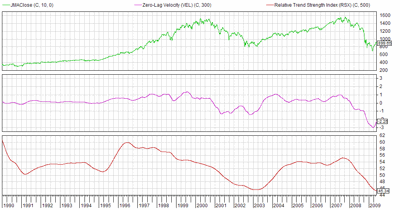 When Focusing on the 300-day velocity, we can see that after the 2000 tech-bubble burst the velocity stayed negative for 2 years [2001-2002], and then finally crossed above zero at the beginning of Q3 in 2003. The current pattern of 300-day velocity suggests that perhaps another 4-8 months will be needed before it crosses above zero. At that point, we will be clearly at the beginning of the next cyclical bull market.
On the bottom panel of the chart, one can note that the 500-day RSX [RSI] indicator bottomed out during Q1 of 2003, which was a great buying opportunity. The 500-day RSX for today's close (May 22) suggests another post-bubble-burst buying opportunity.
Given these indications, it may be prudent to get into the market gradually by using 5-10% of your cash portfolio for acquiring depression-proof stocks (PM, KO, MCD, PG, JNJ, BP, ABT, XOM, CVX) once a month over the next 8 months. Staying in cash will never beat inflation, so re-investing dividends from companies whose earnings and dividend payout are increasing during today's harsh economic conditions will put the force of compound interest to work for you.
Another important issue is that if you are interested in benefitting from the compound interest of dividend reinvestment, you don't necessarily have to get back into the market over an extended period of time. Extending purchase of equities over time in order to get back into the market assumes that the price of all diversified equities you want to buy will remain low over the purchase period -- and this is simply not true.
Fundamentally, the best dividend-generating portfolio needs to be diversified across sectors. Diversification naturally means that some sectors will be down while others are up. With so many economic influences affecting the markets, it may be futile to think that you will get ahead by getting in slowly. The key factor is that in order to start compounding interest from dividends today, you need to get started sooner rather than later.
Last, recall that Warren Buffett stated that you should buy when fear is the greatest - and this may be now.