Since my last article about 3M (NYSE:MMM) in Jan. 2013, the company's common stock is up by about 4.5% compared to gains of 1.2% and 12.2% for its competitors GE (NYSE:GE) and Xerox (NYSE:XRX) and an increase of 6.8% for the S&P 500 index (see graph). This relatively weak performance was due to the company's lowering its 2013 earnings forecast to $6.60 - $6.85 per share (from $6.70 - $6.95), from low utilization and from missing the Q1 '13 earnings by $0.04. As a result, the common stock dropped by 2.8% on April 25, 2013. The market overreacted as 3M is actually benefiting from low commodity prices, innovations and successful integration of acquisitions, particularly that of Ceradyne. Overall, the shares offer a good value, and investors looking for a high dividend yield stock with upside potential in the second half of 2013 should consider 3M.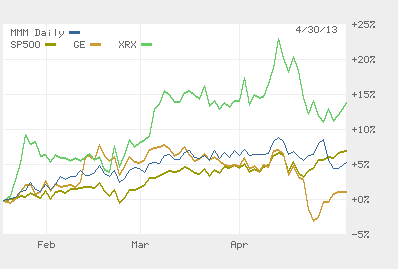 Fundamentals and valuations
Most recently, 3M increased its dividend by 8% and authorized an additional $7.5 billion share repurchase program. This is consistent with GE and Xerox who also raised their dividends per share by 12% and 35%, respectively, in the past few months. Importantly, 3M revenues rose by 2% in the first quarter of 2013 to $7.6 billion while its operating margin declined by 20 basis points (largely from acquisition related costs) to 21.6% and the company repurchased $805 million of its own shares in the quarter. For comparison, GE, which is a much larger company, reported revenue decrease of 1% (excluding GE Capital) and Xerox had a decline in revenues of 3%. It is interesting to note that GE's operating margin (excluding GE Capital) improved to 14% in Q1 '13 from 12.5% in Q1 '12. Below is a table comparing key fundamentals and valuation measures among 3M, GE, and Xerox.
| | | | |
| --- | --- | --- | --- |
| | MMM | GE | XRX |
| Market capitalization | $71.8B | $231.4B | $10.4B |
| Enterprise value [EV] | $73.2B | $490.2B | $17.8B |
| EBITDA margin | 24.90% | 17.60% | 12.90% |
| EV/EBITDA | 9.4 | 16.8 | 5.9 |
| Dividend yield | 2.40% | 3.40% | 2.70% |
| Price-to-earnings (NYSE:PE) '13 | 15.2 | 13.4 | 7.7 |
| PE-to-growth | 1.7 | 1.4 | 1.1 |
| Beta | 0.9 | 1.7 | 1.7 |
| Price-to-sales | 2.4 | 1.6 | 0.5 |
| Price-to-CFO | 13.1 | n/a | 4.2 |
| European sales (2012) | <20%* | 18.6% | 23.0% |
Source: Thomson Reuters, Capital IQ, SEC filings, author's calculations; EBITDA - earnings before interest, tax, depreciation and amortization, CFO - cash flow from operating activities.
*3M sales in Europe, Middle East and Africa represented 22.5% of total sales in 2012.
As seen from the above table, 3M has the highest EBITDA margin and the lowest correlated volatility to the S&P 500 as measured by beta. Also, 3M is in the middle as measured by EV/EBITDA, a ratio that is highly respected by investors. Overall, 3M shares offer a generous dividend yield and PE and price-to-sales ratios that indicate slightly more expensive shares. This is likely justified due to the higher profit margin and lower share volatility.
All three companies depend heavily on intellectual property. For example, Xerox, GE and 3M were awarded 1,652, 1,050, and 527 U.S. patents in 2012. On a price to 2012 awarded patents, Xerox is the leader with the lowest ratio of $9.9 million of market capitalization per patent followed by 3M and GE with ratios of $136.2 million and $140.1 million per patent, respectively. Companies that rely on technological innovation and research and development usually perform better in inflationary times since they have access to patented products and have more price control.
New developments
News about the federal government sequestration have been worrying most consumers and businesses. Fortunately, 3M derives only 3% of its revenues from sales to U.S. governments of which 40% is to the federal government. Overall, the company expects the impact on revenues from sequestration to be between $10 to $20 million. Similarly, Xerox does business primarily with state and local governments while GE has the largest exposure to federal government spending and the Defense Department in particular.
Even during difficult economic times in many parts of the world, 3M continued to forge new alliances and bring new products to market. Following are the major product and operational initiatives launched by 3M in the past few months:
During the annual showcase for the gaming industry in Feb. '13, 3M demonstrated "the future of gaming" with its projected capacitive technology allowing multi-touch and new slot machines with new levels of interaction.

3M infection prevention teamed together with the Association of periOperative Registered Nurses, International Association of Healthcare Central Service Materiel Management, the Surgical Infection Society, and Practice Greenhealth to create OneTogether program that has a goal to reduce healthcare-associated infections.

Created a number of new products including Scotch high strength filament tape 890HD for deep-water drilling that has three times more tensile strength than current competing products; a greener adhesive that is low volatile organic compound aerosol that eliminates the need for spray equipment and has minimal over-spray and waste; and a reinforced polyurethane foam that is a substitute of plywood and also does not warp.
Ceradyne acquisition
During the Q1 '13 earnings call with Wall Street, 3M management was particularly happy with the integration of Ceradyne, which the company acquired in 2012 for $850 million or six times EV/EBITDA. Ceradyne already secured a $40 million order from the defense department for protective gear for the Afghan government. In addition, Ceradyne is working on new products in the oil and gas and pharmaceuticals industries. Importantly, Ceradyne brought boron carbide capabilities in body armor to 3M and also capabilities in silicon dioxide for the solar industry and silicon carbide and nitride or non-oxide ceramics. 3M and Ceradyne have been working together since the 1980s and the current closer relationship is off to a good start.
Conclusion
Despite low utilization rate and an earnings miss in the first quarter of 2013, 3M remains a solid investment opportunity. The company should benefit from its focus on developing innovative products, exposure to international markets and growth from acquisitions. 3M's stock should continue to provide a stable and rising dividend and an opportunity for capital appreciation with relatively low volatility.
Disclosure: I have no positions in any stocks mentioned, and no plans to initiate any positions within the next 72 hours. I wrote this article myself, and it expresses my own opinions. I am not receiving compensation for it (other than from Seeking Alpha). I have no business relationship with any company whose stock is mentioned in this article.