Sometimes correlations that should be are not and those that are should not be. We have an interesting chart to highlight this in the 'Chart of the Day' section and simply want to warn readers that just because something should work does not mean that Mr. Market will make it work. All the investment books and materials out there teach based on these principals, but at the end of the day one must look at the specific company and the circumstances surrounding it rather than investing blindly across the board and expecting that to work.
Commodity prices this morning are as follows:
Gold: $1455.50/ounce, up by $9.30/ounce
Silver: $23.655/ounce, up by $0.312/ounce
Oil: $91.55/barrel, up by $0.52/barrel
RBOB Gas: $2.73/gallon, up by $0.0107/gallon
Natural Gas: $4.354/MMbtu, up by $0.028/MMbtu
Chart of the Day:
We were trying to find a chart to show how natural gas and coal move, but when we got a hold of this chart it simply reaffirmed what we thought from the start. The US Natural Gas ETF (NYSEARCA:UNG) has been such a poor performer due to the paper trading they do that seeing any correlation here is not possible. We would note that lately the coal players have had disappointing results and that UNG is now outpacing the Market Vectors Coal ETF (NYSEARCA:KOL)...something that probably should not hold for too long as investors rush back into coal shares when it appears all is clear or utilities begin the switch back to coal...whichever happens first.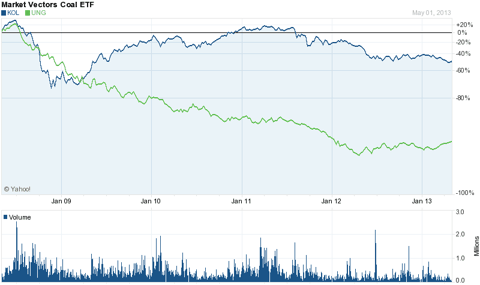 Click to enlarge
Chart courtesy of Yahoo Finance.
Oil & Natural Gas
Citi moved EV Energy Partners, LP (NASDAQ:EVEP) from 'Buy' to 'Neutral' (see Barrons blog here) which caused its outperformance to the downside yesterday. The units have performed quite abysmally over the past year with much of the reasoning being that they have yet to figure out a way to monetize their Utica Shale leasehold and over the course of their sale process investors have watched as transactions on a $/acre basis have declined. We remain bullish as we see the value here, but we admit that it is becoming a thorn in our side. When other names in the play are outperforming and units here fail to atleast hold their own, one begins to ask oneself if they are maybe wrong. The headlines will say that this is somewhere around 25 quarters of continuous payout increases, however it was once again increased a mere $0.001 per the press release on Monday, so nothing to write home about at this time (see press release here).
Whereas EV Energy Partners is having difficulty in convincing investors and analysts of the value of their Utica holdings, Gulfport Energy (NASDAQ:GPOR) does not. The analysts' price targets continue to increase and so too does the share price. Even on down days one can find a reason to be bullish as the shares seem to always find support and then develop a positive uptrend. If anyone wants to debate this, please start by answering the question of when is the last time the company finished at the low of the day? After that tell us how often they finish at the low of the day, on down days that is. It is impressive to look at.
Whereas Gulfport and EV Energy Partners had moved in tandem with the 'All things Utica' trade, there has been a breakdown as of late and EV Energy unitholders have been left on the side of the road wondering what the heck happened.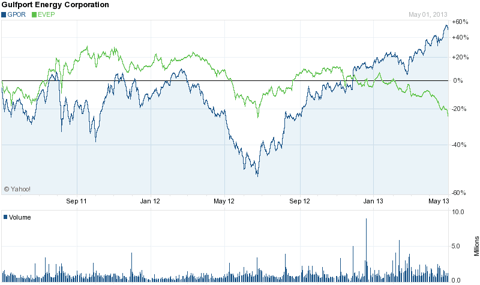 Click to enlarge
Chart courtesy of Yahoo Finance.
We see that Royal Dutch Shell's (NYSE:RDS.A) Chief Executive will be leaving the company in 2014, which opens up a spot atop one of the world's largest energy producers, and companies for that matter. Shell has undergone a transformation since their reserves issue and truly is a diversified multinational with many of their new projects located in close proximity to the markets which will drive demand growth and require far more supply in the next 10 to 40 years. Peter Vosser has not been the CEO for long, but the company has done quite well under his watch by pursuing their growth strategy and avoiding the pitfalls other majors have made (ill timed acquisitions and safety and environmental issues). It will be interesting to see in what direction the company goes in filling the CEO spot as they broke their long standing tradition in alternating CEOs from the UK and Netherlands and this time they are looking outside the company as well.
Coal
James River Coal Company (JRCC) had an impressive day yesterday. Even that introductory sentence does not do it justice, but bottom line is that the shares rose $0.48 (29.09%) to close at $2.13/share with volume spiking to 4.6 million shares. Driving the move higher was the company's earnings report. Really it was a lack of earnings report, but less of a loss was reported than expected and the company surprised by beating on the top line as well. Now that is a surprise investors are willing to take and bucks the trend not just of the market in general but the coal market specifically. This is what we discussed yesterday as it pertains to the entire industry and James River came out and delivered.
It was an impressive move yesterday, with most of it coming near the close. This is a volatile name, so we are not looking to play it specifically, but we are interested in how its operating results could impact the industry in general terms.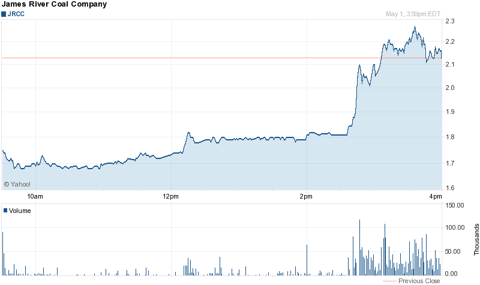 Click to enlarge
Chart courtesy of Yahoo Finance.
Disclosure: I am long EVEP, GPOR. I wrote this article myself, and it expresses my own opinions. I am not receiving compensation for it (other than from Seeking Alpha). I have no business relationship with any company whose stock is mentioned in this article.