The results are in! Microsoft (NASDAQ:MSFT) has, against all odds, seized approximately 7.4% of tablet shipments in the first quarter of 2013.
click to enlarge image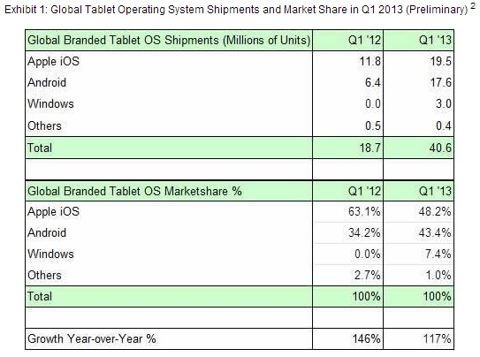 Source: Strategy Analytics
These numbers include both Windows 8 and Windows RT. Windows RT is itself very controversial, and can be argued to be a hindrance to Microsoft's tablet market share. Before I go into what Microsoft might do with the OS going forward, I should first define what it is. (Confusion on this point is why this article was necessary in the first place).
What is Windows RT?
There are basically two flavors of computer chips on the market right now: those based on designs by Arm Holdings (NASDAQ:ARMH) and those based on x86, which are made by Intel (NASDAQ:INTC) and Advanced Micro Devices (NYSE:AMD). Up until recently, the tradeoff between the two (to simplify it) has been that x86 chips have been more powerful, but were energy hogs, while ARM chips have been less powerful, but much more energy efficient. This meant that for the iPad (NASDAQ:AAPL) and its numerous Android (NASDAQ:GOOG) competitors, ARM chips were the way to go. They were more or less upsized smartphones, minus the phone. This was fine because no one expected their Kindle Fire (NASDAQ:AMZN) to run Starcraft 2. Also, they are different enough that programs and operating systems meant to run on one type of chip need significant modification to run on the other. Up until October 2012, when Windows RT was launched, every non-phone iteration of Windows had been designed for x86 chips. Windows RT, meant to help Microsoft capture the tablet market, was a version of Windows designed for ARM chips. This came at the expense of backwards compatibility: the only apps that can run on a Windows RT device are those purchased from Microsoft's App Store, as well as preinstalled versions of Internet Explorer, Microsoft Word, Excel, One Note and PowerPoint. These machines have not taken the tablet world by storm and have been an albatross around the neck of Microsoft's mobile efforts. These machines are well made, but they are hamstrung by their OS.
What's the problem?
First, there's the cost. Microsoft charges OEMs like Dell and Asus less for a Windows RT license than for a full Windows 8 license, but (at launch, at least) it still added $95 to the cost of building the machine. This is more significant for an end of the market where people expect to pay less than $300 for a machine, instead of roughly $400-500 for low end RT machines.
You also don't quite get what you pay for. A Surface RT with a 32 GB hard drive (about half of which is useable due to preinstalled Office and the size of the OS) and the touch keyboard included costs $599. For that price, you have a machine that's slim, portable and capable. I used one to type this article. I can print from it (because I have a printer that can print off of ARM devices like iPads), I have a real USB port, I can watch movies, I can read books and I can play games off of the Windows App Store. It is my loyal digital companion as I go through the day. From a form factor and interface point of view, the machine is impeccable.
However, you know what else can do all of those things for about the same price? Any number of touch screen laptops, and an increasing number of tablets running full Windows 8! Those devices can run TurboTax, Audacity and various other programs that my Surface, as great as the physical design is, can't and never will until those programs are available through the app store (and I don't expect them to arrive any time soon). Adding insult to injury, the newer batch of Windows 8 tablets running on Intel Atom chips have a similar battery life to the current batch of Windows RT tablets. Adding maiming to insult to injury, Intel's new generations of Haswell and Atom chips are going to give fully powered laptops the battery life of low powered tablets, to say nothing of what they could do for tablets themselves.
Moreover, there is a lot of customer confusion because the interfaces of Windows 8 and Windows RT are identical. This lowers the learning curve when I switch between my Dell Laptop and the Surface, but it's confusing to the consumer. The form factors and the prices are virtually identical, so short of a customer who's tablet shopping asking a (hopefully knowledgeable) employee at Best Buy, or doing their own online research, their odds of coming home with a machine that doesn't do what they want (be a tablet and run legacy apps) are pretty good.
What are the benefits of Windows RT to Microsoft?
So what was Microsoft thinking? The success of iOS and Android has taught Microsoft that people are willing to buy apps directly from the makers of the device's operating system. When a developer sells an app on the iPhone, Apple gets to keep 30%. When Adobe sells a copy of Photoshop for the PC, Microsoft doesn't see any of that money. Microsoft wants in on that action, and having a version of their OS that attempts to replicate Apple's "Walled Garden" would be very profitable if it caught on.
Windows RT also served as a hedge. If Intel hadn't shifted its focus towards greater power efficiency, then Intel tablets would have had a battery life like a Surface Pro (that is, no better or worse than an equivalent touchscreen laptop) and regular Windows 8 wouldn't be as big a player in the consumer tablet market. That hasn't turned out to be the case (thank you, Haswell and Atom), so Windows RT currently exists as a hedge against a situation that didn't happen.
What benefits does Windows RT have for the customer?
There are a few benefits, but they are relatively minor. Firstly, each RT machine comes with a copy of Microsoft Office built into it. There is also synergy with Windows 8 itself. If you own a Windows 8 computer, all of the apps that you own through the app store are automatically available for your Windows RT machine too. In a small, portable form factor, a Windows RT machine can function as an extension of your PC, running the same apps with the same touch interface. Moreover, a customer looking for something equivalent to a Nook Tablet or Kindle Fire (who isn't looking for a productive laptop) doesn't need to buy Angry Birds for their tablet AND their PC; they get it once and they have it for both. This is, however, a very niche use and it isn't worth four to five hundred dollars to the typical consumer. The popularity of the iPad Mini and continuing existence of older iPad versions shows that even Apple can't charge everyone that price for what a typical tablet can do, and iOS has many times the apps of Windows RT.
So what should Microsoft do?
There is a case for just killing the OS altogether. It breeds market confusion and is unnecessary from a technical level, given upcoming developments from Intel. If they did so, I would understand, even if it left my own Windows RT device orphaned. They bet that ARM chips would continue to be the best on the market for mobile, and they bet wrong.
Microsoft seems to understand this and is considering lowering the price of RT licenses by up to 40%, according to some sources. In my opinion, though, a $45-50 license still can't compete with Apple's older generation iPads (which have a robust app ecosystem) or Google's $0 licensing fee for a similarly robust, though often sketchy, ecosystem.
However, there is a way to "weaponize" Windows RT as a tool against Google and Apple, and the trick is to use Google's own playbook against them. Google's Android became the default mobile operating system because Google was willing to give it away on the theory that app and media sales, combined with increased ad revenue from mobile searches, would make up the development costs. What if Microsoft, going forward, gave away the operating system? Suddenly, Asus isn't spending $95 more on making a Windows RT tablet than it is on making an Android tablet. In fact, Microsoft extracts patent fees for about 80% of Android devices sold in the United States, with a smaller percentage internationally, so a truly free Windows RT license would cost an OEM less than making the "free" Android device! This could be combined with the step of making a subscription or one-time fee version of Office available in the RT app store, rather than making OEMs pay for it up front. This would let Microsoft compete at all price points, and make up the costs the same way Google does: app sales, media sales and Bing revenue (since Google has opted to make no Google app for Windows RT). A device the size and price of a Kindle Fire HD that could run Microsoft Office could be very enticing to the right audience. This effort would naturally need to be paired with some sort of ad campaign educating people about the differences between the platforms, which there should have been in the first place. The only downside I can foresee is that this might create pricing pressures on regular Windows licenses. That risk might make killing it off more sensible, but the plan to beat Google at Google's gaming is definitely enticing.
Short of this sort of bold strategy, though, Windows RT has a possible home in the premium 7-8 inch tablet market, competing against the likes of Samsung's Galaxy Note tablets. However, I predict that RT will slowly fade away as the costs of Intel's next generation chips come down. Windows 8 is Microsoft's future in the tablet market; RT is simply a sideshow that needs to either know its place (cheap form factors, possibly given away for free for aggressive growth) or step out of the way.
Disclosure: I am long MSFT, INTC. I am indebted to fellow Seeking Alpha contributor Ashraf Eassa for his many articles about upcoming Intel developments and the relative performances of ARM and x86 chips. If you have any interest in chip manufacturers, you should already be following him. I wrote this article myself, and it expresses my own opinions. I am not receiving compensation for it (other than from Seeking Alpha). I have no business relationship with any company whose stock is mentioned in this article.