Market fundamentals have deteriorated and Wall Street analysts' "Sell" recommendations have piled up faster than redemptions at a long/short equity hedge fund. However, this newsletter is all about the rebound. The old saying, "You should be buying when everyone is selling," has never been more true, and with the steep discounts of major steel producers, U.S. Steel Corp. (NYSE:X) provides an excellent opportunity to get ahead of the crowd and buy into a sound business for a fraction of its value.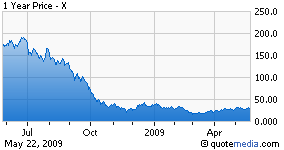 Steel production, like copper, is the backbone of all economic expansion and economists often monitor its consumption as an indication of industrial growth. During 2007, a growing appetite from BRIC nations caused a record climb in spot prices. This movement was an impetus for capacity buildup among many players in the industry during which steel flat-rolled products peaked above $1,000 per ton (currently trading around $500 per ton). However, the current recession has erased demand for many metals.
According to Standard and Poor's, U.S. GDP is expected to shrink by 3.0%, nonresidential construction is expected to decline 21.5%, and auto sales are expected to contract 25% for the year. Lower production has already taken hold as the World Steel Association reported production in China, the EU, and North America have plunged -8.9%, -43.8%, and -52.1% respectively for the first quarter. So…with earnings being pressured not only by lower volumes, but also lower sales on those volumes, why are we talking about steel?
Steel will undoubtedly be at the heart of the rebound and U.S. Steel is at the heart of American production. Economic prosperity is driven by the very factors mentioned above: GDP, nonresidential construction, and auto sales. Therefore U.S. Steel should be at the forefront of the turnaround once these numbers bottom. It is the largest producer in North America, and the fifth largest producer worldwide with a total 31.7 Million tons of steel-making capabilities.
What bodes well for U.S. Steel is the need for consolidation in these difficult times. Steel production is much more fragmented than other base metals. The three largest aluminum producers control almost half of production whereas the top ten largest steel producers control less than 30% of production. The weaker players are going to get forced out of this market but U.S. Steel has stayed busy making sure it does not follow suit.
Its flat-rolled products will ebb and flow with the overall state of the economy, but its oil country tubular goods (OCTG) provides an interesting take on the commodities market which increased 114% last year. OCTG imports in the U.S. last year doubled 2007 sales as U.S. Steel acquired Lone Star. This acquisition, along with Stelco, added $1.6 Billion to goodwill and increased its OCTG capacity by more than 50%. In addition, it increased its North American steel making capabilities by 25%. U.S. Steel stands to benefit not only from an increase in more infrastructure spending, but also from increased energy and chemical production. It should also benefit tremendously from U.S. fundamentals, as North America becomes a low-cost supplier to manufacturers abroad due to a lower-valued dollar.
What is most promising about U.S. Steel and why we are comfortable recommending it for the dollar-cost-averaged buy over the next 9-12 months is its capital structure. U.S. Steel currently has $723 Million cash on hand, an untapped $750 Million five-year revolving credit facility and a $500 Million receivable purchase agreement. Scheduled maturities are $81 Million and $183 Million in 2009 and 2010 respectively, which are more than manageable. What is going to separate all of the commodities producers in the long run is their ability to gain ground on competitors in down markets and with its ample liquidity, U.S. Steel will be able to do just that.

- Darrell Reid
Disclosure: The fund the author manages has interests in X.