An article at CNBC was recently run suggesting gold may have hit a floor, citing HSBC, which offers three reasons why that may be the case, including retail demand from India and China, slowdown in exchange-traded fund (ETF) gold liquidation, and continued acquisition of gold by central banks around the world.
According to HSBC, the major reason that gold may have found support and should continue to rebound, is retail buying in India and China. Physical demand for gold is led by jewelry, which accounts for about 45 percent of overall total.
In the past I wouldn't have found that assertion too credible, as there has always been that jump in gold prices during the Indian wedding season, which soon afterwards drops back to normal price levels.
What Has Changed
What has changed and why it may be true this time around, is the high cost of gold has caused Indians and the Chinese to either hold off on retail purchases or seek alternative metals such as silver, or in cases when the price is lower than gold - platinum, for their jewelry needs.
Now that gold has corrected, the retail demand for gold is rising in the two countries, and will be a larger factor in the price of gold than in the past. Some estimate India will boost its gold purchases by 20 percent year-over-year. China isn't as easy to analyze because it has entered the retail gold market only recently, and there isn't enough data to accurately project the present and future actions of the country, or form a long enough trail of past actions to suggest a identifiable pattern.
Nonetheless, China has entered the retail gold market in a big way, and there is nothing to suggest that will change any time in the near future. Just this month alone (April 2013) Hong Kong gold sales soared 150 percent.
If India and China were to boost consumption by 15 percent in 2013, that would result in 250 metric tons of gold being acquired by the two countries. To give an idea of how massive that is, it is 10 percent of the total annual global gold production.
Also important is the Chinese and Indian market usually respond strongly to price movements, and the lower price of gold at this time is a powerful impetus for them to buy.
The Chinese consumed 137 tons of gold, second only to India.
Gold Price Versus Jewelry Demand
The chart below measures the demand of gold jewelry against the price movement of gold from 2000 to 2009. As you can see, demand plunged as the price of gold went up.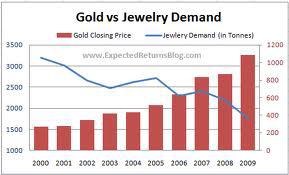 Now that the price of gold has reversed and plummeted, there can be no doubt as to where the demand for gold jewelry will go from here, assuming there isn't another downward move before the price of gold continues on its way up.
Gold jewelry will definitely have an impact on the process, and could strengthen the price of gold under these bearish conditions. Again, it is unique circumstances for gold we're looking at in regard to the price of gold versus jewelry demand in China and India, so there isn't a lot of history, especially with China, we can look to for guidance, as mentioned earlier.
Unless something drastic happens, such as gold ETFs dumping far more gold than expected, it's likely retail physical gold demand could help sustain a bottom, while at the same time helping the price of gold to rebound.
Central Bank Policies
Another factor in the support of gold prices are central bank policies. The ongoing stimulus efforts, along with the acquisition of gold by central banks are the major two actions affecting gold.
The reason for the gold acquisitions by central banks around the world is to diversify away from the U.S. dollar.
Leading buying by central banks is Russia, which in March acquired another 4.7 tons, to bring its total reserves to 981 tons. That is the sixth straight month Russia has added to its gold reserves. In 2012 Russia boosted it gold reserves by 8.5 percent, and in 2013 so far gold reserves have jumped 2.5 percent.
Turkey acquired a huge 33.1 tons of gold in March, bringing its gold reserves to 408.9 tons.
China doesn't report how much gold it acquires, even from its own producers, but according to the World Gold Council, China increased its holdings by 24 percent in the fourth quarter 2012 over the prior quarter.
Other central banks known to be adding to their gold reserves include Kazakhstan, which acquired 1.2 tons in March, bringing its total so far in 2013 up by 6.6 percent. In 2012 Kazakhstan raised its gold reserves by 41 percent.
Also adding to their gold reserves in March were Turkey, Azerbaijan, with South Korea suspected to have done so too.
In 2012 central banks purchased 543.6 tons of gold, with expectations of about 450 metric tons in 2013. Depending on the currency war, that could easily jump higher. In 2012 the overall acquisition of gold by central banks accounted for 12 percent of all gold demand for the year.
Concerning the stimulus efforts, that is just another word for currency wars at this time, as numerous countries want to weaken their currencies to remain competitive economically, especially in regard to exports.
Stimulus
The seemingly endless stimulus policy of the Federal Reserve has resulted in what has become a currency war, no matter how the financial media want to describe it.
Along with the United States, other major participants include Japan and the eurozone, which is expected to boost stimulus measures even more. Britain is also thought to be on the verge of increasing its money supply. Japan alone has stated it's going to print from $600 to $700 billion annually.
All of this is being done even though historically and presently there is nothing to suggest it is helping in any way. The global macro-economic weakness remains, and all stimulus does, in relationship to currencies, is reshuffle the deck with all the cards coming up lower.
It's somewhat hilarious to see media report that fears the Federal Reserve may end its stimulus efforts has resulted in the fall in the price of gold. Anyone that believes the Federal Reserve is even contemplating ending its stimulus program understands nothing of the belief system it's operating under. There won't be a stoppage of stimulus anytime soon, and that is simply a fact. That's why the U.S. government is changing the way it's going to report the GDP, adding spurious investments to massage the numbers. It's also why the CPI leaves out certain elements in order to give the appearance of low inflation.
In other words, as long as the illusion inflation is in check and the GDP is healthy, there won't be any major pressure to truly end stimulus efforts.
This ensures, over time, the price of gold will continue to rise. Inflation and a safety hedge are two obvious reasons as a result of loose money policies, but so is central banks buying up gold to strengthen their reserves. Emerging markets are especially participating in gold acquisition.
Gold ETF Outflows
Gold ETF outflows has been another major factor in the decline of gold prices, and that appears to be winding down at this time. Last Friday (April 26) SPDR Gold Trust (NYSEARCA:GLD) had gold holdings of 1,083 metric tons, down from the 1,217 metric tons it held as of April 1.
It is believed that this outflow, not only in SPDR Gold Trust, but other gold investment vehicles as well, is close to bottoming out, and that reverse will of course result in more demand for gold bullion.
Since January 1, gold ETFs, overall, have sold off 10.7 million ounces of gold, bringing the overall gold holdings of the sector to 73.9 million ounces. In April, over 5 million ounces of gold have been liquidated by ETFs.
We don't know the timing, but this suggests gold acquisitions by ETFs should start again. Most likely it'll happen when the bottom is believed to have been reached and/or inflation or economic uncertainty weighs on the market.
You can see in the chart below how this seems to be included in the performance of SPDR. It dropped to a monthly low of $131.31 on April 15, and has climbed nicely since then.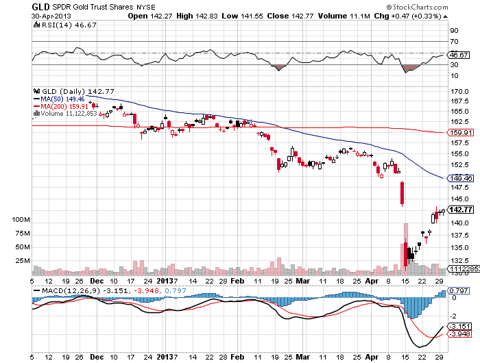 Market Vectors Junior Gold Miners ETF (NYSEARCA:GDXJ) has moved in a similar pattern as SPDR, but has unsurprisingly lagged a little behind the giant gold ETF by a couple of days, but still falling significantly in April. Its monthly low of $11.78 was reached on April 17.
Outflows there are measured in dollars and not gold, with approximately $24.8 million existing the fund, which accounts for about 1.4 percent decline.
The chart below shows the performance of GDXJ over the last year, versus its 200 day moving average.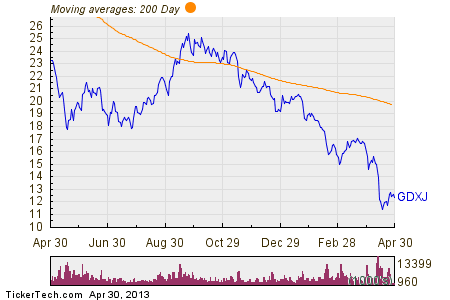 With both gold ETFs starting to recover after hitting lows in the middle of April, it seems to support the market thinks gold prices have bottomed and are going to begin to move up.
Gold Coins
Those wanting to hold physical gold coins as their means of investing in the yellow metal will find out that it's getting harder and harder to get them, as the plunge in gold prices has resulted in huge demand all around the world.
For example, a week ago the U.S. mint suspended sales of its one-tenth ounce American Eagle coin.
The Perth Mint in Australia also noted its sales have risen to levels not seen since 2008.
Other major gold coin demand areas are Britain, Dubai and Turkey, along with China and India.
Gold coin investors are paying a high premium for the coins, although that's not a problem for most with the bargain gold prices they're available for. A number of gold coin outlets say they have to wait to get product because of the soaring demand.
All of this adds to the demand for physical gold, which will offer support to gold prices.
Will Gold Prices Hold?
Now the question is whether or not physical demand for gold is enough for the price of gold to hold and move up.
Some are asserting the so-called economic recovery is a real one, but that is easily rebuffed based upon why the performance of stocks are doing so well. It's the cutting of costs that is the reason behind stronger performances, not growth. Until the market takes that in and digests the implications, it won't properly punish the companies.
The idea is companies are hoping there will be a real recovery so the appearance of better earnings flows smoothly into an actual growth period. It's unlikely to happen, so eventually companies will run out of areas to cut, and will then be seen to be the weak entities they are. There are exceptions to this of course, but the reality is the majority of strong earnings are from cuts and not growth.
I think much of the gold price movement will be dictated by this over time, and when that time arrives, the price of gold will take off nicely. There are other factors, but this is probably the most important.
As long as investors are drinking the earnings kool aid, they won't put their money into gold and other commodities at prior levels. It is that scenario which is being battled over at this time between the effect of physical gold demand versus perceived economic performance.
What has yet to be determined in regard to gold is whether or not it's only the true believers that are buying up physical gold or others are doing the same. That determination will more than likely define the pace of the rebound and descent of gold, along with whether or not it may take one more big dip before it beings its inevitable upward run.
Gold and the Strength of the U.S. Dollar
Will the U.S. dollar play any role in the price of gold going forward, especially if it continues to strengthen? That will be determined by whether or not the greenback in fact does continue to strengthen.
What will determine that, for the most part, will be the decision of central banks around the world, specifically the ECB and Bank of England, which are looking at boosting stimulus efforts, joining the Bank of Japan in lowering the value of their currencies. Pressure has been mounting on the ECB to do more as the eurozone continues to contract.
If the banks expand the money supply of the respective countries they represent in any significant manner, it'll bring their currencies lower against the U.S. dollar, which will strengthen by default. As mentioned earlier, this is what the currency war is all about, no matter how the actions of the various central banks are described or reported.
This is about exports, whether in the manufacturing sector, or the financial, as the case is with Great Britain. A currency too strong against the U.S. dollar puts those countries or regions at a competitive disadvantage with America.
Now it's a matter of which country or region will print the most money, and how the currencies will react to one another, as well as gold.
For the moment, the dismal condition of major currencies around the world give the appearance the U.S. dollar is strong, and so it continues to be thought of as a place of safety, to the detriment of gold.
If the U.S. dollar remains strong in comparison to other currencies, it could pressure gold prices down, offsetting the big boost in physical gold demand. Then the cycle will begin again, where alternatives to physical gold, such as silver, becomes a bigger factor for retail buyers.
The bottom line in my opinion in regard to gold prices and the U.S. dollar is it'll be a factor as long as the general investing public believes the dollar remains a place of safety. Not too long ago it didn't, but the perception, along with the reports that the U.S. economy is in the midst of a recovery, has resulted in people believing the dollar is the best place to put the capital they want to protect.
Weaker economic data continue to be reported, along with dismal earnings from the companies that really matter, revealing perceptions could quickly change and reverse the sentiment concerning the dollar.
But until that happens, gold will probably struggle to increase in price in the months ahead. I think the price of gold will rise, but it will be incrementally, rather than in big surges. Until gold gains ascendancy over the dollar as a safe haven in the minds of investors, that will likely continue.
What if Gold Prices Dip Again?
For most healthy gold miners, gold streamers and gold ETFs, among other gold investment vehicles, they'll be able to survive another drop in the gold price, which if it happens, could plunge to $1,200 an ounce or so.
At that point it looks like the gold miners that will be hurt the most will be those operating in South Africa, where costs run at about $1,150 an ounce.
AngloGold Ashanti (NYSE:AU), Harmony Gold (NYSE:HMY) and Gold Fields (NYSE:GFI) are among companies hit hard by their exposure to South Africa, as are Barrick Gold (NYSE:ABX) and Kinross Gold (NYSE:KGC), both of which are looking to exit that market.
With South African gold costs at the $1,150 an ounce mark, and unions endlessly pressuring to receive above-market wages, there is no longer any room to negotiate, as the continent is imploding on itself in regard to mining in general, and gold mining specifically.
I wouldn't own one share of a gold company with significant exposure in the volatile South African market.
A drop in gold prices to $1,200 an ounce or lower would crush any of these companies, as not only wages and lack of predictability a factor, but so are the rising prices of utilities and other operational costs in the region.
Another factor is the currency exchange rate of the South African Rand and the U.S. dollar. As of April 30, this is where that is at:
1.00000 US Dollar = 9.01713 South African Rand
9.01713 South African Rand per U.S. Dollar
Below are charts of the gold miners above with operations in South Africa. While almost any mature gold mining company has had similar share price movement, those with significant South African exposure have dropped further in price than most others. They also started dropping quicker than other gold miners, starting in the earlier part of 2013. Other miners started to drop quickly in the latter part of March and early April.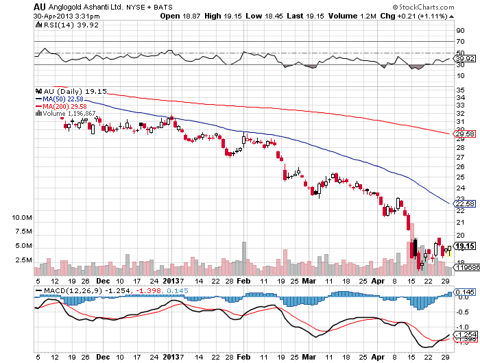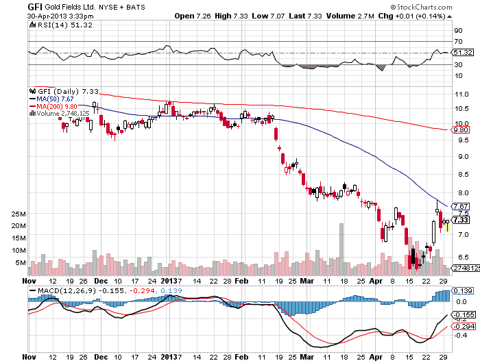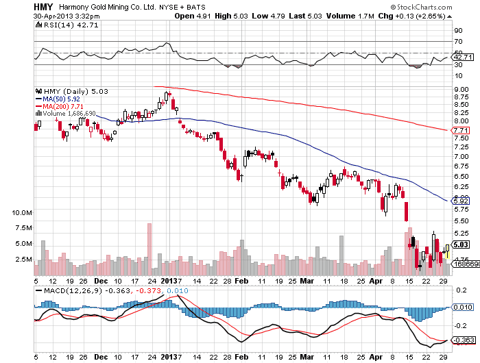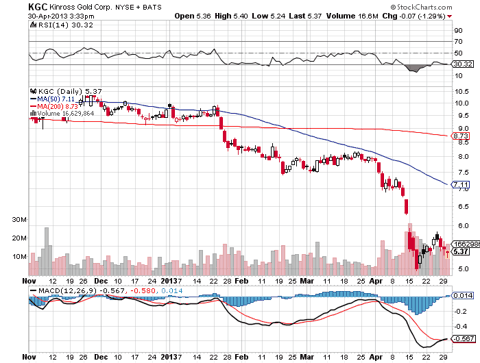 As usual, Barrick, Newmont (NYSE:NEM) and Goldcorp (NYSE:GG) were able to weather the downward pressures a little better because of size and the diverse locations of their mines.
You can see below how they performed since November, 2012.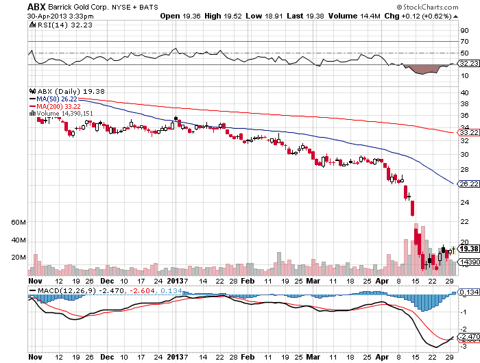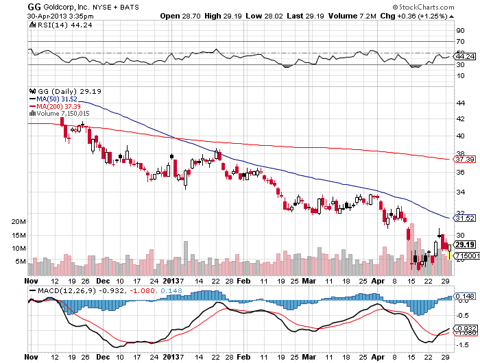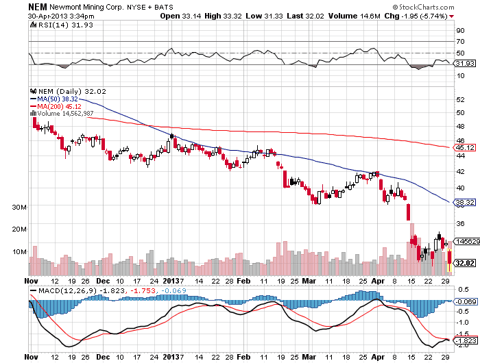 Conclusion
I don't think it's going to take too much longer to determine whether or not the price of gold has reached a bottom or not. It may have room to drop, with the projected target, if that happens, probably being around the $1,200 an ounce mark.
If we have in fact reached a bottom, or close to it, we should then see the price of gold start to rise, albeit at a gradual pace.
More than likely the fear accompanying the plunge in gold prices in the middle of April has rattled investor confidence, and that will probably make them tentative for the remainder of 2013, although as always, political and economic surprises could change that scenario and gold could jump quickly. It's happened before and could happen again.
Assuming no major surprises, gold prices, once they have reached bottom, will continue to rise over time. It's very close to the time when investors need to carefully watch their entry points, as it could be a long time before we see this type of opportunity in gold again, whether physical gold, gold miners, or gold ETFs.
Disclosure: I have no positions in any stocks mentioned, and no plans to initiate any positions within the next 72 hours. I wrote this article myself, and it expresses my own opinions. I am not receiving compensation for it (other than from Seeking Alpha). I have no business relationship with any company whose stock is mentioned in this article.