The automobile sector is receiving attention as the sector has not truly recovered from the multiple macroeconomic setbacks it has experienced over the last few years, such as the subprime crisis and earthquake in Japan. In an earlier article, we evaluated three of the largest companies in the sector -- Ford (NYSE:F), Volkswagen (OTCPK:VLKPY), and Toyota (NYSE:TM) -- all of which have had their share of economic jolts in the last few years. Our argument made a largely statistical case for suggesting which stock was the best bet for now.
With the housing market stabilizing and global demand picking up, the North American car industry looks to finally be getting a breather as it witnesses positive quarterly results. However, the carmakers cater to not only the Americas, but also to Europe and rest of the world. Ford and General Motors (NYSE:GM) are experiencing contrasting fortunes across the world. In this article, I aim to deliver a clearer picture on where the two car makers stand and what is in the cards for their future.
Tracking Financials
General Motors returned to the stock market in 2010, and after initially making a strong impact, lost massively as the stock's value tumbled. Since that time, GM stock is still down 10.79% from where it started. There have undoubtedly been impressive performances from the company, but the extent of its financial troubles were such that its stock price comparison is still negative. The graph below illustrates the performances of Ford and General Motors over the last year. The Dow Jones Industrial Average and the S&P 500 are market indicators and benchmarks to evaluate the trends.
Click to enlarge images.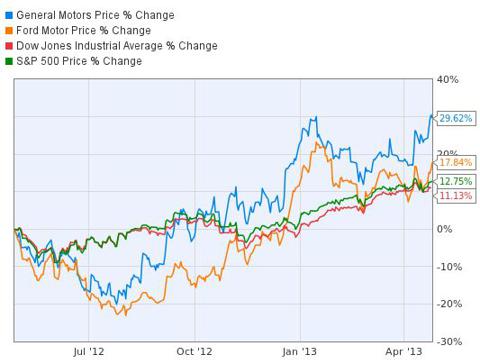 Click to enlarge
The automotive industry is heavily dependent on global demand and, more directly, the state of the U.S. economy. As demand picks up and macro indicators of the U.S. economy improve, so do the fortunes of car manufacturers. From Q3 2012 onward, Ford and General Motors have had their stock prices appreciate at a rate faster than the market averages. At the moment, General Motors is up 29.62% from last year, while Ford has seen a 17.84% increase. Ford has a beta of 2.25, which underlines the volatility of the stock due to macroeconomic changes.
Ford is valued higher than GM due to its market capitalization. Ford's 52-week range is from $8.82 to $14.30 per share, while it currently is being traded at $13.42 per share. General Motors' 52 week range is from $18.72 to $30.80 per share, and its current price is $30.72 per share.
There are many ways to estimate the fair stock value of a company. For this purpose, we applied the discounted-earnings-plus-equity model developed by EFS Investment analysts to these two competitors.
| | | |
| --- | --- | --- |
| Indicator | Ford | General Motors |
| Price/Earnings ttm | 9.6 | 10.4 |
| Price/Book | 3.4 | 1.6 |
| Net Income Growth (3 Yr Avg.) | 27.8 | -61.1 |
| Revenue Growth (3 Yr Avg.) | 4.9 | 13.3 |
| Dividend Yield, % | 1.83 | - |
| Debt/Equity | 4.5 | 0.4 |
| Return on Equity | 36.6 | 23.1 |
| Current Price | $13.67 | $30.51 |
| Estimated Fair Value Range | $19-$24 | $57-$76 |
| Stock Valuation | Undervalued | Undervalued |
| Upside Potential to Reach Fair Value | 42% | 86% |
Data taken from Morningstar and Financial Visualizations on April 30, 2013.
The calculations based on this model allow us to suggest the following: Currently, both stocks are undervalued. EFS's fair stock price valuation indicates that GM is trading at the most attractive discount.
From the table above, the most striking of the metrics is undoubtedly Ford's debt/equity. Before being horrified by the ratio, I would clarify that this is inclusive of the company's financial arm, Ford Finance. The more interest-bearing loans it makes, the higher its debt/equity will be. In principle, a higher debt/equity means more interest-bearing loans need to be paid back. With Ford Finance, Ford Motors has an estimated $16 billion of debt. That is a considerable amount, but nothing that Ford cannot reduce over the long term -- especially since its latest pre-tax profit from North American markets alone was $2.1 billion. GM, on the other hand, has managed its debt very wisely and its debt/equity ratio is a very respectable 0.4.
GM's ROE is less than Ford's, but that has a lot to do with the 13 years of losses it sustained while making Vauxhalls and Opels, which it continues to support in order to have a presence in the European markets. With the company announcing an investment of $5.2 billion in Opel, even the most optimistic of optimists will have a hard time seeing a positive result quickly. Compared to the industry average, the P/E values show both companies to be undervalued thanks to their strong earnings in the previous quarters and the abundance of traded stocks.
In its latest quarterly earnings report, Ford's pre-tax profit from sales in North America was $2.1 billion. Furthermore, its market share has continued to grow in the United States as the company offers new models of popular vehicles. The Ford Focus also has retained its title as the world's top-selling car, according to figures from sales tracker R.L. Polk & Co. Overall, the company's net income improved 15% despite losses incurred in Europe and South America. Sales in Europe for all carmakers have fallen nearly 10% in March, the 18th consecutive monthly decline.
The situation is no different for Ford, and it expects to lose a further $2 billion in Europe over the whole of 2013. This is on top of the loss of $462 million in the last quarter, a value which is triple what it lost in the same period last year. The decreasing demand in Europe has now been somewhat stalled as the tumbling sales figures have now flatlined in countries like Greece, Italy, Portugal, Ireland, and Spain. There might be hope for a recovery in the European car industry after all, especially for Ford, since it has large chunks of investor money to restructure its operations in Europe.
General Motors, on the other hand, has recovered very well after its narrow escape from bankruptcy. After getting a $49.5 billion bailout package in 2010, the company released a report in April stating that it had paid back $30.4 billion from the government's selling of company shares in its possession. A strengthened U.S. economy and stock buybacks have allowed its share price to move upward on the market. Furthermore, positive results from the North American and Chinese markets are allowing GM to reclaim its status of being an esteemed automotive manufacturer.
The company is refocusing its products for the Chinese market, in which 2.8 million vehicles were sold during 2012. This is more than what GM sells in the U.S. for the third consecutive year. Thus, it makes sense to gradually bring China into the foray as GM plans to expand its China capacity by 30% over the next three years by adding four plants and 6,000 workers. The company's performance in the U.S. has not been shabby either, as its U.S. sales in March rose more than 6% to 245,950 vehicles, compared to the same month a year earlier.
Make or Break for Investors
General Motors has picked up momentum, a rhythm which it is fueling with the introduction of exciting new vehicles. Its foray into the Chinese market is paying rewards now as the company has become a fundamental car manufacturer in the east. The company's influence in the region is also present in South Korea, where it produces vehicles for the locals and another 1.3 million for export to other markets. The only thing keeping Ford afloat is North America, a risky strategy which is bound to exhaust itself due to the saturation of the North American car industry. General Motors, on the other hand, is recovering and blooming, which provides the perfect opportunity to invest. Morningstar provides following ratings for the two companies: Ford -- 2/5 buy, 1/5 outperform, 2/5 hold; GM -- 4/5 buy, 1/5 hold.
Bottom Line
GM's Chinese influence and diversification has fueled most of its financial recovery. With the trend only expected to intensify, I am choosing GM to outperform Ford, which is vulnerable to the European market much more than its Motor City counterpart.
Disclosure: I have no positions in any stocks mentioned, and no plans to initiate any positions within the next 72 hours. I wrote this article myself, and it expresses my own opinions. I am not receiving compensation for it (other than from Seeking Alpha). I have no business relationship with any company whose stock is mentioned in this article.