Of all the operators in the Bakken, Triangle (NYSEMKT:TPLM) may be the most interesting. Not only because of how quickly it has grown, but where it came from. When it first began purchasing acreage in North Dakota, it already had sizeable acreage in Nova Scotia. This 410,000 net acres is in a gas dominated area, and at this time is not economic. I first covered Triangle in February of 2011, and the stock has not performed well over this time frame. For those who have traded it, there has been some money to be made. Triangle is stuck in range and right now is a very good time to accumulate shares.
Triangle and Kodiak (NYSE:KOG) are both top Bakken stock picks for 2013. When I initially made the call, I recommended waiting for a buying opportunity in both names. Now that both are selling at a discount it is a good time to accumulate shares. Two other stocks I like and own are Bonanza Creek (NYSE:BCEI) and Synergy Resources (NYSEMKT:SYRG). Below I have listed the price targets for these four stocks.
Kodiak: $11
Triangle: $9
Bonanza Creek: $46
Synergy: $9
All of these stocks are a great way to play the pullback in energy. I hope these names continue to go lower, as it gives the ability to cost average. All four have value at these levels, but that is dependent on the price of oil.
Triangle has 86,000 net acres, with 60% being operated. It is vertically integrated, with midstream and oil services. This integration provides a lower cost environment, and better control of time frames associated with all aspects of the business. Many operators are integrated, but rarely is it seen in a company this size. Just one year ago, Triangle completed its first operated well. Its Rockpile oil service division has since become operational. 12 months ago its Caliber midstream business did not exist. From 2012 to 2013, Triangle has grown sales volumes 415% to 488.2 MBoe. Rockpile has completed 17 wells and over 500 stages since July of 2012. It generated $57 million in revenue or $21 million on a consolidated break down.
Although its acreage is outside the sweet spots of northeast McKenzie and southwest Mountrail counties, it is still quite good. Its core acreage is in north central McKenzie and south central Williams counties. The McKenzie wells are a little deeper and have higher costs, but still produce excellent IP rates. Triangle's use of ceramic proppant is necessary given the pressures, and will pay off in better long term production. Its current drilling locations account for four wells per 640 acre spacing in the middle Bakken and two for the upper Three Forks. This appears conservative as the first and second bench of the Three Forks appears viable. If this is the case, this 6 well estimate could support up to 11 wells in a best case scenario. Keep in mind this is my estimate, and it will take time to properly de-risk this area. Its Montana acreage gets little attention, but may be a bigger driver of earnings than its core. The Richland Roosevelt Trend is prospective the Red River source rock. As in Golden Valley County, the Red River is prospective in Montana. This pay zone is deeper than the middle Bakken and Three Forks, and is thick enough to be fracced vertically. Whiting (NYSE:WLL) is currently de-risking and we should have some word this year on how it is going in Montana. The Red River in Golden Valley, North Dakota has EURs of 200 to 300 MBoe on well costs around $3 to $3.5 million. The Station Prospect is also prospective the middle Bakken and upper Three Forks, but there needs to be considerable de-risking to know how these will produce. Apache (NYSE:APA) and Southwestern (NYSE:SWN) both purchased leaseholds near station prospect. Triangle can wait as bigger companies de-risk the area. Below is a Three Forks isopach. It shows the average thickness throughout the play. Triangle's acreage is in an area of 200+ feet.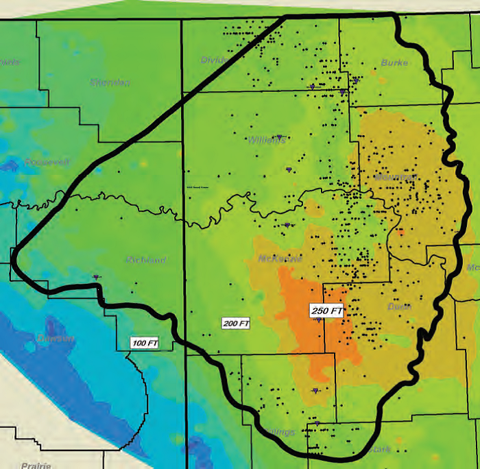 Click to enlarge
The big question on everyone's mind has to do with the recent SEC review. There were some issues, and because of this Triangle was late with earnings. There has been a resolution and it is more an accounting issue than anything else. During the third quarter, Rockpile had revenues of $23,866,020 and gross profit of $6,414,550. Triangle had to eliminate intercompany revenues of $11,335,462 and cost of sales including $7,969,416. The $3,366,046 of gross profit eliminated was then credited against its capitalized well costs. This issue only pertains to revenues and profit garnered by Rockpile completing Triangle wells. Third party wells are not affected. Rockpile profits will still be realized as a cost reduction.
Going forward Triangle has $65 million in cash and $110 million in a reserve-based lending facility. Net production volumes are estimated to increase from 2098 Boe/d in the fourth quarter of last year to 4750 to 4950 Boe/d in the fourth quarter of this year. For Rockpile a second spread is expected sometime this quarter and an increase in hydraulic horsepower to 36,000. It is now self funding and is expanding into wireline services also. Caliber will keep trucks off of the pads. It will get lines in the ground for crude, natural gas, produced and fresh water. Triangle's market cap is currently $235 million. Its acreage alone is worth $150 million. This does not include Rockpile or Caliber.
Triangle plans to add a fourth rig this summer, and due to cost containment it did not increase cap ex for the year. By August it will be able to monetize the majority of its natural gas. This will continue to add to growth. In 2011, it had revenues of $8-$9 million. Last year this increased to $95 million. This year's estimates are for more than $300 million. Triangle beat on the top line for the quarter, but missed EPS by 5 cents per share. Considering the growth in all three aspects of its business, there is upside in the short term. If Triangle executes, its share price could double over the next 12 months.
Disclosure: I am long TPLM, KOG, BCEI, SYRG. I wrote this article myself, and it expresses my own opinions. I am not receiving compensation for it (other than from Seeking Alpha). I have no business relationship with any company whose stock is mentioned in this article.
Additional disclosure: This is not a buy recommendation. The projections or other information regarding the likelihood of various investment outcomes are hypothetical in nature, are not guaranteed for accuracy or completeness, do not reflect actual investment results, do not take in consideration commissions, margin interest and other costs, and are not guarantees of future results. All investments involve risk, losses may exceed the principal invested, and the past performance of a security, industry, sector, market, or financial product does not guarantee future results or returns. For more articles like this check out my website at shaleexperts.com. Fracwater Solutions L.L.C. engages in industrial water solutions for oil and gas companies in North Dakota. This includes constructing water depots, pipelines and disposal wells. It also provides contracting services for all types of construction at well sites. Other services include soil remediation. Please contact me via email if you are interested in working with us. More of my articles and other pertinent information on the oil and gas sector, go to shaleexperts.com.