Before I get into the dividend, let's quickly examine Kimberly-Clark's (NYSE:KMB) business operations. Kimberly-Clark is a consumer staple company that employs roughly 58,000 individuals in its manufacturing facilities located in 37 countries. KMB was formed in Neenah, Wisconsin, in 1870. KMB's products, which are highlighted by Kleenex, Scott, Huggies, Pull-Ups, Kotex, Poise and Depend, are sold in more than 175 countries. In 2012, KMB's sales were $21.1 billion. The company expects these strong sales numbers to continue to increase due to the fact that its brands are indispensable to its customers. KMB boasts that on a daily basis, nearly a quarter of the world's total population uses one of its brands, which provide assistance to health, personal hygiene, and general well-being.
KMB is very aware and concerned about its shareholders. In 2003, the company created what is calls its Global Bussiness Plan, or "GBP." This GBP is "the company's strategic plan that prioritize growth opportunities and applies greater discipline to our operations." The description continues on saying that the plan was "designed to generate sustainable growth and improved shareholder returns."
Here are the plan's annual objectives: net sales growth: 3-5%, EPS growth: mid- to high-single digits, capital spending: 4.5-5.5% of net sales, ROIC improvement: 20-40 basis points, dividend increases: in line with EPS.
Here are KMB's yearly averages from 2004, when the plan was instituted to 2012, net sales growth: 5%, EPS growth: 5%, capital spending: 4.8% of net sales, ROIC improvement: 30 basis points, and dividend increases: 9%.
It seems as if the company is well aware of its dividend situation, has taken the time to carefully plan out its financial future, and feels comfortable with where it currently sits. When looking at the company's performance versus its objectives it has done very well. Net sales growth was at the upper end of its expectations. Capital spending and ROIC improvement were dead on. What sticks out to me when looking at these figures is the fact that EPS growth was on the lower end of the spectrum as far as the company's expectations went and dividend increases nearly doubled this figure (which was supposed to be "in line with").
One thing that I worry about with companies that have become associated with long-term dividend growth, being crowned kings, aristocrats, and champions, is that these companies feel immense pressure to continue this trend when it may or may not be the best thing for the company itself, or its shareholders. This pressure is especially real in the current market economy where yields on Treasuries are generally less than those of the S&P's dividend-paying securities, which has forced income-seeking investors to pay a premium for these higher-yielding companies because of their historical dependability. At this point in the game, if a company like KMB were to slow its dividend growth, the toll taken on the stock price would be great. And let me remind you that I said "slow" - this is what investors have come to expect from these companies, 6-10% annual dividend growth. If a dividend champion were to cut its dividend, or even halt it, which would remove it from the wonderful list that David Fish manages for investors concerned with dividend growth, the short-term reaction to such a move would he horrific (unless you are a value investor with cash on hand).
So, what am I saying? I believe that that KMB seems to be a company that is feeling this external pressure and increasing its dividend at an unhealthy rate. If I owned this stock for its dividend growth, I wouldn't be alarmed. I would however be wary and I would keep an eye on earnings reports, focusing on the sales and EPS growth figures and how they relate to the annual dividend growth percentage.
Here is why I would be wary. I will start with the good. Kimberly-Clark provides consumers with some of the most recognizable brands in the world. The company boasts that its brands "hold the No. 1 or No. 2 share position in more than 80 countries." This wide spread market dominance is amazing and this is why the company trades at 22.4x its earnings. KMB is also doing a great job innovating its manufacturing and production of products as well as its supply chain, which has lead to $1.9 billion of cost savings over the last nine years ($63m in '08, $183m in '09, $372m in '10, $265m in '11, and $295m in '12). And lastly, and probably most importantly for those investors who seek continued dividend growth from Kimberly-Clark, is the success of the company's reduced capital spending measures. Since the inception of the GBP in 2003, KMB has reduced its ROIC significantly, but I can't help but wonder if this will be enough to support what the company calls a "top-tier dividend payout" into the future.
As you can see, KMB offers investors a lot of positives. But, what causes me to worry about the company's dividend payment is its ttm payout ratio of 65%. This figure is getting rather high, and this fact, combined with KMB's recent EPS and sales growth history (five-year growth averages of 1.58% and 2.89% respectively) cause me to question the long-term sustainability of the dividend payments.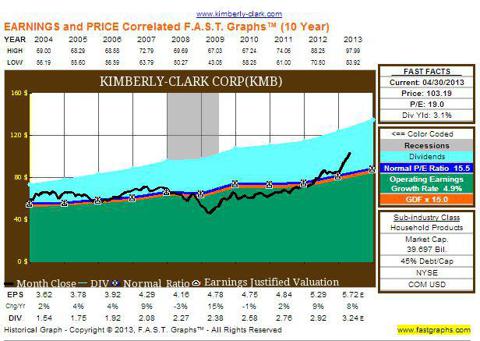 Click to enlarge
One thing I can say is that it seems as though the company's management is aware of the discrepancy between its operating earnings growth rate and its dividend growth rate; in the past nine years KMB's dividend increases went as follows: 17%, 14%, 10%, 8%, 9%, 5%, 8%, 7%, and 6%. This downward trend is approaching the operating earnings growth rate during the same period of 4.9%.
Another positive that the company offers to its shareholders is its recent buyback program. Since 2010, the company has spent $3.34 billion on share repurchases. I believe that this program is a step in the right direction in regards to sparking higher EPS growth numbers (KMB's one-year EPS growth rate is 10.69%, which greatly outpaces its five-year average of 1.58%).
So, how to play it? At the end of the day, I trust KMB's management. I like that fact that it has a plan laid out for future growth and sustainability. I like the company's products and its ability to grow sales internationally. The company's most recent EPS growth figures seem to be headed in the right direction; KMB's 2013 Q1 EPS of $1.48/share set an all-time record. I like the company's long-term prospects; but, I think that at its current price multiples the stock is over valued. As I said before, in this current market income-seeking investors will pay a premium for a stock like KMB that has increased its dividend for 41 consecutive years. I would wait it out on this one. Like so many others, I expect a market correction (let me warn you that I've been expecting one for a few months now and it hasn't come, losing me potential trading profits in the process). I think that the consumer staples in particular are being over-bought and that patience will give investors opportunities for better long-term return numbers. But, if patience is your vice, or if dollar cost averaging is your philosophy, I would say KMB is worth owning for the long term and the dividend is still safe, though worth keeping an eye on.
Disclosure: I have no positions in any stocks mentioned, and no plans to initiate any positions within the next 72 hours. I wrote this article myself, and it expresses my own opinions. I am not receiving compensation for it (other than from Seeking Alpha). I have no business relationship with any company whose stock is mentioned in this article.