I am a long-time fan of share repurchase programs because I have observed that the market usually rewards companies that repurchase their shares slower than companies that raise their dividends. This is an advantage to a smaller investor like myself because it usually gives me more time to pick up shares at a discount before the lower share count is reported and equates to a higher earnings per share. Since companies only have to report how many shares they have each quarter, it goes without saying that a company trading with an established EPS and share count is actually lagging the true company picture because management may have repurchased/altered the share count any time after the earnings announcement.
With that in mind, when Apple (NASDAQ:AAPL) announced its record-breaking share repurchase program at the same time it gave lower than expected guidance, I was mostly upbeat about the full picture. Besides, when else is a company with such a large presence and scale offered at such a low valuation? And, when better for a company to repurchase shares than when the stock trades near its 52-week lows?
Just how undervalued is Apple? Yesterday, at the point when shares traded at $439.39, I calculated the following:
Price per share of $439.39.
Cash: $144.7 billion.
Shares Outstanding (for now): 940.09 million
Cash per Share: $153.92
Diluted Earnings Per Share: $41.89
Dividend yield: 2.78%
Trailing P/E ratio: 10.49
Forward P/E of 9.94
P/E ratio ex Cash: 6.81
Before we delve deeper into Apple's cash hoarding I'll say it again, 6.81 P/E ratio ex-cash! With cash starting to cloud Apple's operating performance I like to turn towards the P/E ratio ex-cash because in my honest opinion, Apple is a cash accumulator and so the business you are buying is more based on the earnings of the business less cash. Besides, Apple isn't doing much with the cash anyways. And if it was, wouldn't more of it already have been returned to investors through dividends and share repurchases? And, if Buffett has trouble finding "elephant" sized investments of $30-$40 billion, how could anyone believe Apple would be able to find a "blue whale" sized one to spend much of its $144.7 billion on?
A look at one of the world's largest bank accounts: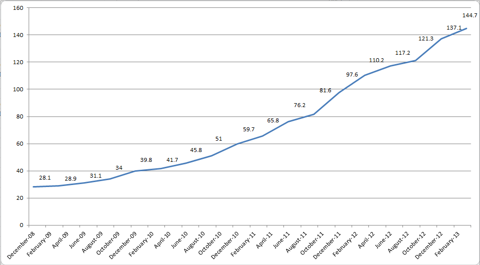 To put Apple's current cash holdings into perspective, here is a look at the cash of Microsoft (NASDAQ:MSFT) and Google (NASDAQ:GOOG) in comparison to Apple's: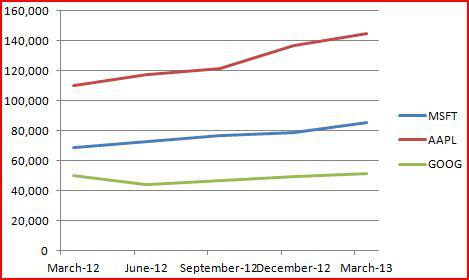 As it's obvious to see, Apple's cash dwarfs that of its largest competitors. So, why so prude? Investors have been led to believe that most of the reason is because the company has shareholders interest in mind and that Apple is only unwilling to use most of its cash to purchase the domestic shares because the majority of the cash accumulated is held overseas and bringing it back to the U.S. would trigger an unfavorable tax charge. So, in-line with the tax avoidance plan, Apple filed a $17 billion bond offering to help fund the newly announced capital plan. Brilliant right? What better time to issue debt than when interest rates are at all-time lows and when the $17 billion is a fraction of the cash Apple has to back it? This was my thinking anyways, that and why didn't Apple do this sooner? Seems like a win-win. But, after graphing out the composition of domestic/international cash holdings, a very different picture emerged.
While Apple, the cash cow, has been accumulating an enormous amount of cash, the amount of domestic cash actually decreased this quarter...not what I was expecting to find.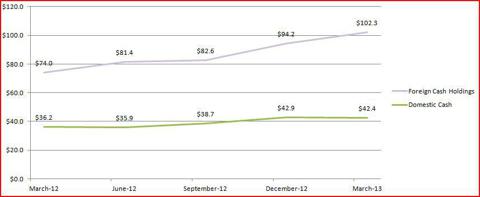 Now this is starting to make some sense, before it looked like Apple was avoiding some taxes, but now it appears Apple is avoiding taxes and could potentially fall short on its new capital plan should it try to finance it without debt. I'm still ok with the debt, but what does this mean for future acquisitions, research or subsequent dividend increases and share repurchases? Have these all been put on the back burner at a time with margins are squeezed and profitability is falling? Will the amount of its current obligations eventually require liquidating and subsequently being taxed on the foreign cash anyways?
This is what investors are going to have to ask themselves going forward. It's easy to get hung up on the idea that Apple's cash position is so large and growing so fast that it can buy or finance anything, I certainly had that mindset. Ultimately, I feel shares are still undervalued and that the stock repurchases will be a strong catalyst to drive shares back up. Beyond that however, I will be increasingly skeptical of management as the foreign held cash rises. Besides, what's the value of cash you can't use anyways? I've heard of earnings management, is hiding the true value of cash held in foreign lands on the same level? What do you think?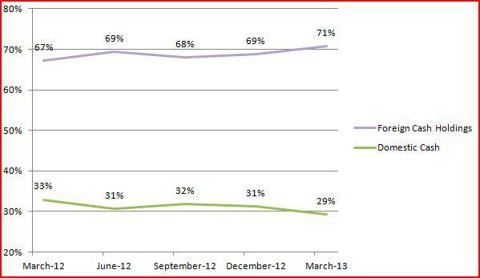 All data on the foreign and domestically held cash was pulled from Apple's quarterly filings, data on the amounts of cash held by Microsoft and Google was sourced from Moriningstar.com.
Disclosure: I am long AAPL. I wrote this article myself, and it expresses my own opinions. I am not receiving compensation for it (other than from Seeking Alpha). I have no business relationship with any company whose stock is mentioned in this article.