Santarus (SNTS) has quietly developed into a thriving bio-pharmaceutical juggernaut with current marketed products consistently showing strong growth and a pipeline full of promise. 2012 was a breakout year for Santarus. The company achieved record revenue of 218 million and enjoyed a 300% increase in stock price. Recent developments including the launch of Uceris provide a strong argument for another exceptional year for Santarus. Investors interested in a more thorough history of SNTS can read my previous article.
(All SNTS images can be viewed via this link)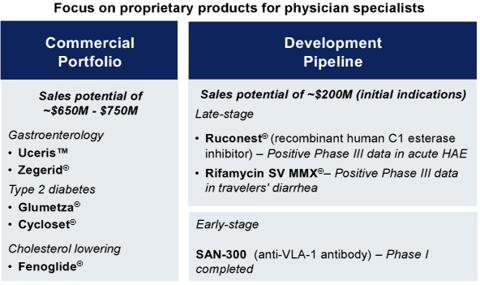 Uceris is a locally acting corticosteroid for the treatment of mild to moderate ulcerative colitis. The drug was launched in February 2013, and has the potential to be a blockbuster product for Santarus. We won't know what this product is capable of for several months but a snapshot of early numbers (see chart below) from a recent investor's day conference shows a nice upward trajectory. Speaking with several industry experts it appears that Uceris has been very well received by the Gastroenterology community. Ulcerative Colitis is a chronic inflammatory bowel disease which is limited to the colon. Patients with the disease experience abdominal pain, frequent bouts of diarrhea, and at times, intense pressure to move their bowels. Patients are usually prescribed mesalamine for maintenance of remission. The medication is effective. However, most UC patients will experience at least one flare while in remission.
Before Uceris, patients experiencing a flare had very few options. Prednisone is a systemic steroid that causes ugly side effects because it attacks the whole body as opposed to just the colon in an effort to reduce inflammation. While effective, most patients will avoid it at all costs. Immunosuppressive medications and anti-TNF Biologics are typically saved for more severe cases of UC and most physicians prefer to reserve these medications due to their high cost and potential for dangerous side effects. Uceris on the other hand is locally acting and specifically targets the colon resulting in a side effects profile similar to placebo. The community buzz around Uceris is very promising. In fact, at a recent investor conference Santarus CEO Gerald Proehl mentioned that Uceris is doing "quite well." Normally I would take this with a grain of salt considering that CE's are often emotionally involved with their products and tend to overstate the actual. But, when the CEO of Santarus speaks, investors would be wise to listen. He is notorious for under promising and over delivering. In fact the guidance (discussed below) the company has given for 2013 is a perfect example. It's difficult to determine the number of patients with Ulcerative colitis, but its estimated that approximately 1 million people in the US have the disease. It's also important to point out that Astra Zeneca did over 400 million in peak sales with Entocort. Entocort while indicated for Crohns disease is similar to Uceris in that both drugs utilize Budesonide. The delivery system and design is what separates the two products. Uceris utilizes MMX technology allowing for once daily dosing and a targeted release throughout the entire length of the colon making it ideal for treating Ulcerative colitis. Entocort targets the ileum and ascending colon making it appropriate for Crohns. Santarus is in a unique situation because Astra Zeneca did most of the heavy lifting gaining wide acceptance for Entocort and proving Budesonide to be safe and effective. Gastroenterologists have been waiting for a product like Uceris to use as an alternative to prednisone for patients with UC. The market potential for Ulcerative colitis is approximately 1 billion and expected to grow to 2 billion by 2020. Entocort's first year revenue was approximately 100 million. I believe Santarus can conservatively do 30 to 40 million in 2013 with Uceris. Santarus thinks the peak potential is 300-500 million.
2012 Q4 earnings exceeded analysts expectations resulting in a 14% jump in stock price. Analysts failed to take into account the substantial increase in revenue from Zegerid. Zegerid (Omeprazole/sodium bicarbonate) is a PPI indicated for the treatment of acid reflux. The product has some nice advantages over its competitors. The two most important are a rapid onset of action and the longest acid control in the PPI class with 18.6 hours. In April 2010, the company lost its branded version of Zegerid, when the U.S. District court for Delaware ruled in favor of Par Pharmaceuticals on claims the Zegerid patents were invalid. In June 2010, two months after the lower court's decision, Par launched generic Zegerid, Santarus followed suit and launched it's authorized generic through Prasco Pharma. Both Santarus and Par captured about 50% of the business. Santarus appealed the lower court's decision and in September 2012, the U.S. Court of Appeals reversed the Delaware district court decision by validating 2 of the patents for Zegerid. Shortly after the reversal Par pulled its generic version off the market. Because of the large volume of Par's product still in the pharmacies it took several months for Santarus to regain the majority of the business. Currently the company notes that they have captured about 97% of Zegerid sales. Prasco, the manufacturer of Zegerid, raised the price following the victory, resulting in a substantial increase in revenue from 8.4 million in Q3 to 20. 8 million in the 4th quarter of 2012. With the launch of Uceris, the sales force is once again calling on gastroenterologists and the timing is perfect. Zegerid is now being detailed in the 2nd position behind Uceris and Santarus believes the increased promotion will have a nice impact on Zegerid sales moving forward. Q1 Revenue for Zegerid will exceed 20.8 million because only 85% of prescriptions were captured in the 4th quarter. With almost 100% of the product sales now going to Santarus, and the promotion resuming in February, Zegerid will be a cash cow for the company until the patent expires in 2016. It's likely that Zegerid sales will be in the range of 110-120 million for 2013. Additionally, Santarus will be awarded damages from Par in Nov 2014 when the lower court hears the case.
Glumetza (Metformin HCL extended release tablets) is indicated for the treatment of type 2 diabetes. The product has a nice advantage over generic metformin in that it's better tolerated. Metformin tolerability is a major concern for physicians because it leads to non-compliance, resulting in patients requiring additional medications earlier in the progression of the disease. Glumetza addresses the shortcomings of generic metformin with advanced technology which releases metformin slowly over 8 to 9 hours, resulting in less of the product being absorbed in the gut. Studies have shown more patients prefer Glumetza over other metformin therapies because of the favorable side effect profile. Glumetza continues to demonstrate exceptional growth for Santarus. As stated by Proehl, the Metformin marketplace is huge with about 8 million Rx's of generic metformin written annually. Glumetza needs only a fraction of that business to be wildly successful. In an effort to reduce switches at the pharmacy, the company instituted an E-voucher program last year allowing patients to fill their prescriptions for a $10 co-pay. Since the start of the program, sales of Glumetza have seen a dramatic increase and it's now about the same cost as generic metformin. Glumetza sales should be in the range of 185-190 million for 2013. The chart below shows sales history and 2013 potential.
| | | | | | |
| --- | --- | --- | --- | --- | --- |
| Glumetza | Q1 | Q2 | Q3 | Q4 | Full Yr |
| 2011 | 15.3 | 16.1 | 17 | 28.5 | 76.9 |
| 2012 | 31.2 | 31.2 | 39.3 | 42.6 | 144.3 |
| 2013 | 44 | 44 | 49 | 53 | 190 |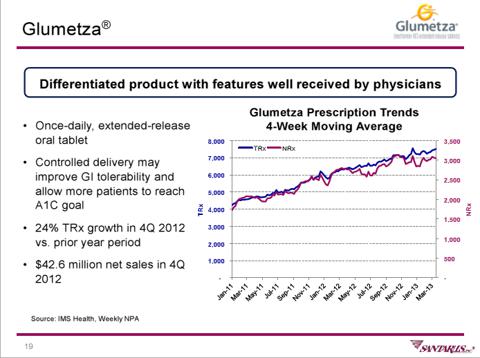 Cycloset is a dopamine receptor agonist indicated as an adjunct to diet and exercise to improve glycemic control in adults with type 2 diabetes. Cycloset produces modest reductions in HbA1c when added to one or more oral anti diabetic agents. The drop of .6-.9 is competitive with the majority of other agents on the market. What separates Cycloset from the competition is the cardiovascular profile. In a large 52 week clinical study with over 3,000 patients, the drug was shown to have a 42% relative risk reduction for composite CVD endpoint. While sales have shown steady growth since the launch, Cycloset was not expected to be a major revenue driver for the company moving forward. However, recently AACE (American Academy of Clinical Endocrinologists) published its annual guidelines and Cycloset is now recommended as a second line add on to Metformin therapy. AACE guidelines are highly regarded by physicians and this recommendation should help in adding awareness to the product. Additionally, at a recent analyst day conference, the company announced that the Cycloset patent will be extended to 2032. This opens up the possibility of additional indications for Cycloset. Given the growing safety concerns with other Type 2 medications, Cycloset's proven cardiovascular safety should help to drive sales. For 2013 the product looks to be on track for 22-25 million.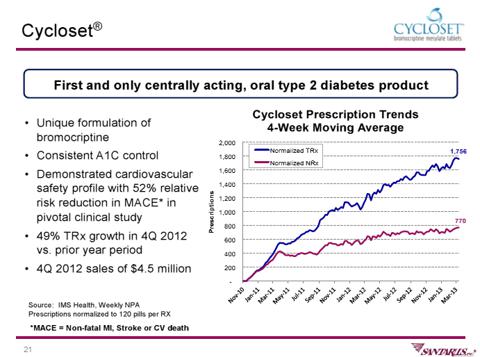 In addition to their marketed products Santarus has a strong pipeline. Ruconest (Recombinant Human C1 Esterase Inhibitor) is for treatment of acute attacks of Hereditary Angioedema. Santarus believes Ruconest could be a best in class product to treat HAE and I agree after seeing the recent phase 3 results. The company recently submitted the BLA and should hear back from the FDA in the 4th quarter of this year. While this product should do well in the marketplace with sales potential of 100 million, the real potential lies outside of this indication. At a recent investor conference, Proehl stated that the company plans to initiate a proof of concept study for Ruconest to treat acute pancreatitis, a disease that affects 250,000 people in the U.S. alone. Patients who suffer from this experience extreme pain in the abdomen which can last for several days requiring hospitalization, and in severe cases even death. There are currently no disease modifying therapies available, so patients are treated with pain medications, IV fluids or surgery. If the proof of concept study has a positive outcome Ruconest would be the only product in a potential billion dollar market. Because Ruconest is a biologic, the drug will get 12 years of exclusivity once approved.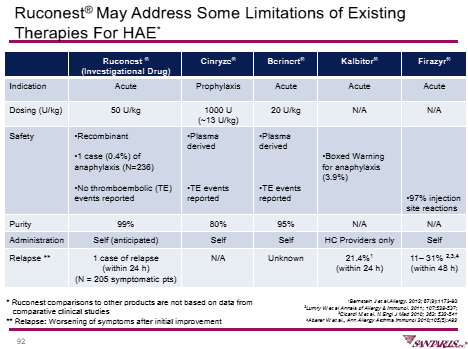 In September 2012 the company announced top line results of Rifamycin SV MMX for traveler's diarrhea. The results were highly statistically significant and adverse events were similar to placebo. A second phase 3 study in India was expected to complete enrollment in the first half of this year followed by an NDA submission sometime in the first half of 2014, but due to unrelated challenges with India's regulatory committee the trial is temporarily postponed. As with Ruconest, Rifamycin has potential for additional indications and could be another significant product for Santarus.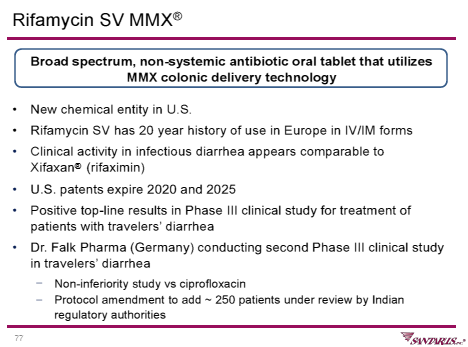 San-300 is an anti-VLA-1 antibody that has "blockbuster potential," as quoted by Santarus CEO Gerald Proehl. The preclinical studies in IBD, RA, psoriasis, and organ transplant showed "stunning results." A phase 2 trial in Rheumatoid Arthritis is expected to start this year followed by studies in Crohns and Ulcerative Colitis. San-300 has potential to treat multiple disease states. Studies in animal models established efficacy in Rheumatoid arthritis, Irritable bowel syndrome, Psoriasis, Corneal Transplant, kidney disease and Asthma. While it's still early, any positive clinical data could add significant value to Santarus' stock price, given the range of disease states the drug could target.
First quarter numbers will be announced on May 6th and Santarus should comfortably beat analysts estimates of 74.70 million. We should also expect a substantial increase in guidance by Santarus. Currently the company expects revenue of 320-325 million. Below is my estimate for full year 2013 revenues. Q4 revenue is based on 2012 actual results.
| | | | |
| --- | --- | --- | --- |
| Current Products | Q4 Revenue | Q1 projections | Full Year Revenue |
| Glumetza | 42.6 | 44 | 190-195 |
| Zegerid | 20.8 | 24 | 110-120 |
| Cycloset | 4.5 | 4.75 | 22-25 |
| Uceris | N/A | 2.5 | 30-40 |
| Fenoglide | 1.5 | 1.5 | 6 |
| Other | 0.8 | 0.8 | 3.2 |
| Total | 70.2 | 77.55 | 360-388 |
| | | | |
The biotech sector has a current average P/S ratio of 7.37. With full year revenues for 2013 of 360 million, at the current p/s ratio of 5.4 the share price should be $30. At the sector average the price is 42. The chart below estimates the stock price based on both p/s ratios. It's important to point out that a p/s ratio of 7.37 is probably low for Santarus because of the expected future growth of the company. Typically companies with strong projected growth trade at a p/s ratio above the sector average.
| | | | |
| --- | --- | --- | --- |
| | rev | p/s ratio 5.4 | p/s ratio 7.3 |
| 2013 | 360 | 30 | 42 |
| 2014 | 460 | 39 | 53 |
| 2015 | 600 | 51 | 69 |
As you can see Santarus is still undervalued and has considerable upside potential. The above estimates don't take into account any of the pipeline products. Positive data from these products could result in a substantially higher stock price. I view Santarus as a low risk/high reward investment. 2013 will be a defining year for the company with the launch of Uceris, potential Ruconest approval, proof of concept study in acute pancreatitis, San-300 phase 2 clinical trial, and the anticipated strong growth of the current marketed products.
As with any stock, investors should perform their own due diligence before investing. While I view Santarus as a solid investment, I can't predict any future paragraph 4 filings or other negative events that could impact the stock price. I will also point out that while the current clinical data looks promising for the pipeline products, the odds are traditionally low for early stage products to make it to the marketplace.
Zalicus(ZLCS) is a biotech company that discovers and develops novel treatments for patients suffering from pain. The company's pipeline focusing on pain is comprised of 2 calcium channel blockers, Z160 and Z944. They also have Exalgo, a marketed product extended-release formulation of hydromorphone HCl. Covidien has the US commercial rights and pays Zalicus royalties on net sales. In addition, the company has collaborations with Sanofi (SNY) and Novartis (NVS) to name a few. This article will discuss why the results of the phase 2 data for Z160 will ultimately decide the fate of Zalicus.
(link)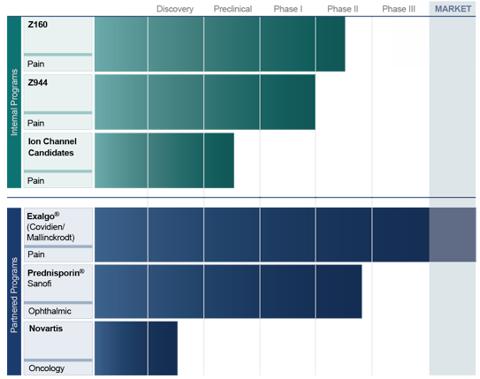 Z160 is a first in class, oral, state dependent, selective N-type calcium channel (Cav 2.2) blocker. The product has demonstrated efficacy in multiple animal models of neuropathic and inflammatory pain, suggesting that Z160 has the potential to treat a broad range of chronic pain conditions. Investors who follow Zalicus are well aware of a 2006 partnership between Merck and Neuromed (now Zalicus). I bring this up because the details of the partnership deserve more serious attention. Merck licensed the compound (originally named NMED-160) from Neuromed for $25 million upfront and potentially as much as $450 million in milestones and royalties on sales. Merck dissolved the partnership a year later after a phase 2 study showed bioavailability issues. Merck noted that no serious adverse events were seen even at the highest doses. Zalicus spent the next 7 years correcting the bioavailability issues. A phase 1 study released in March 2012 showed a greater than 8-fold improvement in CMax and 5-fold improvement in AUC for the new formulation of Z160 vs. the old NMED-160 compound. It appears the bioavailability issues have been corrected and we already know the drug is safe, evidenced by the early phase 2 study results reported by Merck. To summarize the significance of the Merck (MRK) partnership, the bioavailability issues have been corrected, the drug showed no significant adverse events, and Merck clearly believed the drug had blockbuster potential demonstrated by their huge partnership deal. The only question mark that remains is efficacy. Pre-clinical data showed Z160 proved similar efficacy to Morphine, Prialt and Neurontin. Neurontin had peak sales of 2.4 billion before the patents expired. If efficacy is proven in the phase 2a studies, Z160 could potentially dwarf any current pain product on the market.
In September of 2012, Zalicus initiated the first of two Phase 2a studies with Z160. The first study addresses patients with chronic pain in 88 lumbosacral radiculopathy ((LSR)). Lumbar radiculopathy refers to a pathologic process involving the lumbar nerve roots. The most common symptom in lumbar radiculopathy is pain. The pain may be severe and is often increased or precipitated by standing, sitting, coughing and sneezing. The location of the pain depends on the nerve root involved, and there is a great deal of overlap among the dermatomes. Most commonly, S1 radiculopathy produces posterior thigh and calf pain; L5, buttocks and anterolateral leg pain; L4, anterior thigh, anterior or medial knee, and medial leg pain; and L3, groin pain. Usually, the patient cannot pinpoint the precise onset of pain. It may start in the back, but by the time the patient is evaluated, pain may be present only in the buttocks or limb.
As pointed out by Jason Napodano, CFA, with Zacks Small-Cap Research. Ziconotide, marketed by Jazz Pharmecuticals (JAZZ) as Prialt, is the only non-opioid analgesic (synthetic peptide) approved for the management of severe chronic pain in patients who are intolerant of, or refractory to other treatment options. Prialt (Ziconotide) is a hydrophilic molecule that is freely soluble in water and is practically insoluble in methyl t-butyl ether. Ziconotide acts as a selective N-type voltage-gated calcium channel blocker. This action inhibits the release of pro-nociceptive neurochemicals like glutamate, calcitonin gene-related peptide (CGRP), and substance P in the brain and spinal cord, resulting in pain relief. Prialt clearly works but has a serious limitation in that it must be delivered directly into the spinal fluid. The administration is costly and for obvious reasons not widely used. Because Z160 utilizes a similar MOA, this adds some relevance to the possibility of Z160 showing positive results in ongoing phase 2a studies. Napodano constructs an interesting connection between the two drugs that in theory adds some credibility to the potential for efficacy with Z160. Data for the study is expected late 2013. As an aside, for investors who are unaware of Jason Napadano, in my opinion he is one of the few analysts who excel in both the science and the financial makeup of biotech companies.
Zalicus initiated the second phase 2a study with Z160 in 140 patients with post-herpetic neuralgia (PHN). PHN is a nerve pain due to damage caused by the varicella zoster virus. Approximately 200,000 people in the US are affected yearly and because of this small patient population, Z160 could be eligible for orphan drug designation. Data for the study is expected late 2013 or 1st quarter 2014.
On April 18th the company received notification from the NASDAQ Listing Qualifications Department of the NASDAQ Stock Market ("NASDAQ") that the company's application to list its common stock on The NASDAQ Capital Market has been approved. Even though this news was expected the stock price took a hit and closed the day down approximately 6%.
Investors are now left with one hurdle before the run-up to Z-160 data begins. Zalicus has been involved in a collaboration with Novartis since May 2009. Per the company: "cHTS is an analysis platform capable of recognizing and quantifying synergistic drug combinations and integrating complex disease, pathway, target and drug information, our platform enables the discovery of new combination biology and the identification of specific combinations of drugs with the potential to treat serious diseases by simultaneously modulating multiple biological pathways."
On April 26th 2012, Novartis extended its contract for 1 year which means we should hear any day now plans to extend the contract into the future. The partnership is a major revenue driver for the company, accounting for about 60% of the bottom line in 2012. Zalicus appears confident an extension will happen as stated on their earnings call they expect revenues for 2013 to increase due to royalties from Novartis. I believe the contract will continue, based on a recent presentation at BIO-IT 13 world conference by Joseph Lehár, Ph.D., Director of Bioinformatics OTR, Oncology Translational Medicine, Novartis Institutes for Biomedical Research. Dr. Lehar specifically references the work being with the "cHTS" platform to generate mutation status, gene copy number, and gene expression data for a library of 1,000 cancer cell lines. He is also quoted as saying "We expect this large-scale campaign to enable efficient patient selection for clinical trials on existing cancer drugs, reveal many therapeutically promising drug synergies or anti-resistance combinations, and provide unprecedented detail on functional interactions between cancer signaling pathways." Clearly Novartis has no intention of ending their partnership with Zalicus. Additionally Dr. Lehar was previously with CombinatoR (now Zalicus inc) and helped develop the "Chts" technology.
Zalicus CEO has stated that potential partners are knocking on the door anxiously waiting for positive Z160 data. A Z160 partnership would provide the company with a substantial influx of cash and royalties etc. The company reported cash of 36.4 million as of December 2012. That should easily carry them into 2014 without any additional fundraising. At the current stock price of .58 and a market cap of 74 million, shares are trading at a fraction of the potential value of Z160. This catalyst is likely going to be one of the biotech sector's most followed clinical study data releases in 2013. The market potential for Z160 is difficult to assess, but according to Jason Napodano, conservative estimates of 500-750m and potential of over 2 billion, based on Pfizer's (PFE) current sales of Neurontin. The potential for a non-addictive pain medication with powerful efficacy, makes Z160 a game changing medication in the pain market. I expect the stock price to exceed $1 and potentially run up to 1.50 prior to the release of data in the 4th quarter. For investors planning on holding through the data release, positive results will likely send the stock into the $3 to $5 range. If the contract with Novartis is not renewed the stock price will suffer in the near term but ultimately any negative news on the company will be dwarfed by the run up to Z-160 data release.
Zalicus is a risky investment and potential investors should carefully perform their own due diligence before entering the stock. Any negative data from the Z160 clinical trials could send the stock price down in dramatic fashion.
Disclosure: I am long SNTS, ZLCS. I wrote this article myself, and it expresses my own opinions. I am not receiving compensation for it (other than from Seeking Alpha). I have no business relationship with any company whose stock is mentioned in this article.