Now that there has been a major move made against the futures price of gold (NYSEARCA:GLD) and strategic commodities in general under the cover of deteriorating U.S. economic statistics, I believe we have cleared the way for the next major wave of investment into gold and gold mining activities. The age of mining companies overpaying for strikes is over. With major producers like Barrick Gold (NYSE:ABX) and Rio Tinto (NYSE:RIO) writing down major assets and firing senior management is a clear signal that operating costs have to be estimated with a lot more care during this next phase of the gold bull market.
Yes, I said next phase of the gold bull market, for I feel that nothing has fundamentally changed for gold. Even if 2013 ends up being a down year overall, any signs of economic malaise will be met with more activity from the major central banks, not less. No matter how much we hear members of the FOMC or the ECB's governing board try to talk around the matter, the results are always the same, when there is need the central banks will be there to do whatever it takes to create global growth. In Japan, the Bank of Japan (BoJ) has begun an historic expansion of its balance sheet. The Federal Reserve is expanding its balance sheet by more than the $85 billion in quantitative easing that they say they would engage in.
| | | |
| --- | --- | --- |
| | Change in Fed Assets (millions $USD) | Change in Bank Excess Reserves |
| Jan-13 | $91,515 | $60,710 |
| Feb-13 | $75,625 | $97,329 |
| Mar-13 | $93,451 | $81,367 |
| Apr-13 | $103,217 | Data N/Av |
| Average | $90,952 | $79,802 |
I perfectly understand the debt deflation argument and would agree with it if Paul Volcker were the FOMC Chairman, the U.S. was still a net creditor and the banking system was not still frozen with lending fear - exemplified by the rise in excess reserves held at the Fed since QEIII/IV started. But none of these things are existent. In fact, the exact opposite is the case and nothing about the current U.S. administration, nor the leadership at the Federal Reserve leads me to believe that a deflationary collapse will not be fought tooth and nail, which means continued expansion of the Fed's balance sheet and a portion of that money leaking into the economy to continue bidding up equities and, when they roll over, commodities and gold.
The events in Cyprus will further put pressure on the banking system of not only Europe but the U.S. as well. As long as gold holds below $2000 per ounce margins for mining companies will be severely tested. Forward hedging is beginning to creep back into the market, which will help dampen rallies along with softening economic data and the downward pull on commodity prices.
All of this weakness and mismanagement has destroyed investor enthusiasm for gold mining companies. With the S&P 500 ETF (NYSEARCA:SPY) trading at or near an all-time high every day and 23% of central bankers admitting to being buyers of their country's equities the disconnect between the prices of mining shares and the price of the underlying metal has reached, honestly, epic proportions. In a market where bond prices are also extremely high thanks to central bank buying investment demand is now completely momentum based. Fundamentals have little to no bearing on the price action in the bond and equity markets. In a yield-free world fund managers either join the herd or lose their clients.
For those sitting on the sidelines of this central bank induced madness, that frankly, is beginning to look like a bubble, this is the best time to be looking for value. The XAU Index of major gold miners is trading at a discount to the price of gold that is more than twice of what it was during the global recession of 2009 and more than 40% higher than at any point during this bull market.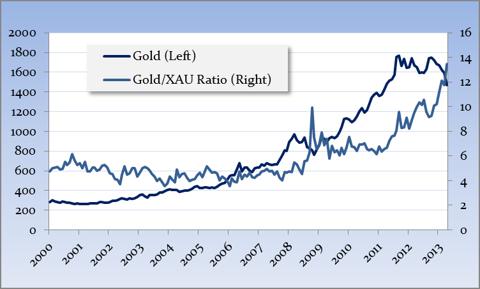 Part of this problem can be explained by rising costs, of course. It is no doubt more expensive to mine gold today than in 2001. But, this fact only underscores that in the face of massive physical demand globally the miners that make up the XAU and the HUI for that matter will have to replace current reserves with the highest possible quality reserves they can.
I like the near-term upside presented by this situation and one company in particular stands out, Pershing Gold (NASDAQ:PGLC). Pershing's main property is the Relief Canyon Mine in Northwestern Nevada, which is the home of the new gold rush due to better understanding of the deep geology that created the near legendary Carlin trend.
Relief Canyon is to the west of the Carlin-type trends that are currently being mined by Barrick, Newmont and Allied Nevada. It is an old open-pit mine that the company is investigating the feasibility of bringing back on line. Relief Canyon was an operating mine back in the 1980's but was abandoned as gold prices fell below economically viable levels.
In January Pershing updated its reserves at Relief Canyon based on its 2012 drilling program that improved its reserves by a factor of nearly 5. The company acquired Relief Canyon back in 2011 at which time the measured and inferred resources at Relief Canyon were 6.34 million tons at an average grade of 0.017 ounces per ton. The latest filing has reserves at more than 32.54 million tons at the same effective grade, or just over 550,000 ounces of gold. A good deal of that is waste rock from former operations that was never processed.
Pershing sees Relief Canyon as a low startup cost opportunity to mine gold similar to what Allied Nevada did with the Hycroft mine as well as explore a less understood area of Northwestern Nevada. The firm has acquired more than 27,000 acres of land, including all of the claims surrounding Relief Canyon to allow expansion of the old mine to easily take advantage of the gold there waiting to be leached.
The firm has good drill results, which indicate new systems yet to be fully understood and permitting of the new mine and heap leach has been acquired. The latest 43-101 filing has Pershing's estimated costs to assess the costs of extraction and further confirmatory drilling for the current indicated area of Relief Canyon's mineralization at just over $2 million.
Pershing looks ready to transition quickly into production of a relatively low-cost operator that is perfect for this environment. Pershing's market cap is currently $113 million, which is a significant discount to its updated reserves, even accounting for a steep discount. These kinds of bargains exist all through the industry currently. Put it all together and we have a relatively de-risked gold play due to both its location in Nevada, an existing mine and nearly complete processing facility ready to begin production of gold.
At current prices physical gold demand will remain high, which I feel, will force the hands of the major producers to either help develop explorers with good properties or accelerate the timetables of potential small producers like Pershing. Either way, investors looking for value in a market where everything except gold is trading at or near all-time highs need to begin looking at just how dirt cheap some gold stocks are. This latest attack on gold should be looked on as an opportunity.
Disclosure: I have no positions in any stocks mentioned, and no plans to initiate any positions within the next 72 hours. I wrote this article myself, and it expresses my own opinions. I am not receiving compensation for it (other than from Seeking Alpha). I have no business relationship with any company whose stock is mentioned in this article.