Sohu.com (NASDAQ:SOHU) May 24, 2009: $54.24
52-week range: $34.10 (Nov. 20, 2008) - $91.50 (Jun. 5, 2008)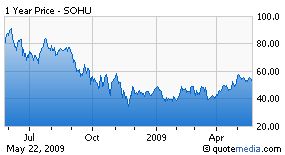 Sohu.com, Inc. is an online media, value-added services company in China. It offers content, brand advertising, sponsored search, wireless access and online gaming services. They provide Chinese language web properties and proprietary search engines through a wide array of online sites.
The company was formed in 1996 as Internet Technologies China and launched its first website in 1997. Sohu.com was created and service initiated in February 1998. The company was renamed Sohu.com in 1999 and came public on the NASDAQ in July of 2000.
Sohu developed a multiplayer, role-playing online game [Tian Long Ba Bu – TLBB] that has generated a huge number of registered accounts. A second online game [Blade] is now active and three new games are in development but not yet out in the market.
Sohu's success in the gaming sector allowed it to IPO its Changyou.com (NASDAQ:CYOU) unit recently. It still owns 68.5% of the shares while retaining about 80% voting control. SOHU is set to collect $128.3 million for the sale of the CYOU shares to the public.
Even before the gaming unit's IPO, it was debt-free and holding $373 million in cash. With the proceeds from the CYOU it now has $501 million or about $12.90 in cash for each of its 38.85 million (fully diluted) shares.
Here are its per share numbers as reported by Value Line:
Year ….. Sales ….. C/F ….... EPS ….. B/V ….. Avg. P/E
2003 ….. 2.23 ……0.87 ….. 0.66 …..2.54 …… 37.9x
2004 ….. 2.82 ……1.12 ….. 0.89 …..2.97 …… 23.8x
2005 ….. 2.95 ……1.00 ….. 0.77 …..3.54 …… 23.5x
2006 ….. 3.66 ……0.98 ….. 0.68 …..4.26 …… 34.5x
2007 ….. 5.01 ……1.27 ….. 0.90 …..5.80 …… 37.9x
2008 …..12.78 …..5.22 ….. 4.06 ….11.49 ……14.5x
First quarter results were outstanding at $1.15 versus $0.55 year-over-year making trailing 12-month earnings $4.66. Full year 2009 EPS are projected to be lower due to the sale of 31.5% of CYOU.
The consolidated results going forward will not include 100% of the gaming unit's earnings. In its present configuration SOHU is expected to show $3.83 /share for all of 2009 and preliminary views are now at $4.18 for 2010.
If the estimates are correct then SOHU now trades at < 14.2x this year's and 13x next year's earnings. That's the lowest valuation ever excepting the panic low level set last November.
The risks are obvious. As a Chinese company we must be a bit concerned about getting honest numbers. As an online gaming developer the 'hit' factor which drove earnings growth in 2008 might not repeat with Sohu's new game offerings.
The positives are the pristine, cash-rich balance sheet, the incredible growth potential for Chinese consumption and the current low valuation.
Here's an eight–month play that reduces the risks while providing outstanding total return potential.
Buy 1000 SOHU @$54.24 ……....$54,240
Sell 10 Jan. $50 calls @$11.70 ...$11,700
Sell 10 Jan. $50 puts @$7.50.........$7,500
Net Cash Out-of-Pocket ……........$35,040

On January 16, 2010 if SOHU shares remain $50 or higher:
The $50 calls will be exercised.
You will sell your shares for $50,000.
The $50 puts will expire worthless- a good thing for you as a seller.
You will have no further option obligations.
You will hold no shares and $50,000 cash for your original cash outlay of $35,040.
That's a best-case scenario profit of $14,960 / $35,040 = 42.6%.
Not too bad on shares that:
Went up.
Stayed unchanged.
Fell to as low as $50 (down 7.8% from the $54.24 starting price).
What's the risk?
On January 16, 2010 if SOHU shares are below $50:
The $50 calls will expire worthless.
The $50 puts would be exercised.
You will be forced to buy another 1000 SOHU shares and to lay out an additional $50,000 cash.
You will end up owning 2000 shares of SOHU.
You will have no further option obligations.
What's the break-even for the whole trade?
On the first 1000 shares it's their $54.24 purchase price less the $11.70 /share call premium = $42.54 /share.
On the 'put' shares it's the $50 strike price less the $7.50 /share put premium = $42.50 /share.
Your overall break-even would be $42.52 /share or $11.70 (-21.5%) below the starting price.

Disclosure: No position at this time.