Surprised. Stunned. Shocked.
As a consistent Microsoft (NASDAQ:MSFT) critic, all three adjectives applied to the way I felt when I saw the latest earnings numbers from Microsoft.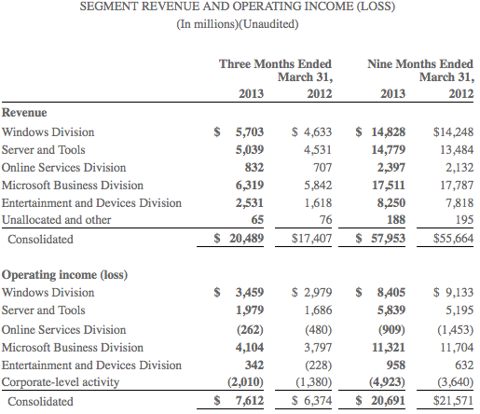 The company had a pretty darn strong quarter.
Server & Tools delivered $5.04 billion in revenues, an 11 percent increase that Microsoft credits to double-digit percentage revenue growth in SQL Server and System Center.
The Business Division posted revenues of $6.32 billion, an 8 percent increase year-over-year.
The Entertainment and Devices Division, which sells the Xbox line of video game solutions, saw revenues of $2.53 billion, up 56 percent year-over-year.
Even the Online Services division lost less money than usual.
Very impressive.
As you all have probably heard, the Windows Division did OK as well even though when you adjust for Windows 8 pre-sales, the numbers were flat.
So what to make of all this?
Well there are a couple of ways to look at this and I'll take you through them.
First, even though I am a critic, I'm not blind. This is a strong company in many respects and it clearly has several business units that are doing really well.
That would be dumb to deny.
There is however I respectfully suggest one major key to figuring out where Microsoft will land moving forward.
What's the story with Windows?
Some observations:
In the latest round of financial reporting, Microsoft did not share how many copies of Windows 8 have been sold to date. Usually, companies brag about successful sales cycles.
Looking forward to future sales of Windows 8, in light of the fact that the pricing for that product is now $119 and $199, it's hard to see masses of consumers rushing out to buy this.
Microsoft did not share any data about Microsoft Surface sales. Third party analysts are running estimates here and there but nothing from the source.
More important than how many units were sold would be how many were actually kept beyond the 30 day return period. I bought a Surface RT and Surface Pro and returned both within 2 weeks. Would my purchases be counted as sales long term if I got my money back?
Now I am not as pessimistic as some of my analyst colleagues about the future of Microsoft but I do think that there are some significant upcoming issues if Windows 8 continues to lag this way.
Here's my take.
I think public opinion has hardened about Windows 8 and its total indifference at this point. Some hate it and some love it but even with all the performance tweaks, the software just doesn't seem compelling enough to drive huge amounts of consumers to it.
I say that clinically and objectively - it just seems to not be making the splash the company intended.
I personally believe that even though Microsoft is a huge and strong company, it cannot afford to stumble with Windows.
It's not about whether the company will survive (it will) but whether it can really prosper as a stock without a vibrant and prosperous Windows division.
I don't believe it can.
I think that Microsoft recognizes that they have to fix the perception about Windows 8 but may not be able to at this point. It might simply be too late.
If you start to hear more talk about Windows 9 by the fall of this year, that will be an indication that the company may be trying to put this iteration of Windows behind them as soon as possible.
The takeaway for investors
I think that Microsoft will have to settle its Windows issues one way or another but going forward, as an investor, you will probably fall into one of two camps.
Camp One: You believe that as Windows goes, so goes Microsoft and bad times for Windows are correspondingly bad for the future of the stock, or ....

Camp Two: You believe that Microsoft has several billion dollar business units and is strong with or without Windows.
I think we will know a lot more six months from now.
Personally, I would hold until I see the next quarter's Windows 8 sales figures, learn more about the Surface hardware sales and then see how Windows Blue or Windows 8.1 is received by the public (maybe the quarter after that).
I think the future of this stock will be clearer at that point.
Additional disclosure: I have no positions in any stocks mentioned, and no plans to initiate any positions within the next 72 hours. I wrote this article myself, and it expresses my own opinions. I am not receiving compensation for it (other than from Seeking Alpha). I have no business relationship with any company whose stock is mentioned in this article. While I have no business relationship with Microsoft of any sort, I am the owner and editor of several Windows websites (Windows8update.com, Windowsblue.com etc).