Keith Richards, the legendary guitar player of the Rolling Stones and creator of some of the most memorable guitar riffs in the history of rock and roll, announced recently he does not own an iPod. Many utility investors could associate with the "throwback to the good old days of vinyl" that Richards advocates. Regulated electric utility investments can be as stodgy and as seemingly out of touch as vinyl records. However, as an integral part of a diversified portfolio, utilities can and should play a role in most investor's long-term stock holdings.
One of the reasons Keith Richards prefers vinyl is the quality and clarity of its sound, saying that digital listeners are being "shortchanged". Buying into some of the best utility companies would seem as unexciting as the old LPs (referring to Long Playing 33-rpm records compared to the shorter recording lengths offered by the smaller and faster 45-rpm version). Investors in well-managed utilities should receive historically steady investment returns over the long term.
Southern Company (NYSE:SO) is considered one of the best-managed and conservative utility firms. A few noteworthy comparisons:
"A-" Morningstar Credit Rating;
"A" Standard and Poor's Credit Rating;
"A-" S&P Equity Rating for 10-yr consistence in dividend and earnings growth;
Debt to equity ratio of 1.0 versus an industry average of 1.15;
Trailing twelve-month return on capital of 12.6% versus an industry average of 8.8%;
Regulatory environment for the four states in which SO operates (FL, GA, MS, SC) classified as "More Credit Supportive" the highest achieved classification and tied with only four other states (IN, WI,IA, CA);
Minimal wind generating capacity in SO's service area;
Average long-term contract for merchant power contracts is 10-years, above the industry average, and lowers the risk exposure to fluctuations in the power markets;
Southern Company's utilities have historically been rated high in the JD Powers Electric Utility Customer Satisfaction Survey
The dividend was recently raised to $2.03 per share annual and represents the 12th straight year of increases. Dividend growth is expected to continue at 4% annually. With $3.00 per share earnings in sight, a consistent 70% payout ratio would equate to dividend growth to over $2.10.
Its press release boilerplate description:
With 4.4 million customers and nearly 46,000 megawatts of generating capacity, Atlanta-based Southern Company (SO) is the premier energy company serving the Southeast through its subsidiaries. A leading U.S. producer of clean, safe, reliable and affordable electricity, Southern Company owns electric utilities in four states and a growing competitive generation company, as well as fiber optics and wireless communications. Southern Company brands are known for energy innovation, excellent customer service, high reliability and retail electric prices that are below the national average. Southern Company and its subsidiaries are leading the nation's nuclear renaissance through the construction of the first new nuclear units to be built in a generation of Americans and are demonstrating their commitment to energy innovation through the development of a state-of-the-art coal gasification plant. Southern Company has been recognized by the U.S. Department of Defense and G.I. Jobs magazine as a top military employer and listed by Diversity Inc as a top company for minorities. The company received the 2012 Edison Award from the Edison Electric Institute for its leadership in new nuclear development, was named Electric Light & Power magazine's Utility of the Year for 2012 and is continually ranked among the top utilities in Fortune's annual World's Most Admired Electric and Gas Utility rankings.
Additional analysis of Southern Company business can be found in the SA Feb 2013 article here and in the March article here.
However, not all is perfect with Southern Company. The latest earnings were down year-over-year and its coal gasification facility in Kemper, MS will cost more than anticipated without added investor returns and the subsequent write-off of part of their investment. On an operating basis, EPS was in line with last year at $0.49 per share. EPS growth over the next few years is expected to be just shy of 5% and will support a projected 4.0% to 4.5% dividend growth. While operating cash flow will be in the $4.5 billion to $5.0 billion, an aggressive capital expenditure program will consume the vast majority creating minimal free cash flow. Investors should expect equity issuing of $300 million over the next two years, which is also minimal based on a current market capitalization of $41 billion.
As a whole, sector stock valuations have been high and many believe utilities are overpriced. For example, not too long ago (mid-2010) SO offered a 5.0% yield, and now yields 4.2%, with a higher dividend. The trailing twelve-month operating PE is 18 and the forward PE is over 16, generating a PEG ratio (PE to earnings growth) of 3.2 and is on the higher side of the sector average of 2.7.
Although share prices have risen 10% this year, they have underperformed the Utility ETF (NYSEARCA:XLU), about matched the S&P 500 (NYSEARCA:SPY) on a price-only basis and slightly outperformed SPY on a total return basis. Over the past 12-months, SO share prices have climbed just 4% versus 15% for SPY and total returns have trailed at 8% vs 17% for SPY.
The two large power generating construction projects have been subject to cost overruns. However, the regulatory environment has been supportive of these projects and total costs, so far, have been approved for inclusion into SO regulated asset base. Going forward, continued success of including additional costs will be of interest to all investors.
For investors looking for reliable income with lower risk than either the market or long maturing/high duration bonds, SO offers an alternative. The beta is 0.25 and the current yield is about 100 basis points (1.0%) higher than 30-yr Treasuries. On a relative basis, SO protected investor's capital better than either their peers or the S&P 500. Below is a price only chart for SO, SPY and XLU. Reviewing the 2008 high to the lows in 2009, SO lost only about 30% of its value while XLU lost 40% and SPY lost a bit over 50%.
6-Yr Price Only Chart SO, SPY, XLU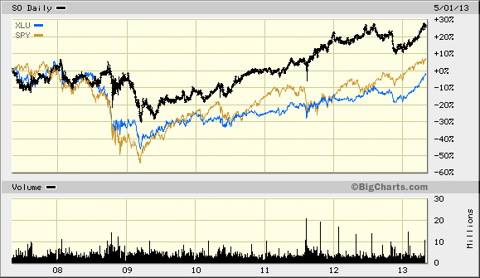 If a long-maturing bond fund has duration of 18 years (1.0% rise in interest rates creates a price decline of 18%), a 165 basis points rise in long bond yields to 4.85% would equate to a long bond fund decline equaling the market crash of 2009 (a 30% decline). Income investors who think long interest rates will increase over 4.85% without the SPY declining below 1,000 should consider adding Southern Company.
Broker's consensus rating is for a Hold on Southern Company based on price targets in the $46 to $51 range. Investors looking to add a high quality, regulated electric utility should keep an eye on SO and nibble on dips at or below $44 for both adequate income and reasonable long-term capital gains. For investors who have no positions in SO, taking a quarter starter position at current prices should be strongly considered.
I'm sure owning Southern Company as an investment would be at least as rewarding as listening to the Stones vinyl recordings at Chess Studio, 2120 South Michigan Ave, Chicago in June and November 1964, and May 1965 (LP cover here).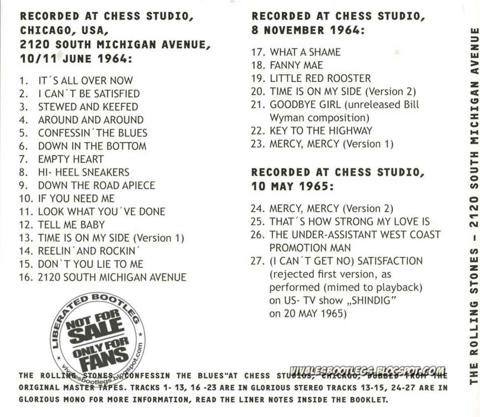 Author's Note: Please review important disclaimer in author's profile.
Disclosure: I am long SO. I wrote this article myself, and it expresses my own opinions. I am not receiving compensation for it (other than from Seeking Alpha). I have no business relationship with any company whose stock is mentioned in this article.