By Serkan Unal
The financial sector has outperformed the broad market over the past year, buoyed by a recovering economy, better loan demand, and improving credit quality. The outlook for the sector is positive, on expectations that accelerating GDP will lead to higher loan growth, the housing market will continue its recovery, bolstering home prices, improving returns on equity will drive valuations higher, and rising bond yields next year will steepen the yield curve, helping improve net interest margin. What's more, better capital adequacy is allowing many financial companies to hike dividends at robust rates, pushing up their yields to attractive levels.
As investors move into growth-sensitive sectors such as financials, it may be expected that stocks of life insurance companies, asset managers, and banks will post strong total returns in the near-to-medium term. Part of these total returns will come from dividends. In fact, many financial stocks offer both attractive yield and dividend growth at robust rates. That robust dividend growth speaks about management's confidence in the capacity of these financial firms to generate sufficient earnings and free cash flow so as to sustain higher dividends into the future. With that in mind, here is a closer look at five financial stocks with yields exceeding 2% that have recently hiked their dividends at double-digit rates.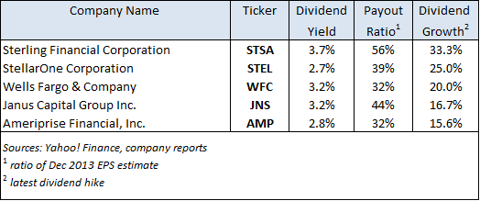 Sterling Financial Corporation (NASDAQ:STSA), the bank holding company for Sterling Savings Bank, recently boosted its quarterly payout by 5 cents to 20 cents per share. This dividend hike follows a special dividend paid back in December 2012, along with an accelerated regular quarterly dividend for the first quarter of 2013. The bank's dividend hike is a result of improving fundamentals. In fact, last quarter, the bank saw strong organic loan growth of 8% year-over-year, sequential net interest margin expansion of 20 basis points (in large part due to balance sheet restructuring), lower operating expenses, and better asset quality (including lower allowances for loan losses and declining nonperforming assets). The company has a ROE of 37% on a trailing-twelve-months basis. On February 28, 2013, the bank holding company completed its acquisition of American Heritage Holdings, the parent company of Borrego Springs Bank. The acquisition added to Sterling some $104 million in gross loans and $118 million of deposits. In terms of valuation, STSA is trading at a price-to-book of 1.1, on par with its five-year average and the industry's average ratio. In terms of hedge fund interest, Brian J. Higgins (King Street Capital) reduced his share holdings in STSA by 21% last quarter, to 1.49 million shares.
StellarOne Corporation (NASDAQ:STEL), the bank holding company for StellarOne Bank that provides banking products and services to customers in Virginia, recently hiked its quarterly payout by 2 cents to 10 cents per share. The company's dividend was slashed back in 2009, to 4 cents quarterly, but since has recovered 150% from that level. StellarOne has shown robust financial performance over the past year or so, beating analyst EPS estimates in each of the past five consecutive quarters. The bank showed average loan growth of 4.2% in the first quarter from the same quarter a year earlier, mainly driven by commercial real estate loans. In fact, "growth was noted in just about every loan category," says the bank. In the quarter, non-interest income was up 6.8% year-over-year. Improving asset quality also bolstered earnings, as nonperforming assets as a percentage of total assets as well as annualized net charge-offs as a percentage of average loans outstanding moved significantly lower from the year earlier. This bank has a ROE of 5.3%, below its industry's ROE. The bank is also trading at only 80% of its book value, 20% below its respective industry's price-to-book. Last quarter, the stock was popular with Ken Gray and Steve Walsh (from Bryn Mawr Capital - see its major picks here).
Wells Fargo & Company (NYSE:WFC) recently increased its quarterly dividend by 5 cents to 30 cents per share. This bank is the fourth-largest U.S. financial institution by asset size and the nation's largest mortgage lender. Wells Fargo realized record diluted EPS of $0.92 in the first quarter of this year, up 23% year-over-year, despite shrinking net interest margin and a drop in its mortgage banking income. However, the brunt of earnings growth came from lower loan-loss provisions. The bank's improvement in asset quality is notable, with first-quarter provision expenses, net charge-off rates, and nonperforming assets down significantly from levels in the same quarter of the previous year. The bank has seen significant improvements in ROA and ROE since the first quarter of the previous year, with ROA increasing by 18 basis points to 1.49% and ROE rising 145 basis points to 13.59% in the first quarter 2013. In terms of valuation, WFC is priced at a 40% premium to its book value, trading at a lower end of its valuation over the past half-decade. Wells Fargo is the single largest holding in the portfolio of legendary investor Warren Buffett.
Janus Capital Group (NYSE:JNS) a global asset manager, recently boosted its quarterly dividend by 1 cent to 7 cents per share. The company's dividend grew at an average CAGR of 43.1% over the past five years. Janus' financial performance has been weak lately. It realized a 1.9% year-over-year drop in revenues in the first quarter, due to lower private account performance fees, partly offset by growth in investment management fee income. The company has been struggling with AUM outflows, as its total AUM of $163.8 billion at the end of March 2013, was lower than the total AUM of $164.0 billion the year earlier. Sequentially, however, there was a pickup in total AUM, driven by equity appreciation that offset net outflows. The company is heavily exposed to equities, which bodes well for its growth during the equity market's bull phase. In particular, this could work to the company's favor once there is a rotation out of bonds and into equities - which still has to materialize. Now, however, fund flows into fixed-income securities continue to fare well. In terms of valuation, the stock is trading at 13.3x forward earnings, a discount to the industry's average multiple of 15.3x. Among fund managers, John W. Rogers (Ariel Investments) and billionaire Ken Fisher were bullish about this stock last quarter.
Ameriprise Financial (NYSE:AMP) a financial services company providing financial planning services and asset management, recently hiked its quarterly dividend by 7 cents to 52 cents per share. Over the past five years, the company's dividend grew at a rate of 21.7% annually. The company enforces a generous capital deployment policy, combining large buybacks and robust dividend growth. Robust EPS growth has provided for that. Ameriprise's EPS grew at a CAGR of about 13% annually over the past five years. This year to date, an increase in retail activity has driven its fee-based income higher. In fact, Ameriprise's advice and wealth management, and asset management reported double-digit growth in the first-quarter operating pretax income. Moreover, AUM reached a record high of $708 billion last quarter, increasing some 5% over the year-earlier levels. Key drivers of AUM expansion were both advisor client net inflows and market appreciation. Ameriprise Financial is trading at a forward P/E of 10.8x, below its respective industry's forward multiple of 13.5x. Among hedge funders, Steven Richman (from East Side Capital - check out its top picks here) initiated a new position in the stock worth nearly $132 million at year-end 2012.
Disclosure: I have no positions in any stocks mentioned, and no plans to initiate any positions within the next 72 hours.
Business relationship disclosure: Dividendinvestr is a team of analysts. This article was written by Serkan Unal, one of our writers. We did not receive compensation for this article (other than from Seeking Alpha), and we have no business relationship with any company whose stock is mentioned in this article.