by Eric Wesoff
In 2008, copper-indium-gallium-selenide [CIGS] based materials accounted for less than 3% of global photovoltaic module production.
Yet, the potential high efficiency and the potential low cost of the CIGS material system has spurred enormous capital investment in companies, both private and public, to develop large-scale CIGS solar manufacturing. Here's a list of the top five recipients of venture capital amongst CIGS players.
Firm VC Received Investors
Solyndra $600M+ CMEA, Redpoint, Argonaut, Virgin, Rockport, USVP
Nanosolar $500M MDV, Riverstone, Grazia Equity, Lone Pine, Skoll
MiaSolé $300M KPCB, Vantage Point, Firelake, Garage Technology
SoloPower $235M+ Convexa Capital, Crosslink Capital, Firsthand
SulfurCell $165M+ Masdar, Intel, Climate Change Capital
That's $1.8 billion dollars right there and the figure easily exceeds $2.3 billion when one counts the remaining CIGS players. More than 35 firms around the globe are working on CIGS or CIGS variants.

But CIGS has proven to be an extremely difficult materials system - its manufacture and behavior has not yet been mastered, as evidenced by the very few CIGS firms in true commercial production. Almost every CIGS firm has experienced schedule delays, personnel shake-ups, or massive re-working of processes and technological approaches.
A few firms such as Wuerth Solar and Global Solar are actually shipping commercial CIGS product. Others such as Solyndra and Nanosolar boast of winning large purchase orders but true large-scale production at promised costs and efficiencies is not yet proven. And the remaining CIGS aspirants like MiaSolé and Heliovolt have gone quiet after their own personnel, financial, and technical spasms.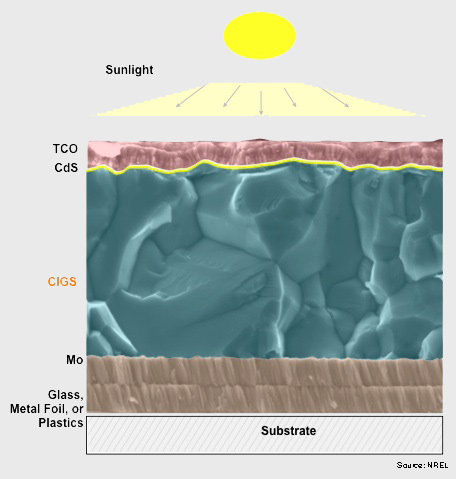 One of the gaping structural gaps in a CIGS builder's business plan is the lack of standard manufacturing tools - Applied Materials (NASDAQ:AMAT) does not have a turn-key CIGS factory. This means that every CIGS player has to be an equipment builder as well as a PV module and panel vendor. That's technically risky and a highly inefficient use of VC investor capital.
Into this new VC climate of capital efficiency, a quiet CIGS innovator, Applied Quantum Technology [AQT] has raised $4.75 million from undisclosed sources and in less than a year, produced CIGS materials at an NREL-validated efficiency of greater than 10%. It has taken most of the other players several years to reach that efficiency milestone.
So what is the eight-person AQT doing that the other the other generously-funded and highly-hyped players have missed?
They are focusing on building solar cells, not manufacturing equipment
They are using pre-existing high-volume manufacturing equipment
They are starting with CIS2 (Copper Indium Sulfide), a relatively less complex materials system before they tackle CIGS
They look to ramp up in 15-20MW modular increments, not biting off 50MW-100MW chunks like other CIGS players
AQT uses a dry reactive sputtering process and is targeting a $.65 per watt capital cost and $1.06 per watt cell cost.
Among the firm's management are the brothers Bartholomeusz, Brian and Michael, who seem to get along pretty well for brothers, more Orville and Wilbur than Groucho and Chico. They have manufacturing and materials experience from their days at Moser Baer and Heraeus and are looking to close a $20 million Round B to advance their firm to pilot production.
Can this David challenge the numerous Goliaths in the world of CIGS?
2009 and 2010 will be the year that most of these CIGS firms reveal their capabilities and weaknesses as we start to see their technologies or as their money runs out. It should be an interesting time for the CIGS market and for AQT.