Zynga Inc. (NASDAQ:ZNGA) has seen its stock go from as high as $14.50 to the $3.16 it stands at now. Facebook (NASDAQ:FB) cut the umbilical cord for the gaming corporation back in March 2013, disallowing its exclusive rights to publishing games on the social network. The popularity of Zynga's games has been on the decline even before that, with newer games failing to replicate the popularity of Farmville. Zynga must now tread carefully to save its ailing stock.
Online Gambling
Zynga has the potential to monetize online gambling. The only problem is that online gambling is illegal in every state but one: Nevada. While legislation is in the works in several others states, this remains the only place where Zynga can actually make a move at the moment. The corporation recently filed for a gambling license within the state, but the process can take up to a year and a half.
Keep in mind that Zynga already has a huge market presence. Zynga's online poker game, called Texas Hold'Em Poker, has 30 million players. If even a small amount of those could be converted into people that pay to play, Zynga's profits will shoot up.
On the other side we must consider the amount of competition that Zynga faces. There are a myriad of established, wealthy casinos littered around Nevada. In fact, one of them has already launched a website since the new legislation has passed. Ultimatepoker.com is up and running, and Zynga's paid poker website is not. The corporation must move quickly if it wants to enter that market.
It is difficult to predict how many states will legalize online gambling in the future. Currently there are several motions being examined that would do just that, but whether they get passed or not is not foreseeable. The introduction of online gambling in several states could open up a huge market for Zynga, one that would take them to new highs of profitability.
More Games
Zynga has flooded Facebook with its colorful games. The performance of these games has waned, however, as people tired of the company's simple formula. Zynga needs to switch it up or continue to make lackluster titles.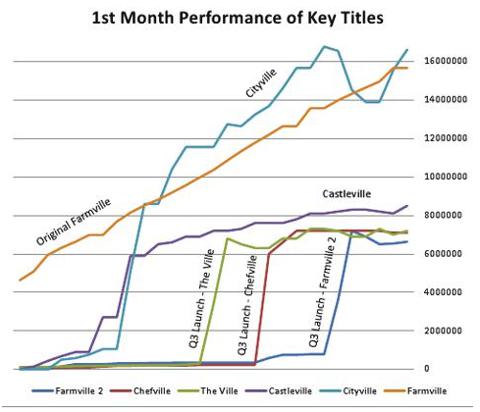 The corporation recently signed a deal with the developers of "Game of Thrones Ascent." The strategy game is different from traditional Zynga offerings, and is based on wildly popular intellectual property. Zynga will be handling distribution and marketing the game towards its existing user base.
Conclusions
The future can take any direction for Zynga. What's important now is that the corporation takes the time to diversify its revenue streams and expand into online gambling. The fact that Zynga recognized the importance of acquiring different games, such as Game of Thrones Ascent, is indicative of open minded management. If Zynga acts aggressively and with purpose its stock will explode. There is little going around right now but potential, however, so it comes down to every individual investor to either believe or not believe in the future of the company. For now Zynga is a hold.
Disclosure: I have no positions in any stocks mentioned, and no plans to initiate any positions within the next 72 hours. I wrote this article myself, and it expresses my own opinions. I am not receiving compensation for it (other than from Seeking Alpha). I have no business relationship with any company whose stock is mentioned in this article.