In my first ever post at Seeking Alpha, I hope to lay out the case for Home Depot (NYSE:HD) as a long-term buy and hold. I'll be using this account to lay out my own basic analysis of many different large cap companies and to follow up on each stock, regularly updating the analysis to reflect new expectations.
Company Profile
Home Depot is the largest home improvement retailer in the world, operating 2,256 retail stores in all of the 50 United States. The company is the very definition of big box retail, operating large stores of more than 120,000 square feet. The average store has 104,000 square feet of indoor space plus 24,000 square feet of outside garden sales space.
Founded in 1978, the company was one of the first true "category killers" in retail, built with a goal of creating the largest stores with the widest variety of home improvement products available on retail shelves. Stores carry as many as 40,000 different products.
Home Depot's Competitive Advantages
Home Depot is to home improvement what Wal-Mart is to consumer goods and grocery. The company is a leader in its own space, carving out a successful business model from a heavily fragmented business in home improvement goods.
I believe Home Depot has long-term competitive advantages:
Scale - Spanning an average of 128,000 square feet, Home Depot delivers the largest selection of home goods all in one place. With more than 2,256 stores, Home Depot benefits from economies of scale, as it is capable of making large wholesale purchases to lower its average cost of goods sold. Lowe's (NYSE:LOW) has roughly 1,700 stores.
Mini-"network effect" - Home Depot employs the advantage of a mini network effect, enjoying the simple reality that its business cannot be displaced by a smaller rival. Whereas Best Buy's big box model was structurally weakened by Wal-Mart and Target's entrance into consumer electronics, home improvement supplies are heavy, expensive, and usually sold in a basket of other home improvement products. (A screwdriver and new door, for instance). Wal-Mart cannot cut into Home Depot's business by offering a few of Home Depot's products. However, Wal-Mart (NYSE:WMT) and Target (NYSE:TGT) are increasingly threatened by the entrance of small footprint stores like Aldi in their local markets. Aldi sells only groceries, but that single category disrupts customer flows to larger supercenter stores. The addition of toilets to Target stores won't steal Home Depot customers.
Distribution - Home Depot has a leading distribution channel after the company refocused on efficiency following the sale and closure of two smaller businesses. Home Depot products are bulky, heavy, and costly, which makes them poor candidates for online retail. The company's 2,256 stores protect the company from new competition. It can buy in bulk, ship product to any store in its collection, and deliver value for customers who have few alternatives for a one-stop-shop.
Efficiency - Retail is extremely competitive; the companies that can produce more with less ultimately win the largest share of market. Home Depot carried an average of 78.49 days of inventory in the last year to 2013, compared to 93.22 days of inventory for its rival Lowe's. Furthermore, the company posts impressive inventory turnover of 4.65 days in 2012, compared to 3.92 days for Lowe's. In only one year in the last 10 years (2008) did Lowe's top Home Depot in its ability to quickly turn over inventory. Inventory turns are a key metric in retail. Faster turns reduce working capital costs, enable the benefits of scale in eroding fixed cost drag, and improve returns on capital employed.
Business metrics
Home Depot is believed by many to be a highly cyclical business. In truth, the company's sales are tied somewhat to the housing market. However, the housing market and broader economy have much less impact on Home Depot than many other cyclical industries, such as auto manufacturing. Case in point: the company generated a profit and positive free cash flow in 2008, which should have been one of the worst years for the company's big box home improvement model.
Home Depot's consistently positive free cash flow generation is what makes it an excellent long-term investment for buy and hold, large cap value investors, but only at the right price.
Here's a chart of free cash flow generation over the last 5 years: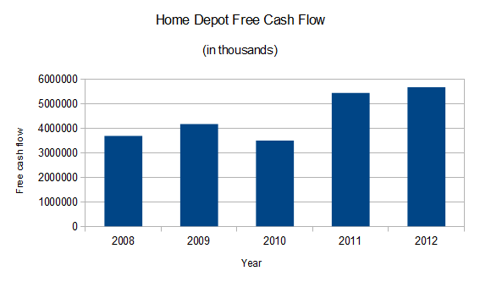 Home Depot is best valued by its free cash flows because it is too large to be acquired or taken private. Additionally, Home Depot, unlike many public companies, is an excellent steward of shareholder wealth. Free cash flow generated by Home Depot is as good as cash in the investor's hand.
Home Depot faithfully returns earnings and free cash flow generation back to its owners in the form of dividends (recently improved to $.39 per quarter, per share) and share repurchases. In just the past ten years, Home Depot returned $37.5 billion of shareholder wealth back to its owners in the form of repurchases.
The company has a standing dividend and repurchase policy:
Dividends - The company targets a payout ratio of 50%. This is reasonable, given that EPS in 2008 (a bottom in its business) was half that in 2012.
Repurchases - Excess cash from the business that is not paid out as a dividend can be paid out in repurchases. The company recently announced a $17 repurchase authorization, which it hopes to use fully by 2015.
Valuation
Home Depot is a very mature business with growth plans calling only for the opening of 9 new stores. Thus, the impact of growth capex on free cash flow is not measurable when it comes to an investment thesis.
The company expects sales growth of 2% in 2013, and comparable store sales growth of 3%. In the long run, Home Depot can deliver single-digit growth led by population growth, moderate expansion in the economy, and inflation in the cost of home improvement goods.
Home Depot currently trades for 19.25 times 2012 free cash flow. Supposing 3% annual growth in free cash flow from same-store sales growth and other factors mentioned previously, investors should be rewarded with 8.2% annual returns. This is certainly not a rosy projection, I assumed no additional margin expansion as a result of sales growth, nor did I account for the full $17 billion repurchase program.
Accounting for the repurchase program, investors have real opportunity to see excellent long-run returns. Estimating that Home Depot repurchases shares at an average of its current equity valuation, the company would provide for returns of 9.76% based on free cash flow generation.
Investors are thus rewarded with a reasonable margin of safety. Home Depot is at worst fairly valued assuming current free cash flow is at its midpoint (I believe it is given the currently low pace of home sales, home improvements, and new construction), or exceptionally undervalued if the real estate market makes a multi-year run. Those odds are odds worth playing.
Disclosure: I have no positions in any stocks mentioned, and no plans to initiate any positions within the next 72 hours. I wrote this article myself, and it expresses my own opinions. I am not receiving compensation for it (other than from Seeking Alpha). I have no business relationship with any company whose stock is mentioned in this article.