Newly minted SA contributor Sal Demir peaked our interest in Tesla Motors (NASDAQ:TSLA) with his very well written article "Tesla Motors' Full Analysis, Its Only Mistake, Outlook And Elon Musk". We think Sal did an excellent job pointing out the technological strength and marketing genius at Tesla. We therefore focused our TSLA research on the technical aspects of the name with respect to its securities.
The "wire houses," which are the large brokerage and institutional holders of securities, are virtually "out of stock" to loan to short sellers to maintain or add to their short positions. According to prime brokers we talk to, the current negative rebate, the cost to borrow the stock annually, which is being quoted at 50% is irrelevant. Why? Because you can't borrow the stock. There is no one left to borrow from. Something ironic is unfolding in this name that's similar to what happened with Volkswagen (OTCPK:VLKAF) when the head of Porsche (OTCPK:POAHF) secretly acquired control of a large block of stock. One could only imagine what could happen to TSLA shares if VW announced a stake in TSLA, as an SA Instablog from Easy European suggested in February 2013 when he reported that VW owned a Tesla vehicle.
We have written about squeezes in past articles about BlackBerry (NASDAQ:BBRY):
The most famous short squeeze in recent history was the 2008 Porsche Volkswagen story. Hedge funds sued Porsche in New York for the carmaker's adept move in trying to take control of Volkswagen. That case was thrown out in December 2012 for lack of jurisdiction. Last decade's Porsche squeeze could be trumped by a BlackBerry squeeze.
Like BlackBerry and Porsche, Tesla has a loyal, affluent customer base evidenced by the extensive comments in Sal's must-read article. Sal also points out that international interest in TSLA vehicles is well under way with over 10,000 vehicles sold in 31 countries. For those naysayers who think electric vehicles are a fad, we wonder if anyone claimed Henry Ford was a quack after selling his first 1750 Model A cars by 1904. Furthermore, these customers are obviously not risk averse as evidenced by their pioneering the electrical vehicle frontier, and could conceivably become shareholders in TSLA. If each of the 10,000 Tesla vehicle owners bought 1000 shares, that would be 10 million shares, or roughly 12.5% of the total shares outstanding. Unlike BlackBerry and Porsche, Tesla is just beginning to build its customer base. If they like the vehicles, why wouldn't they buy the stock?
On April 15th, Longboard Asset Management made public a presentation that outlines why they see TSLA going to $100 within 18 months and $200 within 5 years. Here is a slide we think drives home the point about new customers: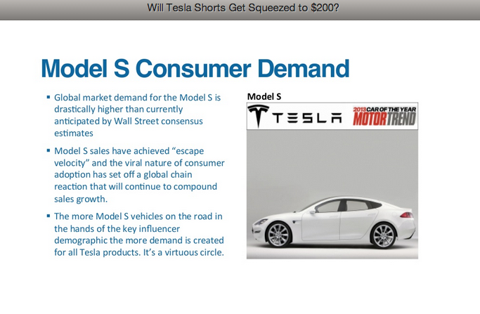 We believe the "buy-in' is imminent. "Buy-ins" happen when lenders recall the shares they have lent, which forces the short seller to either close out their short position by buying back the shares short or finding shares elsewhere that are available to borrow. Investors should keep a close eye on the SEC's Reg SHO Threshold List, which reports "fail to deliver" securities from "naked" short sales. We know the 'locate' departments at the "'wire houses" certainly are watching this list.
Yesterday, TSLA hit its all time high of $58.18 then reversed course because of an investigation announced by the SEC involving several insiders 10b5-1 plan: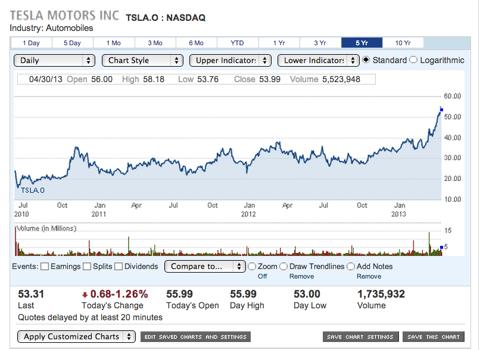 We think the investigation will prove to be a non event, and shares will be breaking this high very soon if the shorts don't find anew supply of shares to sell. That seems almost impossible as the following Whale Wisdom information shows:

In addition to theses shares, we calculate that 13F filers reported 24,730,183 shares on 3/31/13, which when added to the shares above, totals 81,312,305 shares total outstanding. Nasdaq shows short interest as follows:

While the short interest has dropped only slightly, the days to cover ratio has gone down by almost 66% because the liquidity in the stock has almost quadrupled to just over 4 million shares traded daily. Taking the figures above gives us a ratio of 37.74% of shares short to shares outstanding (short ratio). But that's not a telling statistic because founder Elon Musk's 33 million shares are not freely trading. Subtracting the Musk shares we get 48,236,093 shares in the trade-able float, and the corresponding short ratio skyrockets to 63.6%. Furthermore, deducting the other two large stakes held by FMR LLC and Capital Research would bring the trade-able float down to 24,738,971. This makes the shares short percentage jump above the panic level of 100% to 124%. This explains why there is no availability. A tender offer or significant ownership interest announcement from a known entity like Carl Icahn or Volkswagen in TSLA would cause its shares to erupt like those of Netflix (NASDAQ:NFLX) did when Icahn announced his stake.
We think Sal's article points out the technical prowess of Tesla Motors. Nikola Tesla knew how to create excitement with his genius inventions as this New York Times article from 1903 shows: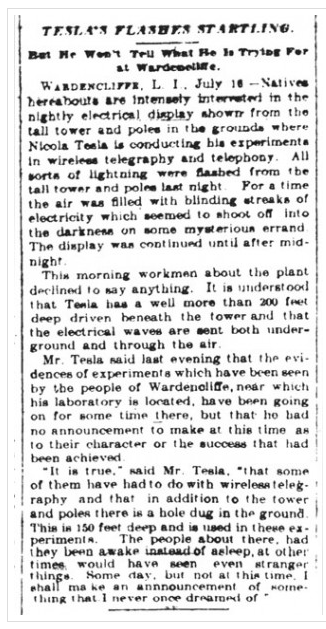 Maybe Tesla Motors, the company now bearing his name, will demonstrate something equivalent to this event by "short circuiting" traders betting against it.
Disclosure: I am long TSLA, BBRY. I wrote this article myself, and it expresses my own opinions. I am not receiving compensation for it. I have no business relationship with any company whose stock is mentioned in this article.