Based on the favorable feedback I received from readers with respect to my recent article, Invest Like A Rounder: Don't Give Anything Away, I wanted to craft another article quoting another Matt Damon movie, Good Will Hunting, and its relevance with respect to the for-profit education industry.
After spending last weekend listening to and pitching business ideas at Start Up Weekend, I developed a couple unique investing themes.
The first: the public cloud is extremely important to tech entrepreneurship in America; most of the ideas pitched include running back end business processes through the public cloud, including Amazon Web Services (NASDAQ:AMZN). If these start-ups gain traction, public cloud vendors will likely grow with the start-ups as they expand because the relationship is established early in the business's life cycle.
The second: the world is indeed flattening, in a big way, with respect to access and the value of education.
Education Start-Ups:
Many of the sponsors at Start Up Weekend are successful and growing education-based start-ups, including Treehouse, Code Academy and Lynda, where users are allowed access to a robust catalog of web-based lectures and content related to a number of relevant skill sets in our modern economy. These businesses solve a customer pain point: affordable, high-quality content, accessible online. Other disruptive education startups include, Skillshare, a collaborative, education-flattening service to learn new skills.
This knowledge boils down to the investment thesis; these services may have a material impact on the higher education industry, and for-profit education businesses are in deep, deep trouble.
Industry insiders are taking notice of the reduced appetite to spend on education: Kaplan [a division of the Washington Post Company (WPO)] recently led a $7 million investment round in Treehouse. What's even cooler: Treehouse is basically a boot-strapped start-up (save for the recent Kaplan investment) with a moat-busting operating model, and the CEO is reportedly working out of his house as the business scales up. Sounds like the making of one of those inspiring startup 'garage' stories that Hewlett-Packard (NYSE:HPQ) made famous.
For-profit education businesses should take note, they have a questionable value proposition and far higher overhead and capital expenditure requirements than their new, nimble and hungry competitors. Last October, the NY Times reported that The University of Phoenix, owned by Apollo Group (NASDAQ:APOL), indicated it would close 115 locations and lay off 800 employees as a result of declining enrollment rates. The industry is in retrenchment, therefore investors should take a cue from students and excuse themselves from class.
Another sea change is occurring too. People are realizing that businesses today can get started with only a computer, an Internet connection and some web development and programming capabilities.
Treehouse, Code Academy and Lynda provide students with the knowledge on how to start a web-based business; the for-profits ostensibly teach students to work for a business, but hiring and wage growth is lackluster, at best. The March jobs number was well below consensus, with the economy generating only 88,000 jobs.
Education and the economy are in a vicious cycle; students are told they need a college degree to get a job, but the economy isn't producing quality jobs. Education costs continue to rise at an alarming rate, but the value of higher education is becoming increasingly dubious. This growing trend is another headwind for higher education, in particular the for-profit institutions.
Good Will Hunting:
For students, higher education appears to not be a good risk/reward investment at these tuition levels. Similarly, for contrarians and value seekers, for-profit education stocks should be avoided, including Apollo Group, Strayer Education (NASDAQ:STRA), ITT Educational Services (NYSE:ITT), Education Management Corporation (NASDAQ:EDMC), DeVry (NYSE:DV) and Capella Education (NASDAQ:CPLA).
Like Will Hunting observed in Good Will Hunting:
See the sad thing about a guy like you, is in about 50 years you're gonna start doin' some thinkin' on your own and you're gonna come up with the fact that there are two certainties in life. One, don't do that. And two, you dropped a hundred and fifty grand on an education you coulda' got for a dollar fifty in late charges at the Public Library.
And the key point comes next, a pithy response, which isn't as relevant today as it was since the film was released in 1997; the notion that universities hold the keys (read: degrees) to corporate jobs.
Yeah, but I will have a degree, and you'll be serving my kids fries at a drive-thru on our way to a skiing trip.
The Internet is also making it easier for people to market their skill sets. Seeking Alpha is a great case in point; contributors pen their investment thoughts for review by a large readership base. It allows direct access to potential employers in the industry who follow the website and partners.
Because of this phenomenon, education institutions may be losing their grapple hold on the keys to corporate jobs as people can put their skills on public display, rather than using the degree as evidence of intellect, analytical rigor or technical ability.
Education Price vs. Value:
I went to Capella University's website to see how much a BS degree in Accounting would cost. I indicated that I wanted to be a full time student with no transfer credits. The estimated cost: $61,470 for tuition & fees and $2,235 for books & supplies, cumulatively $63,975. To say the least, I was shocked.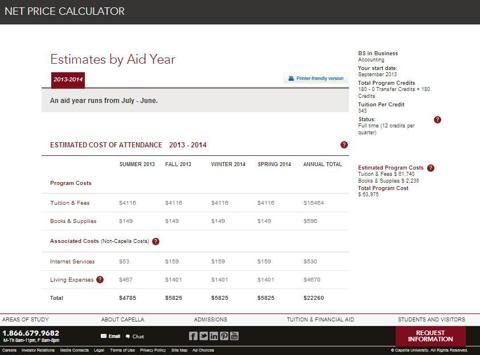 Again, a $63,975 capital outlay for an online accounting degree from Capella University.
The starting salary for an accountant, if the degree holder is lucky enough to find a job, would likely be less than the cost of the degree.
Students appear to be making the connection, and speaking with their feet. Here is a chart of enrollment numbers of the stocks mentioned in this column:
Enrollment Numbers
For-Profit Institution
2012
2011
2010
Apollo Group
356,900
418,700
460,900
Strayer Education
51,700
54,200
60,700
ITT Educational Services [1]
61,039
73,000
84,000
Education Management Corporation [2]
142,100
150,800
131,900
DeVry Inc. [2]
133,129
146,218
137,076
Capella Education
36,329
37,704
39,477
Total Enrollments
781,197
880,622
914,053
% Change
-11.3%
-3.7%
Notes:
[1] 2012 figure as of March 31, 2013.
[2] Based on Fiscal Years ending June 30.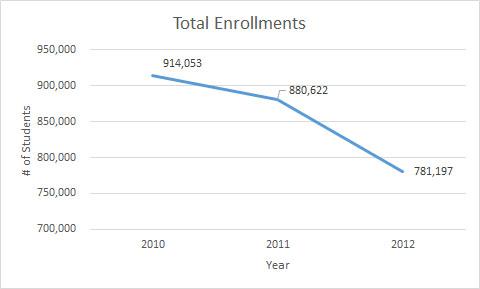 The trend is quite clear, and I'm not sure it's going to improve because of competition and a realization among students that for-profits value proposition is not compelling based on increasing tuition rates, and vanishing job prospects.
DeVry management is seeing the trend too, especially in its Business, Technology and Management segment, and disclosing it to investors (source: 2012 Annual Report):
Management believes the decreases in enrollments were driven primarily by the negative impact on student decision making of the prolonged economic downturn and persistent unemployment, resulting in a reduction in interest from potential students.
Yet, management indicated they increased tuition rates by 2.9% year-over-year. That doesn't make much sense, considering the state of the industry from an enrollment perspective. It almost feels like the for-profit education sector, from both an education and investment perspective, fits the "greater fool" theory, which describes acquiring questionable assets with the goal of selling to a greater fool in the future.
Regulatory Risk:
The other big, elephant in the room risk relative to for-profit education is continued scrutiny regarding federal funding. If you look at the Annual Reports of the for-profits, a significant portion of the "risk factors" section is dedicated to describing the Higher Education Act, in particular Title IV, which governs education program funding. The Act must be approved periodically by Congress, with the last approval occurring in 2008 covering a term until September 2013, is coming under increased scrutiny by politicians.
With the sequestration in process, and certain politicians' negative stance on for-profit education, this is an industry that must be avoided, since the outcome of federal funding for for-profit educational institutions cannot be fully comprehended at this moment.
Conclusion:
Students must assess price relative to value with respect to a college degree; education is an investment, if the purchase price is too high, the return on investment is reduced. Students must never forget that because it is the same for any asset: a stock, bond or real estate. Let's call that Lesson #1.
For-profit education stocks have been hammered, and for good reason. The value proposition, in my view, is quite dubious. It appears, too, that students are finally doing their homework with respect to Lesson #1, as enrollment numbers drop.
Moreover, there is regulatory risk as the government intervenes in the market with respect to federal funding. I don't bring unique insight into what that outcome might be, but it is a risk factor that investors considering for-profit education stocks must consider.
The education industry is clearly going through disruption. I'd rather sign up to learn a new skill at Treehouse, than speculate on a doomed, for-profit education business model.
Disclosure: I have no positions in any stocks mentioned, and no plans to initiate any positions within the next 72 hours. I wrote this article myself, and it expresses my own opinions. I am not receiving compensation for it (other than from Seeking Alpha). I have no business relationship with any company whose stock is mentioned in this article.