Industry Introduction
Historically, sporting goods stores were small, family-owned businesses that serviced the needs of the local community. Wholesalers were the primary suppliers of merchandise, and operators had little or no competition from other retailers because of their high level of specialization. During the past two decades, the arena for sporting goods retailers has changed, with industry players evolving into national chains that have considerable buying power. The rise in sporting chain numbers has created an opportunity for mass merchandisers to seek a market share, with retailers benefiting from their ability to offer consumer-specific brands.
Key drivers
Rising consumer awareness of good health: Rising consumer awareness of good health and increased participation in sports have led to increased revenue growth for the industry.
Increasing levels of competition: Competition from department stores and mass merchandisers have restrained industry growth in recent times.
Disposable Income: A drop in disposable income during the recent recession has led to shaky consumer confidence, as well as a slowdown in industry sales. However, industry sales are expected to find some momentum with the economy slightly recovering.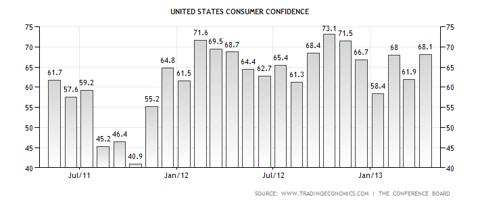 1. Foot Locker, Inc. (NYSE:FL)
Foot Locker, Inc. is a retailer of athletic footwear and apparel. The company operates in two segments, Athletic Stores and Direct-to-Customers. The Athletic Stores segment retails athletic footwear, apparels, accessories, and equipment under various formats. As of January 28, 2012, it operated 3,369 stores in 23 countries in North America, Europe, Australia, and New Zealand. The Direct-to-Customers segment includes CCS and Footlocker.com, Inc., which sell athletic footwear, apparels, equipment, team licensed products, and private-label merchandise through catalogs, mobile devices, and Internet Websites. The company also provides franchise licenses to open and operate its Foot Locker stores in the Middle East and the Republic of Korea.
Growing Revenue: The company has shown impressive growth in margins, both on a quarterly and an annual basis. In the recent quarter ended February, 2013, revenue increased from $1.52 billion to 1.71 billion - increasing almost 12%. Overall, the athletic store segment of the company performed well showing growth in sales, with the exception of the European Division, which actually saw a decline in the quarter. The commonly cited eason being the current economic struggles of the region. The company's online wing showed impressive growth as well, mainly due to increase in its Internet sales. The company also provides franchise licenses to open and operate its Foot Locker stores in the Middle East and the Republic of Korea.
Liquidity and capital requirements under control: The company has a cash balance of almost $900 million with not a significant amount of debt, currently at around $133 million and a reasonable debt-to-equity ratio of 6%. Overall, with sufficient cash and growing CFO, the company should feel comfortable regarding its working capital and capital expenditure requirements going forward. The company also offers an attractive dividend yield of 2.36%.
Valuation: The company's P/E is at a 35% discount to the industry as well as its five- year average, indicating it is currently undervalued. Other multiples like price-to-sales and price-to-book are also at a discount to the industry averages, indicating the stock has value.
Conclusion: The company has performed well in terms of revenue growth and expanding margins. It has managed inventory well, thus further enhancing its margins. With a strong balance sheet with ample cash for dividend payouts (dividend yield of 2.36%), and a steady market performance over the years based on the company's impressive earnings growth, I recommend a long position in the stock.
2. Finish Line Inc. (NASDAQ:FINL)
Finish Line, Inc., together with its subsidiaries, operates as a mall-based specialty retailer in the United States. It operates Finish Line stores that offer performance and athletic casual footwear, apparel, and accessories for men, women and children. The company also sells merchandise through its Website, finishline.com. As of September 22, 2011, it operated 646 stores in the United States.
Expanding margins: Gross margins for FINL are impressive at almost 34%, which ranks above most of its peers, including Foot Locker. Moreover, the gross margins are also following an upward trend, which indicates that the company is doing well.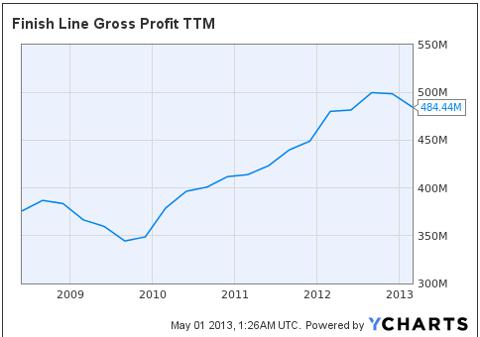 Consistent growth in sales and earnings: Sales of the company have increased at a rate of 11%, which is higher than the 9% increase in its cost of sales. FINL'S rise in sales was largely driven by an increase in store traffic, additional days of sale and a rise in comparable-store sales. The company reported an EPS of $1.59 in FY2012, an increase of around 26% from the previous year. The company has a debt free balance sheet and a cash balance of around $168 million.
Market Performance: The stock has been on a steady uptrend in 2013, and has outperformed its competitors over a long-term horizon, indicating the value of holding the stock long term.
The management is focusing increasingly on technology and digital capabilities and has invested substantially to improve its customers' digital experience. The company plans to invest $41 million in technology, which is around 50% of its total capital expenditures for the year. However, this increased investment is likely to lead to a contraction in the company's margins, which could have a damaging effect on its EPS in the near term.
Conclusion: The company's P/E as well as other multiples like price-to-sales and book are at a discount to the industry, indicating the stock is undervalued. FINL's strong balance sheet, impressive growth in sales and earnings and attractive valuation levels make a strong case in favor of taking a long position on the stock.
3. Nike Inc. (NYSE:NKE)
Nike engages in the design, development, marketing, and sale of footwear, apparel, equipment, and accessory products for men, women, and children worldwide. The company offers products in the categories of running, training, basketball, soccer, and sports-inspired casual shoes. The company has total cash of around $2.5 billion and a debt-to-equity ratio of only 3%. NKE has posted impressive gross margins YoY, and is expected to continue to expand. In the most recent quarter, the company's revenues increased and surpassed analyst estimates.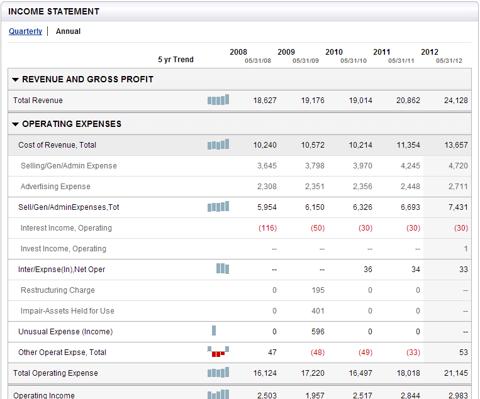 Conclusion
The company has increased revenue nearly every year and continues to beat Wall Street Expectations. Although it is trading near its 52-week high, I firmly believe that Nike has plenty of room to grow and would recommend considering this stock in the near future.
Disclosure: I have no positions in any stocks mentioned, and no plans to initiate any positions within the next 72 hours. I wrote this article myself, and it expresses my own opinions. I am not receiving compensation for it (other than from Seeking Alpha). I have no business relationship with any company whose stock is mentioned in this article.